News from Clif, Sugoi and Nu Vinci

PARK CITY, UT (BRAIN) Wednesday June 20 2012 8:02 PM MT—The three-day PressCamp continued Wednesday with perfect weather and trail conditions as journalists met with dozens of brands to get hands-on experience with new gear.

Here are a few more notes from Bicycle Retailer's second day at the show. Watch for more later this week.

Previous 2012 PressCamp Notebooks

Clif celebrates 20th with limited edition products
PARK CITY, CA (BRAIN) Wednesday June 20 2012 8:55 PM MT—Clif Bar & Company is celebrating its 20th anniversary this year, and while the company now sells products through a wide variety of retailers, several of its limited edition celebratory products will be sold exclusively through natural grocers and specialty retailers.

One limited edition product is Gary's Panforte, a bar inspired by the hearty breads company co-founder Gary Erickson enjoys on his cycling trips in Italy. The savory bars will be available only until this fall, and the packaging features a sepia-toned photo of Erickson riding a Dolomite pass.

Kit's Organic bars also are being sold only through natural grocers and specialty dealers. They were inspired by company co-founder Kit Crawford (Erickson's wife). The simple bars are all organic, are made with just four or five ingredients and are soy-, gluten- and dairy-free.

Several flavors of the Clif Bloks energy chews are available only through specialty stores, including a new flavor, chocolate cherry. The dark, slightly bitter chocolaty taste is a departure from previous Bloks that have fruity flavors. They also have 100mg of caffeine per package, about the same as a tall Starbucks coffee.
Sugoi celebrates 25th with limited edition silver line
PARK CITY, CA (BRAIN) Wednesday June 20 2012 8:55 PM MT—Sugoi clothing, now part of the Dorel family, was founded 25 years ago. The company is celebrating the milestone with a special Silver Edition road clothing line.

The line is based on Sugoi's top-of-the-line RS road clothing line, with special graphics and hang tags. It includes a short sleeve jersey, knee and arm warmers, bibs and socks. They will be available at retail next month.

The company also showed off its 2013 spring line at PressCamp. For next year Sugoi is going to a slightly higher price point in the RS line, with some men's bibs retailing for $230, instead of $200 for this year's RS bibs. The 2013 line includes a sublimated clean-edge leg band. The lightweight bib straps also have bonded seams and clean, stitchless edging.

The bibs will get a new three-layer, Italian made chamois that features CNC-machined foam with graduated edge (instead of moulded foam), gel pads and a textured outer layer.

Sugoi also is changing its naming system for 2013. The mountain bike product family names will correspond to Sugoi road lines, with the addition of an "X." Sugoi's Hans and Gustov product family names will be replaced, for example, with the RSX, EVO-X, and RPM-X lines.

Sugoi will make use of its Icefil fabric for its RSX jersey and the inner liner of its RSX shorts. Icefil was introduced last year on some arm coolers; the fabric is said to offer a cooling sensation on the skin, similar to a menthol rub. Sugoi also is using it for running shorts liners and an under-helmet cap.

The RSX shorts also will feature a BOA dial closure system on its waistband.
Nu Vinci making headway with CVT hubs
PARK CITY, UT (BRAIN) Wednesday June 20 2012 9:32 PM MT—Nu Vinci continues its education push to establish its continuously variable internally geared hubs in the market.

The hubs are becoming common in Europe, particularly on electric bikes. Acceptance in the U.S. non-electric market is slower, but there is some headway. Jamis is now offering the lowest-priced Nu Vinci-equipped bike in the U.S., the $950 Commuter 4. Nu Vinci hubs are also now being used on some Bike Friday and Dohon travel bikes — offering a product light enough for travel bikes, and compact enough for their small wheels was a major achievement for Nu Vinci, company officials said. The current hub is 30 percent lighter than its predecessor and a whopping four pounds lighter than the company's first hub.

Nu Vinci's parent company, Fallbrook Technologies, is exploring the design's use in various other industries, including in automotive super chargers and in wind turbines. An aftermarket supercharger product should hit the market next year.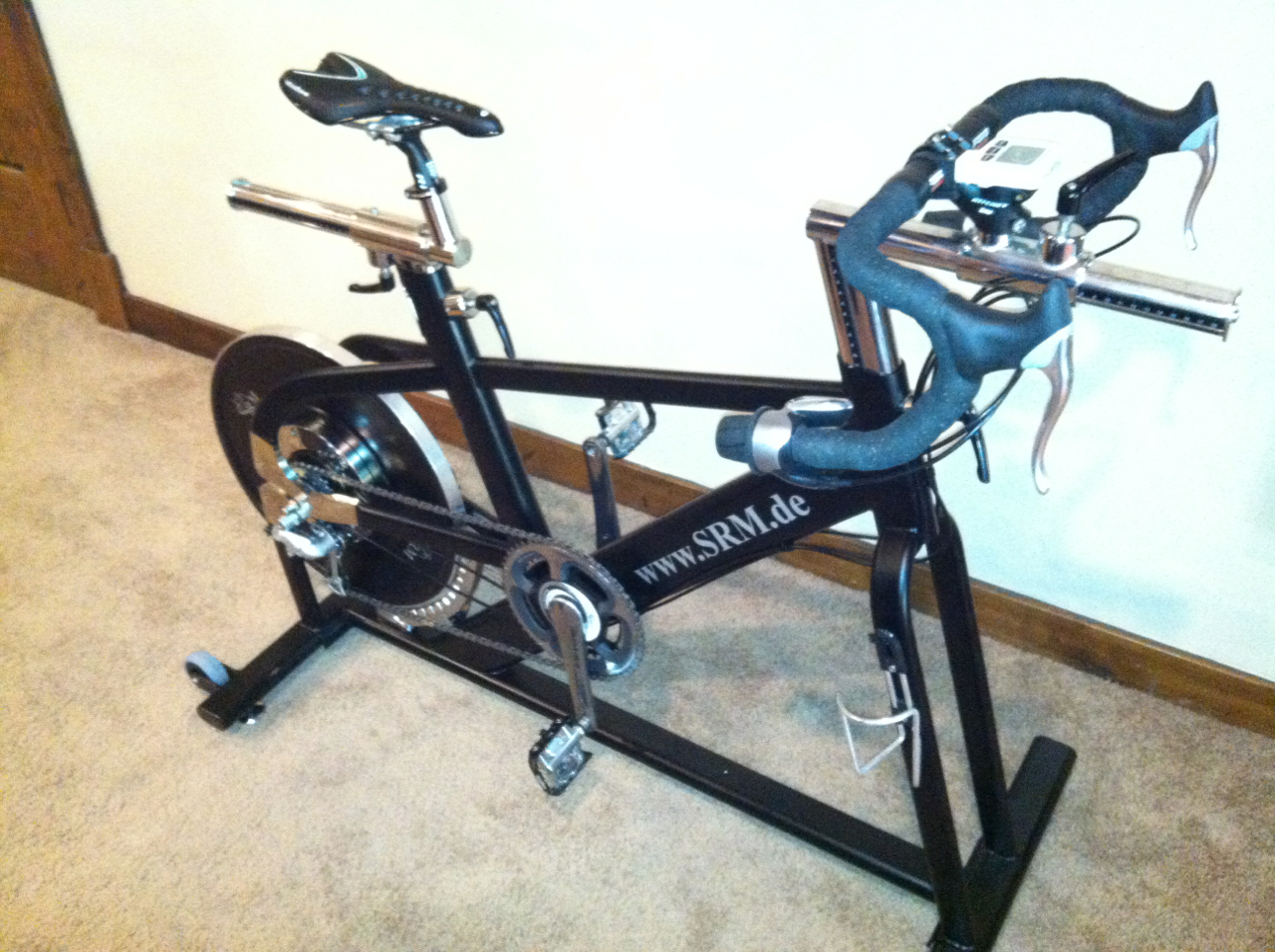 At PressCamp the company was showing an SRM stationary bike built with a Nu Vinci hub. German-made SRM power meters are state of the art and retail for about $3,000 for a crank and head unit and related gear.

The SRM stationary bike uses adjustable magnetic resistance on a flywheel to create a realistic road feel. The Nu Vinci hub allows the resistance to be adjusted in small increments for precise training and testing.

The trainer may be smooth and realistic, but its market will remain small. It will retail for $3,700 WITHOUT the SRM unit.

Nu Vinci also showed its Harmony automatic shifting hub. It has a twist shifter that allows the user to set a preferred cadence, while an electric servo shifts a CVT hub to set the right gear. No U.S. bike maker is currently using the Harmony, but it is being used in Europe on bikes and electric bikes.

Previous PressCamp Notebooks