Specialized launches new aero helmet at Tour • American Classic introduces first TV ad campaign • Wilier debuts new road frame • Team Sky extends with Pinarello • Rapha promotes 'Circle of Death' Strava challenge • Bicycling offers cross-platform Tour coverage • Scott introduces new shoes • Follow the Tour — the 1986 Tour — with VeloPress
LIEGE, Belgium (BRAIN)
Monday July 2 2012 8:08 AM MT—
Specialized used the Tour's prologue Saturday to unveil its new McLaren S-Works aero helmet, which was worn by Omega-Pharma Lotto's Levi Leipheimer and Tony Martin. Specialized said the helmet is the result of an unprecedented investment in wind tunnel hours, computational fluid dynamic (CFD) modeling, and rider testing. The company said it spent twice as much on wind tunnel testing for the new helmet as it did for its Venge aero road bike and again collaborated with Formula 1 legend McLaren. The helmet is claimed to offer better aerodynamics in varying wind conditions than the competition, while also offering improved air flow and cooling.
The company said the helmet will be available "in extremely limited quantities" in early 2013 through select Specialized dealers.
---
American Classic launches Tour ad campaign on NBC Sports
TAMPA, FL (BRAIN)
Monday July 2 2012 9:12 AM MT—
American Classic's first-ever TV advertising campaign launches during the Tour de France on NBC Sports Network. Bob Roll is hosting 19 unique daily spots to announce the American Classic Fan of the Day contest winner.
Winners are selected based on the pictures they post on American Classic's Facebook page.
"This ad concept is a fusion of the best of Facebook, TV and the Tour de France," said American Classic general manager Ellen Kast.
American Classic also is sponsoring the Cofidis Pro Cycling Team.
More information:
facebook.com/AmericanClassicWheels
.
---
Wilier debuts new road frame at Tour
LIEGE, Belgium (BRAIN)
Monday July 2 2012 8:56 AM MT—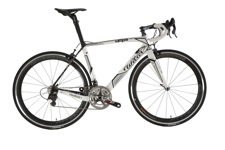 Wilier Triestina's new aero bike, the Cento1, was unveiled in Saturday's prologue and used by Team Lampre ISD. The team raced on the road version, the Cento1 SR, in Stage 1 on Sunday.
The Cento1 SR features an integrated seatpost, asymmetric chainstays, integrated fork, BB360 EVO bottom bracket, integrated 3D for the cable guides, internal cable routing and electronic shifting integration.
The Cento1 SR will be available soon, the company said, in six frame colors and builds with Campagnolo, Shimano or SRAM components.
---
Team Sky extends with Pinarello
LIEGE, Belgium (BRAIN)
Monday July 2 2012 8:08 AM MT—
Team Sky and Pinarello announced on the eve of the Tour that they had extended their sponsorship agreement through the end of 2013. Pinarello has sponsored Sky, which is led by Tour favorite Bradley Wiggins, since the team's inaugural season in 2010.
"Team Sky are really happy to have Pinarello as a partner and look forward to building upon what is already a really strong working relationship," said Carsten Jeppesen, Team Sky's head of operations.
"From a performance perspective we have come a long way in the three years we have been working with Pinarello to date. Their dedication to performance and servicing the team really sets them apart."
Team Sky is using the Dogma 2 road race bike and the Graal time trial bike at this year's Tour.
---
Rapha promotes 'Circle of Death' Strava challenge
PORTLAND, OR (BRAIN)
Monday July 2 2012 8:22 AM MT—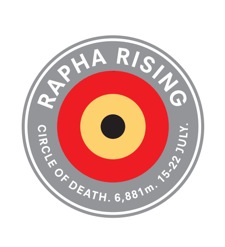 Rapha is launching a Strava climbing challenge this month tied to the so-called "Circle of Death," the Pyrenean climbs that the Tour will cover on July 15 and 18 this year. The climbs include the Col d'Aubisque (1,709m), Col du Tourmalet (2,114m), Col d'Aspin (1,489m) and Col de Peyresourde (1,569m).
The Rapha promotion challenges users of the Strava app to climb the combined elevation of the Circle of Death during the period the Tour is in the Pyrenees: 6,881 meters (or 22,575 feet) between July 15-22. 
All riders who complete the challenge will receive a Rapha Rising roundel celebrating their achievement, plus the chance to win a limited-edition Trek Madone 6.9. 
In addition, there will be a Circle of Death Special Challenge on July 18. This will be a challenge to see who can climb the most meters on the date of the Queen Stage of this year's Tour de France. The winner of this challenge will win a Rapha Race Bag containing a Rapha Circle of Death Jersey, Classic Bib Shorts and a pair of Grand Tour Shoes. 
More information:
app.strava.com/challenges/rapha-rising-circle-of-death
.
---
Bicycling offers cross-platform Tour coverage
EMMAUS, PA (BRAIN)
Monday July 2 2012 8:29 AM MT—
Rodale's
Bicycling
magazine is offering Tour de France coverage via the web, video, print, tablet and social media, the publisher announced. Rodale also said it is sending its largest team ever to the Tour this year.
Tour features include the "Tour Talk" video series where former pro Frankie Andreu and longtime
Bicycling
contributor James Startt will offer daily commentary throughout the race after each stage. Bicycling.com also will offer pre- and post-stage videos, ranging from racer interviews to expert commentary to technology and gear features.
Bicycling.com also will offer daily diaries by racers Chris Horner and Jens Voigt.
Bicycling
also has launched a special iPad edition featuring Startt's Tour photography. The edition is available in the iTunes store for $1.99.
---
Scott introduces new shoes at Tour
LIEGE, Belgium (BRAIN)
Monday July 2 2012 8:08 AM MT—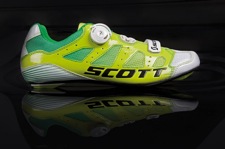 Scott new Premium Road Shoe 2013 model is being raced by four pros during this year's Tour.
The redesigned shoe has a new upper using a series of ribs to wrap the foot and create a secure bridge between the sole and the closure system. The mesh area between the ribs also affords good ventilation.
The BOA closure system has also undergone some revisions. The narrow pulleys have been replaced with wider 2-to-1 lace loops, and a new tongue featuring a three-dimensionally molded stiffener and cushion. These features distribute the forces of the BOA laces across the instep. A Velcro strap has been added across the forefoot to further tailor the fit. At the back of the shoe, the heel counter was made both stronger and taller.
Sandy Casar, Matthieu Ladagnous, Thibaut Pinot (all on Team FDJ) and Kadri Blel (on AG2R La Mondiale) are riding the new shoes at the Tour de France.
---
Follow the Tour — the 1986 Tour — with VeloPress
BOULDER, CO (BRAIN)
Monday July 2 2012 8:48 AM MT—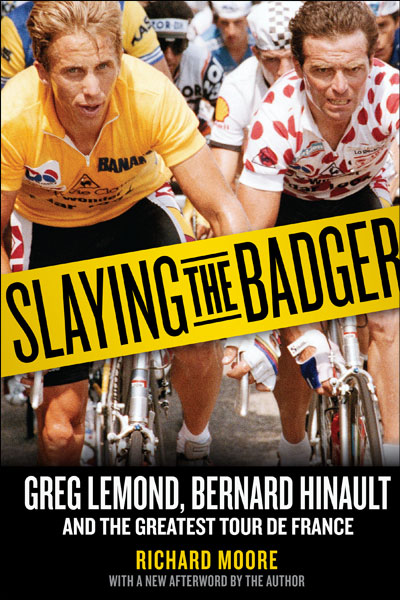 To promote the recent U.S. publication of Richard Moore's book "Slaying the Badger," VeloPress is re-enacting the 1986 Tour de France each day during this year's Tour.
The 1986 Tour was Greg LeMond's first victory, in which he overcame an intense rivalry with teammate Bernhard Hinault.
On
Slayingthebadger.com
, VeloNews is using rider interviews from "Slaying the Badger," the 1986 archives of
Velo-news
magazine, and vintage video footage. VeloPress will post stage results, photographs, and videos from the 1986 Tour de France during each day of the 2012 Tour.
Related:
Previous News Briefs