MARINA DEL REY, CA (BRAIN) Feb 1, 07:29 MT — A select group of Southern California retailers and media got a first look at Campagnolo's electronic drivetrain Monday evening as the Italian brand officially unveiled the battery-powered shifting system in North America.
Campagnolo's North America office hosted the coming out party for Electronic Power Shift in a 10th floor Marriott banquet room overlooking the Pacific in a scaled back version of EPS' global debut last November in Sicily. It began tech training for regional dealers on the product Tuesday, and expected two classes of 40 people each.
There were no rides Monday, but guests were invited to spin an EPS-equipped demo bike set up on a trainer, or click through the gears and snap photos of the five-component system on bikes positioned around the room.
The Record and Super Record 11-speed groupsets are in production now at Campagnolo's Vincenza, Italy, factory and will start arriving to distributors and retailers in limited numbers next month. Tom Kattus, head of Campy in North America, is still finalizing MSRP, but expects the Record kit to run about $4,500 and Super Record to sell for $5,300.
Even with a pricetag that may be gasp-inducing to some, "the demand is there," said Hrach Gevrikyan, owner of Velo Pasadena and Velo Studio.
"They've been waiting," Gevrikyan said of his Campy-loyal customers. "This is why we decided to put an event together."
Gevrikyan, who estimates 70 percent of his aftermarket groupset sales are Campagnolo, will host his own EPS party Feb. 23 to show his best customers the new shifting technology.
Justin Beope, owner of San Diego's Pista Palace, said he's already presold 15 groups sight unseen to "gotta have it" customers looking to snag Campagnolo's latest innovation.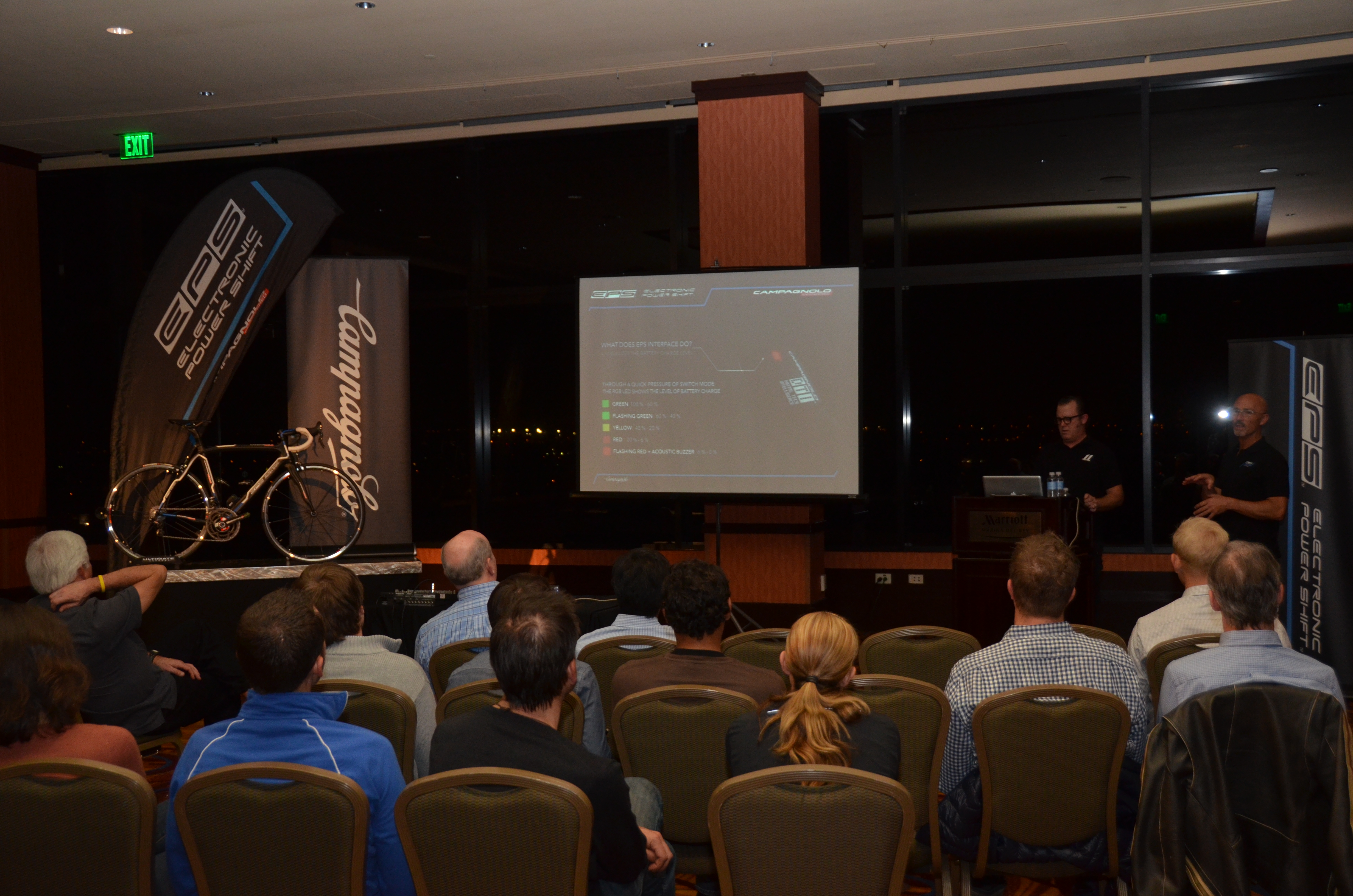 Supply is tight, with about 1,000 groupsets available between now and June, Kattus said. Production will ramp up this summer when Campy expands assembly to its higher output Romanian factories.
Pinarello, Colnago, Ridley and Wilier Triestina will all spec EPS on their 2013 high-end road bikes coming out later this year, and a few other deals are in the works, Kattus said. Product managers at nearly every major global bike brand are currently testing groups.
"There's lots of interest right now," Kattus said.
Over the next few months, Campagnolo's North American service center manager Dan Large will be traveling the country hosting EPS training and certification courses with stops planned in the Bay Area, Seattle, Denver, Austin, Minneapolis, Chicago and New York. Classes are free and open to all retailers and distributor sales reps. Certification is required for dealers to sell and service EPS. For a full schedule of EPS training courses, see BRAIN's calendar of events.
Photos: Gary Newkirk
—Nicole Formosa
nformosa@bicycleretailer.com