Boulder launched its B-Cycle bike share program last Friday. I was lucky to be one of the 100 folks riding the bikes from downtown to their dozen destination racks around town.
My first brush with bike sharing was a seminar at the 2009 Bicycle Leadership Conference, the guy who runs the system in Paris spoke of its overwhelming success. "Yeah, sure, Paris, could that ever work here?" I thought to myself.
The next year at BLC, Andrew Davison from Crispin Porter Bogusky (the world's coolest ad agency) described the B-Cycle bike sharing program, a partnership among CP+B, Trek Bicycle and Humana, and their planned launches in Denver, DC and Minneapolis. "Good luck, hope it works," I thought to myself.
Then last Spring, B-Cycle came to Boulder to pitch the idea of launching here. With $250,000 in Federal funding to back it up. I was initially skeptical about this, as were many of the local bike retailers, especially the ones who rent bikes to tourists.
Once we saw the pricing model for bike sharing, and understood the target audience for it, that skepticism turned to enthusiasm.
B-Cycle has what I call an "upside-down" pricing model. Using the stur
dy (heavy) Trek-built bikes is FREE for the first half-hour (in Denver) or hour (in Boulder), once you pay the initial $50 annual fee.
The target audience is way bigger than tourists looking to ride, rather than drive, around Boulder. It's commuters who drive or bus into town, who'd rather run that mile or two lunchtime errand or ride to a meeting on a bike than fire up their gas guzzler (and lose their parking space!).
Since the price per hour for B-Cycle bikes goes up fast, a vacationer wanting a bike to ride around town would still be much better off renting a light bike from a shop, since it's cheaper and more fun.
Elizabeth Train, who many of you know from her stint at Bikes Belong, is now the Community Engagement Director for Boulder B-Cycle. "B-Cycle gets used by all kinds of cyclists," Train said. "Enthusiasts who have a garage-full will use B-Cycle to run an errand and leave their carbon bike at home.  And it breaks down barriers to entry for folks who haven't been on a bike since they were a kid. They jump on and try it and end up buying a bike."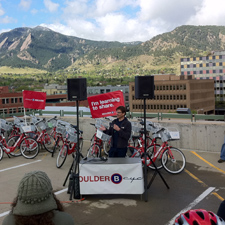 The main critique of B-Cycle from those outside the industry has been questions about its cost-effectiveness and long-term viability. Early indications from Denver and DC are positive in both regards.
Plus, if we're to rebuild America's transportation system and reduce the focus on cars, the cost-to-benefit ratio of programs like B-Cycle may look bad in the near future (as with the light rail systems that are being built now). And if we're going to see sustained change, and the benefits that come with it, we need to take the plunge regardless of the short-term.
So let's keep a close watch on B-Cycle. I, for one, am rooting for its success. One thing's for sure amid all the speculation: It's sure a delight to see a rack full and a path full of shiny red bicycles all around Boulder!