BRAIN wrapped up the Boston Dealer Tour on Wednesday with a 30-plus mile ride that wound us through the city on a beautiful, crisp Autumn day (no rain—yes!). We hit Farina's in Watertown, then cruised through the upper crust neighborhood near Boston College campus over to Jamaica Plain and Bikes Not Bombs, a nonprofit organization that donates thousands of bikes every year to third-world countries and runs youth programs, as well as a retail shop.
A quick jaunt through the heart of the city led us to Commonwealth Avenue and Boston University territory for a stop at Landry's. Then we finished up at International Bicycle Center, where we'd arrange to meet Boston Mayor Thomas Menino to chat with us about his ambitious  and much-lauded plans to improve the city's cycling infrastructure. It was a terrific way to wrap up another informative dealer tour.
Here are some pictures: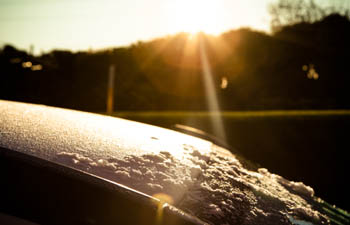 Wednesday was sunny and dry, but we started the morning off in teeth-chattering 30-degree weather. Jake Orness, Giant's photographer, captured this beautiful picture of the early-morning frost on the car.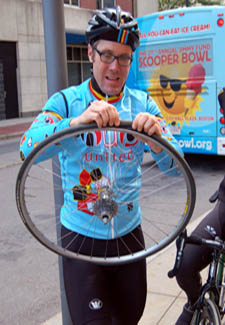 Lazer's Michael Pederson changes his flat tire, one of only two flats on the three-day tour. This stat will be far more impressive to those who have ridden Boston's roads, and know all about the potholes!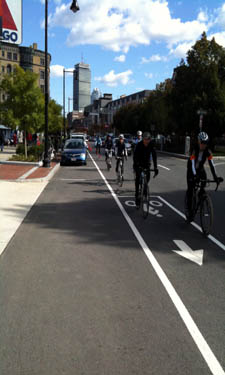 A bike lane! Every time we ran across one of these rare cycling havens, we were pretty stoked. Boston is working on it, and has added 10 miles of new bike lanes in the past year, but still has a ways to go. Here we ride down Commonwealth Avenue with the city skyline and the famous Citgo sign in the background.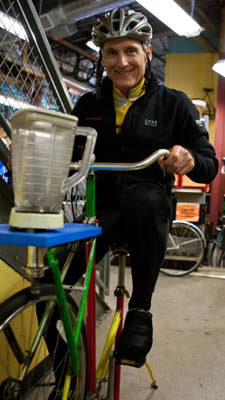 Speedplay's Richard Bryne daydreams about whipping up some margaritas as he demonstrates the pedal powered blender at Bikes Not Bombs. The nonprofit uses the vehicle to make smoothies during fundraisers.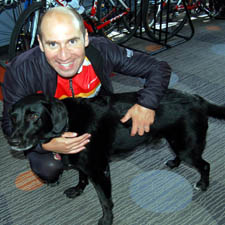 BRAIN's Robert Roman cuddles up to Jake, the shop dog at Landry's and loyal companion to longtime Landry's employee Mark Vatour
The new Speedplay Syzr mountain bike pedal made its debut on the tour. Take a good look because this is the only pair that exists as of yet, and Richard Bryne said he's not sure yet when the pedal will hit the market.
Giant's Brad Klipping sports the notorious "Christmas Sweater" at dinner on Wednesday. Next time you see Brad, ask him to tell you the story!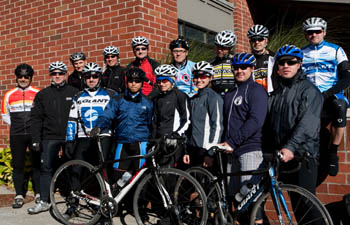 The group. Thanks for a great Boston Dealer Tour guys!
Photos by Jake Orness and Nicole Formosa