About 100 women packed into Rock N' Road's Mission Viejo shop last night to partake in some adult beverages, snacks, games, and to take advantage of discounts on bikes, clothes and accessories. Rock N' Road--with four stores in Orange County--holds two to three Diva Nights a year, according to Nicky.
The shop moved displays and product to make room for rows and rows of chairs inside, where women took a seat to hear guest speaker Allison Mann, a local pro mountain biker with the sho-air elite team, talk about how she got into mountain biking. She and her husband began mountain biking in 2005 as a way to become fit and better their health (her husband has since lost 70 pounds, and she has trimmed down 20-25 pounds). Two years ago she began racing, and this year finished her first full year as a pro level category racer. Mann offered nutritional tips and words of wisdom on training.
Also giving a short presentation was Kevin Trejo, owner and founder of SoloSports at Punta San Carlos, an all-inclusive campground in Baja California that offers guests the ideal setting for wavesailing, surfing, kiteboarding, tow-in surfing, kayaking, hiking, fishing and, of course, mountain biking. Trejo calls it "glamping" or glamorous camping since guests have access to amenities like WiFi and hot showers even though the location is pretty secluded. The grand prize giveaway of the night was a 8-day all-inclusive trip down to his camp at Punta San Carlos worth $1,900! Other giveaways included products from Camelbak, Specialized, NiteRider, Thule, Crankbrothers, Oakley, Serfas, a limo ride and dinner, and sport massages. Women stuck around until 10 p.m., when the product raffle ended!
Those who came out also enjoyed discounts of 10 percent on bikes, 50 percent on Specialized sunglasses and 25 percent on everything else. Cash registers were ringing...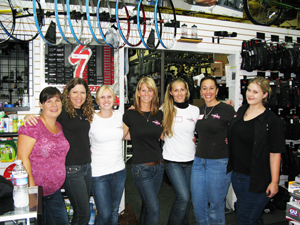 The Rock N Road Divas from left: Meredith, Diane, Crystal, Nicky, Lisa, Tracie and Stacey--put on an awesome event. They've got it dialed in and strong ties with the community's female demographic.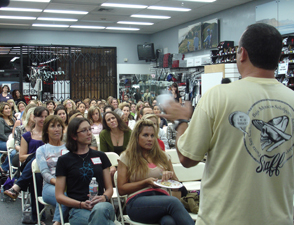 It was a packed house with just about every chair taken. Kevin Trejo had a captive audience.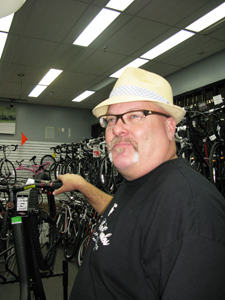 Though 99 percent women, a couple of guys snuck in, including Steve Boehmke, who was there on behalf of SoloSports.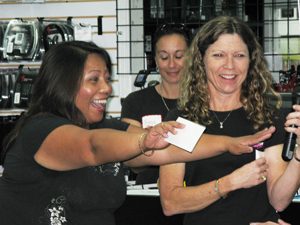 The women in attendance weren't at all shy about playing "Bike Pyramid" to win cool prizes. Suffice it to say that there was a lot of shrieking going on. Free stuff can really get a crowd going and keep them around.