Just wrapped up a whirlwind tour of Bay Area bike companies with BRAIN sales guy Peter Kirkpatrick. We made good use of our two days—started in Marin County, cruised over to the East Bay before heading south to Santa Cruz and Scotts Valley, then made our way back up through San Jose and San Carlos. Along the way, we hit Swobo, Marin Mountain Bikes, WTB, Panaracer, Bianchi, Ibis, Blackburn, Giro, Wordlock, Look and Ritchey.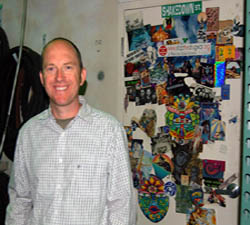 "What a Long Strange Trip It's Been." Marin Bikes' Steve Glazer stands by one of the only remaining indicators that Marin's Novato facility served as the Grateful Dead's practice studio for 15 (post-Jerry) years. Marin moved in six years ago and continued to lease space to the band for two more years. Pretty cool, even for non Deadheads.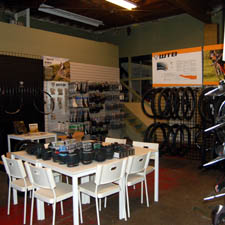 WTB is down the road from Marin in Mill Valley at the base of the famed Mt. Tamalpais. Pretty cool digs in an old auto repair shop. Here, WTB has turned some old warehouse space into a showroom where it plans to hold dealer events in the future. This allows a space to run retailers through new product and give presentations before heading out to ride.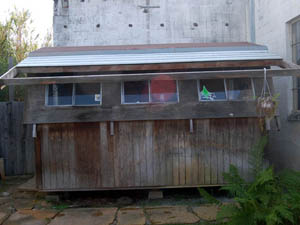 WTB's Freedom Shack. This get-up in WTB's backyard is where the Freedom brand manager hangs his hat for the day. WTB recently spun its pavement category into a new brand called Freedom. Freedom also provides a voice for the company's advocacy work. WTB president Patrick Seidler has spearheaded efforts to raise millions of dollars for bike paths in Marin County, as well as national projects including Safe Routes to School. Oh and all WTB employees are comped $3 a day for commuting by bike to work. And they have showers and laundry at the office. Jealous.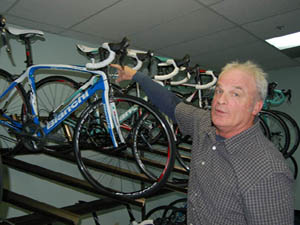 Bianchi's David Reed shows the Infinito road frame. The frame is designed with race geometry, but the head tube is higher creating a more comfortable, upright position. Retail is $2,995 with Ultegra build. Bianchi has done well with its fixed gear and singlespeed models this year, as well as its ultra high-end road bikes. "It's the middle ground that's killer," Reed said.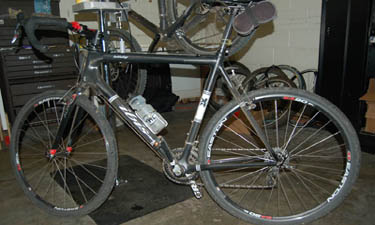 The Ibis Hakkalügi cyclocross bike. Ibis brought back the popular model this year, which had been around during Ibis' first go-round. The company is entering its third year back in business after Hans Heim and Tom Morgan revived it post-bankruptcy. Founder Scot Nicol (who sold the company in 2000) is back as a partner, as is designer Roxy Lo. Business is up and Ibis is now represented in 30 countries and about 120 U.S. dealers. Two weeks ago, Nicol set out in a Dodge Sprinter on a six-state tour taking demo bikes to retailers as part of the company's philosophy of open communication lines (a human always answers the phone at Ibis). "People are driving long distances to be there to talk to us directly. They're not going to do that to talk to a rep," Morgan said.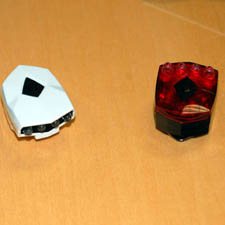 Stopped by to see Blackburn/Giro at the new Scotts Valley office. Easton Bell's Action Sports crew moved there earlier this summer from Santa Cruz. Blackburn's Sean Coffey showed us the new Blackburn Flea USB front and rear lights. They cost 30 bucks and weigh 17 grams. Not bad for 40 lumen output. USB charger lets you rejuice the lights from any USB port.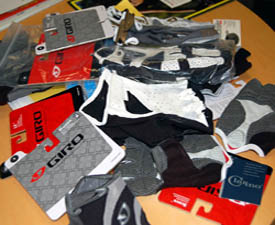 We also heard about Giro's venture into cycling gloves, which seems to be going quite well. This year, they've expanded the women's offerings (woohoo!) and added winter gloves to the mix. Giro already has 1,350 accounts for gloves, up from 1,000 just before Interbike, all with pretty much no advertising budget. One key to the success is offering road and mountain gloves so retailers can order everything they need from one supplier, said Eric Richter, who heads up Giro's eyewear and gloves. "We've worked hard over the years to make sure Giro's well positioned at both ends of the market," he said.
Ritchey's Jesse Mayberry shines up the new Super Logic clincher at Ritchey headquarters in San Carlos. The wheelset retails for $3,000 and also comes in a tubular version. Ritchey has a long list of other new product including the Pro Apex Carbon 38mm clincher, the WCS bar, stem and post in sleek white paint, the Zero Offset carbon seatpost and Breakaway road and 'cross frames in a new color scheme.