PLOVDIV, Bulgaria (BRAIN) Wednesday May 23 2012 5:53 AM MT—Dahon has begun producing bikes for the European market in Bulgaria through a partnership with local manufacturer Maxcom.
Initially, Dahon expects to produce 40,000 bikes at a new facility opened specifically to manufacture folding bikes for Europe. The facility includes assembly, a test center, rims and wheels manufacturing, automated production processes and a painting department.
By the end of the year, Dahon expects output to reach 100,000 units with a total contribution of $19 million to Bulgaria's export market in the first year.
Dahon projects its total exports worth to grow to $38 million by 2015. Bulgaria's total goods export grew by 2.2. percent last year to $26 billion.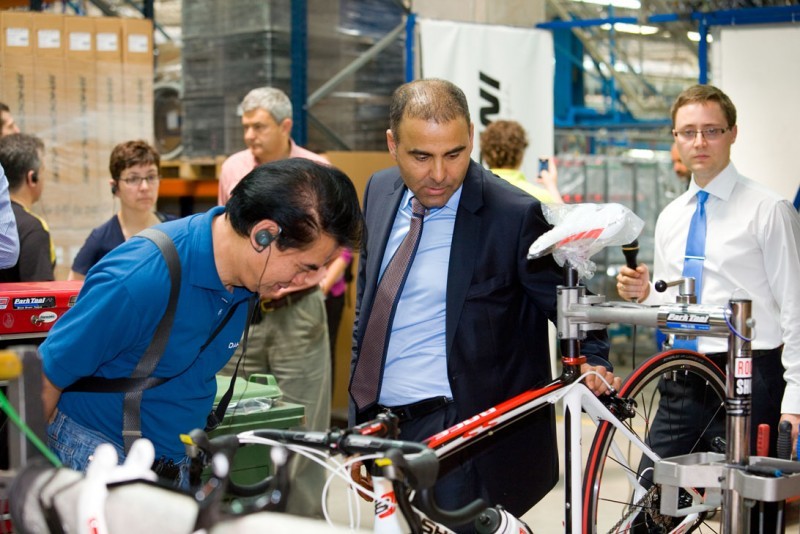 Dr. David Hon inspects at bike at the Bulgaria factory
Eastern Europe has become an increasingly important manufacturing base due to lower labor costs and its close proximity to key European markets. DT Swiss, Ideal, Campagnolo, Sidi and Mavic all produce parts in Romania, Poland or Bulgaria.
"We are excited to have moved our European production to Bulgaria, not just because of its logistical advantages, but also because of its increased focus toward the use of sustainable energy," said Dahon founder and CEO Dr. David Hon during a recent international conference on economy, energy and tourism in Bulgaria.
Maxcom is located in Plovdiv, Bulgaria's second largest city. It was opened in 1996 and produces its own brand of bikes, called Sprint, along with contract work. Maxcom also owns a company store called Maxbike in Bulgaria's capital city of Sofia.
The Maxcom assembly line