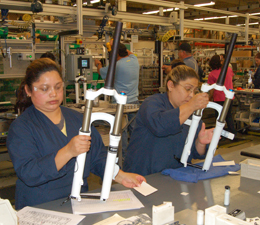 WATSONVILLE, CA (BRAIN)—Fox Racing Shox has moved its corporate offices into a new building in Scotts Valley to make room for the consolidation of its manufacturing and assembly operations.
Offices for Fox's executive staff and finance and sales and marketing departments for the bicycle and power sports divisions are now in a new space about 20 miles north in Scotts Valley. That frees up square footage at the Watsonville headquarters to consolidate several overflow buildings scattered throughout town into the main facility, putting all 500 manufacturing workers on the same floor, said Mario Galasso, corporate executive vice president of Fox.
That will take some reconfiguring of the existing space, which is under way now, and is expected to be finished for model year 2013 shipments this spring, Galasso said. The facility is operating while the new layout is under construction. Fox's facility in Santee, California, remains unchanged.
Fox imports parts from Asia, assembles suspension forks and shocks in Watsonville, and ships complete products back to OEMs, primarily in Asia. It opened a Taichung, Taiwan, office, in late 2010 for sales support and customer service and to run quality control on parts before they're shipped to California. Fox is currently expanding the Taichung staff to include a supplier development team, Galasso said.
In Watsonville, Fox began expanding in the mid-2000s, and ended up with five or six buildings in town, meaning a part would arrive into the main building where it was inspected, then move to another building for assembly and come back as a finished good before shipping to a customer. The new setup will increase efficiency and allow for greater capacity in the future.
"The reconfiguring is definitely being prepared for having more capacity across all the divisions," Galasso said. Fox has seen recent growth in the power sports business, he added, and although snowmobiles sales were not great this year, they've sold well in the past few years, as have side-by-sides.
Fox reported sales of $150.5 million through September 2011. Approximately 80 percent of sales are to OEMs.
—Nicole Formosa
nformosa@bicycleretailer.com