LONGMONT, CO (BRAIN) Wednesday June 27 2012 11:09 AM MT—Forest fires in Colorado Springs, Boulder and Fort Collins have many bike industry members scrambling.

Mike Creed, marketing director for Colorado Springs-based Colorado Cyclist, may have lost his Colorado Springs house to the fire Tuesday. Creed is the father of pro cyclist Michael Creed.

"We have lost everything. I'm OK because I'm one tough S0B and will survive this. Love everyone and will keep you guys updated," Mike Creed said on Facebook late Tuesday.

However, late on Wednesday Creed said he was hopeful his house might have survived the fire.

"A neighboor "thinks" our little area of Oak Valley "may" have survived the fire ... I have no way of knowing for sure since the area is locked down," he wrote.

More than 30,000 people have been evacuated from their homes in Colorado Springs.

On Wednesday, USA Cycling closed its offices until further notice.

USAC representative Andrea Smith told BRAIN that the organization is operating out of temporary space at the Olympic Training Center.

"We're not certain how long it will be until we can get back into the office," Smith said in an email. "The real concern is for all of those who have lost their homes, which I fear includes some of our friends in the cycling community.

Criterium Bicycles closed its store Tuesday due to the mandatory evacuation order.

Carmichael Training Systems was open Wednesday and was making its facilities open for local endurance athletes who need to continue training, said editorial director Jim Rutberg.

"As of Wednesday morning, we do not know of any coaches or staff who have lost their homes in this fire," CTS said on its website. "We do know of some CTS athletes and certainly many friends of CTS who have been displaced and who have lost their homes."

Old Town Bike Shop, near downtown Colorado Springs, remained open, but four employees have been evacuated from their homes.

"It's uncertain whether their houses are OK or not," said Old Town mechanic Brian Gravestock. "Everyone is stressed out."

Steve Brunner, president of marketing company KOM Sport and marketing director for the USA Pro Cycling Challenge, has been evacuated from his home, he said on Facebook. "As of noon Wednesday, the upper part of our neighborhood (Mt Blodgett area) had lost a couple homes...firefighters and patrols doing an amazing job...hoping the winds shift and potential rain comes..."

BRAIN columnist and cartoonist Patrick O'Grady lives outside the evacuation area in Colorado Springs. "Smoke's pretty thick, getting some ash-fall, but otherwise OK," O'Grady reported Wednesday morning. O'Grady also wrote about the fires on his blog site.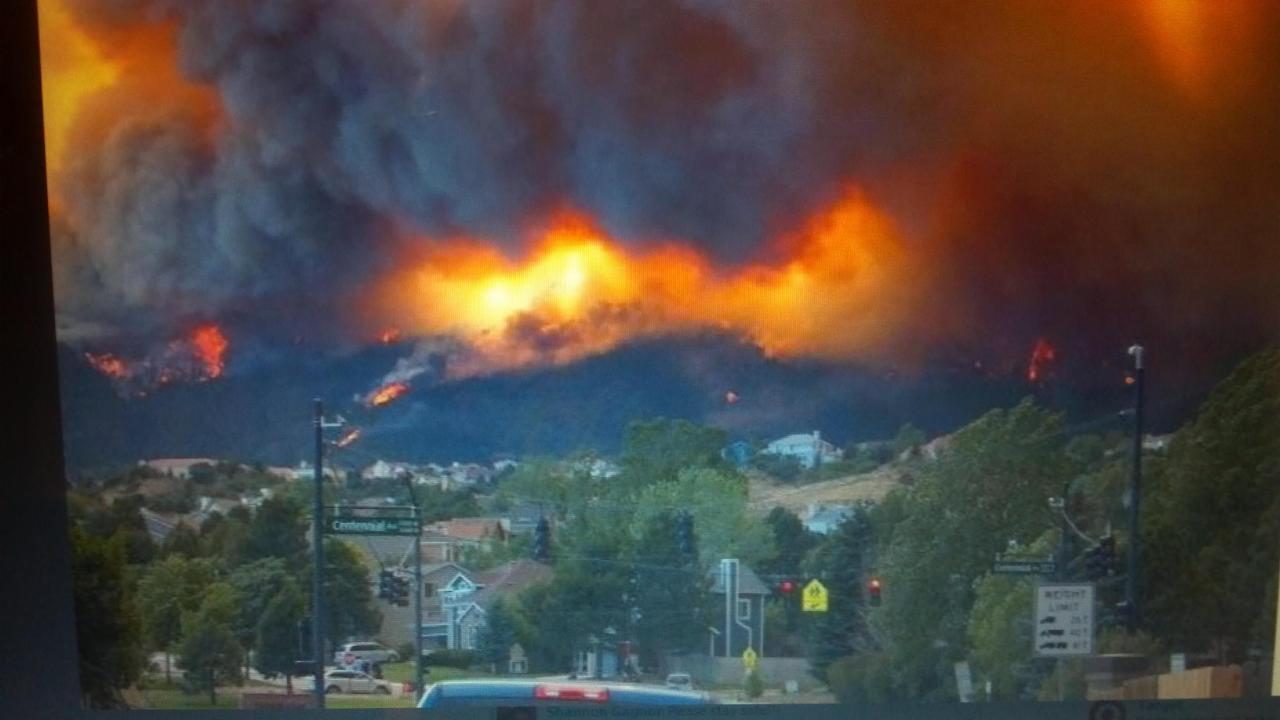 The view from the home of RockShox engineer Chad Dewitt on Tuesday. Dewitt's house is fine.

SRAM's RockShox facility in Colorado Springs was closed Wednesday, said John Dawson, the brand's director of events and sponsorship.

"We're right on the edge (of the evacuation area)," Dawson said. "We're next."

Dawson said he was not aware of any RockShox employees who have lost homes. "There have been a couple really close calls ... it got scary for a lot of the guys."
Many on notice in Boulder

Meanwhile, a smaller fire near Boulder has resulted in several thousand residents of South Boulder receiving pre-evacuation notices. The South Boulder location of Boulder Cycle Sport is within the zone that received the pre-evacuation notice, but the store was open Wednesday, said saleswoman Natasha Powers.

"The fire decreased overnight; I just saw a couple of flames this morning on the east side of the Flatirons, but they are hitting it hard with fire retardant and water," she said.

A handful of residents in the high country above Boulder have been evacuated. Flagstaff Road, a popular riding area that will host the finish of a USA Pro Cycling Challenge stage in August, is closed to non-emergency traffic. The fire is centered near Walker Ranch, a popular mountain bike trail.

The Boulder Mountain Bike Alliance reported that "all open space trails west of Broadway/Hwy 93 from Flatirons Vista Trailhead north to Boulder Canyon are closed until further notice. Walker Ranch is also closed through June 28."

BRAIN web editor Steve Frothingham's Boulder office is at least 6 miles away from the fire and he's open for business.

Fort Collins fire stabilizing

West of Fort Collins, the High Park fire continues to burn, having already consumed nearly 90,000 acres and more than 200 homes. However, the Denver Post is reporting that the majority of residents west of Fort Collins who were evacuated should be back in their homes over the next 48 hours.

New fire near Durango

In the other corner of the state, a small wildfire broke out near Durango, home of many professional mountain bike racers and several well-known retailers and industry suppliers. As of late Wednesday resident of about 60 homes there had been warned to be ready to evacuate.

Top photo: The Boulder Flatiron fire Tuesday evening. Courtesy: http://www.learningdslrvideo.com/