LAGUNA BEACH, CA (BRAIN) — Crankbrothers has streamlined its range of cockpit components and paired-spoke tubeless wheels for 2014—a welcome development for retailers suffering from SKU overload—and is offering its alloy wheelsets at more competitive price points. All of the products, unveiled during a media launch last week at Crankbrothers' headquarters in Laguna Beach, are now shipping to dealers.
Following its success with the Eggbeater and other pedals, Crankbrothers made a rocky entrance into the wheel market in 2008. The wheels' distinctive "twinpair spoke" design promised easier tubeless setup due to the absence of spoke holes at the rim, but the first-generation rear wheels were dogged by poor freehub durability. The hub was redesigned for second-generation wheels in 2010, however, and freehub warranty has dropped from 17 percent to less than 1 percent, said product director Chad Peterson. The hub design carries over into the 2014 wheel line.
Rims get a makeover aimed at improving strength while trimming weight. Across the line, they're 2 millimeters wider, with sidewall height reduced by 1.7 millimeters to provide a more precise tire bead fit. Sidewalls are also tapered to concentrate material in high-stress areas and thin it elsewhere, and a supporting I-beam has been removed from the rim's interior to reduce weight. Rim depths increase for greater strength, shortening spoke length by 4 millimeters.
Previously available in a variety of colorways, wheels now come in a limited number of colors to simplify the line and make the collection more manageable for the retailers, said Amanda Schaper, marketing manager for Crankbrothers. Colors were selected based on sales data from the previous wheel collection.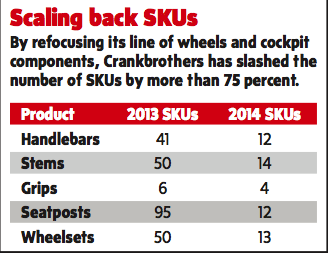 Crankbrothers also adds 27.5-inch versions to its Cobalt XC/race and Iodine all-mountain lines. The Sage freeride wheel has been discontinued, with the 26-inch Opium handling downhill duty and Iodine slotting in for "light freeride."
Cobalt 2 and 3 wheels (MSRP $600 and $900, respectively, down $50 from last year) come with 15-millimeter front and 12x142 end caps installed, but also ship with provisions for 9-millimeter and 10x135 quick-releases. Both come in 27.5 and 29er, with Cobalt 3 additionally available in 26-inch.
Iodine 2 and 3 ($600 and $900, also down $50) come with 15-millimeter and 12x142 end caps installed but also ship with 20-millimeter and 10x135 caps. Only Iodine 2 is available in 26-inch in addition to 27.5 and 29er.
The only wheelset to go up in weight this year—following feedback from Crankbrothers' gravity athletes, who wanted a burlier wheel—the 26-inch-only Opium 3 ($900) tips the scales at 2,100 grams per set and comes ready for 20-millimeter thru-axle and 12x150 rear spacing, but also ships with 15-mil and 12x157 end caps.
A SRAM XD 11-speed kit is available as an aftermarket product for all wheels.
On the cockpit side, Crankbrothers' Cobalt XC stem line shrinks from four price levels to two in order to focus on the high end, with the carbon fiber Cobalt 11 retailing for $300 and the Cobalt 3 alloy stem priced at $90, down from $110. Both are 15 grams lighter than previous versions (110-millimeter length) and come in fewer lengths this year, offered in 80-, 90-, 100- and 110-millimeter to simplify the line. For OE customers, however, Crankbrothers will continue to make stems in a wider variety of lengths, said company co-founder Carl Winefordner.
The Iodine 2 and 3 aluminum all-mountain stems ($80 and $110) get a new four-bolt clamping system to increase stiffness and come in 50-, 65- and 80-millimeter lengths.
Like the Cobalt stem, Cobalt handlebars are now offered at just two top-end price levels—$165 for the carbon fiber Cobalt 11 and $85 for the Cobalt 3, both available in 8-millimeter low-rise and 15-millimeter midrise versions. All come in widths of 680 or 780 millimeters except for the Cobalt 3 midrise, which measures 700 millimeters.
With 30 millimeters of rise, Iodine all-mountain bars come in a 780-millimeter-wide carbon version ($165) and two alloy versions—720 mil in 7050 aluminum ($85) and 780 mil in 2014 aluminum ($50). Opium DH bars ($85) are made from 7050 aluminum and come in 15-millimeter midrise with 780-millimeter width and 30-millimeter high rise at 720 millimeters wide.
All bars come in black only, with gunmetal finish eliminated to simplify the line.
Cobalt rigid seatposts slim down from four price points to two, with the carbon Cobalt 11 priced at $220 and the 7075 aluminum Cobalt 3 reduced from $110 to $100. They come in diameters of 27.2, 30.9 and 31.6 millimeters; 34.9 has been discontinued due to weak market demand.
Editor's note: Crankbrothers brought in a dozen writers and editors from the cycling media to its Laguna Beach headquarters over four days last week to review the 2014 wheels and components and try them out on local trails. The writers were asked to refrain from publishing the information before Tuesday morning.