PARK CITY, Utah (BRAIN) — With cold, wet and snowy weather canceling afternoon demo rides, the editors attending Summer PressCamp could only admire but not test the plethora of products unveiled as the event kicked off this week at Deer Valley Resort. Now in its sixth year, Summer PressCamp 2014 drew 27 vendors and 35 editors — its largest crowd to date.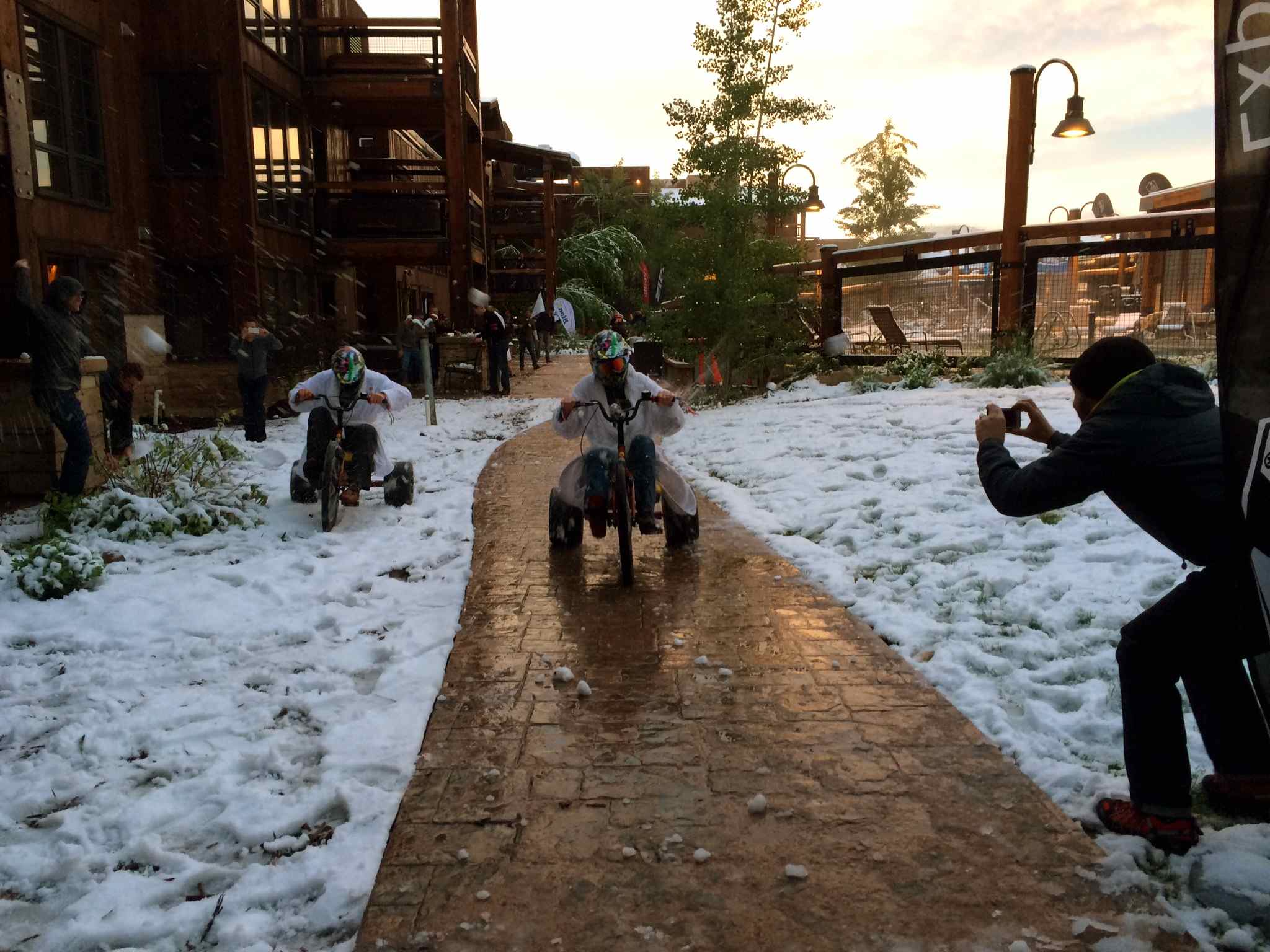 Event organizer Lance Camisasca said this is the first year inclement weather has been an issue since PressCamp's inception in 2009. The Deer Valley chairlifts were shut down mid-afternoon and the rain turned to snow around 3:30 at the Silver Baron Lodge where vendors and editors are based for the week.
At a dinner hosted by Reynolds on Tuesday, Camisasca introduced the event as Winter PressCamp (the actual Winter PressCamp, held in Los Angeles in January, also experienced unseasonable weather, in the form of severe drought that made for hot and dusty trail conditions).
The abundance of shiny new products helped brighten the mood indoors. In 45-minute appointment blocks, editors and photographers ogled and may have even drooled a little over offerings from long-time and first-time vendors. The middle wheel size, all things enduro, electronic shifting and the debut of the e-MTB in the U.S. market were themes that emerged by the end of day one in Deer Valley, but with so many vendors, there is certainly much more to come.
Pivot Cycles unveiled two new full-carbon 27.5-inch mountain bikes (see photo gallery below), including a full-carbon 8-inch travel 27.5-inch downhill bike that, at 31 pounds, weighs just 10 pounds more than the PressCamp swag bag the editors received upon arrival on Monday. All jokes aside, according to Pivot's Chris Cocalis, the Phoenix is the lightest downhill bike on the market. The frame weighs 7 pounds when built with an air shock, and with a 440 mm chainstay, geometries are very close to its 26-inch cousin (R.I.P.).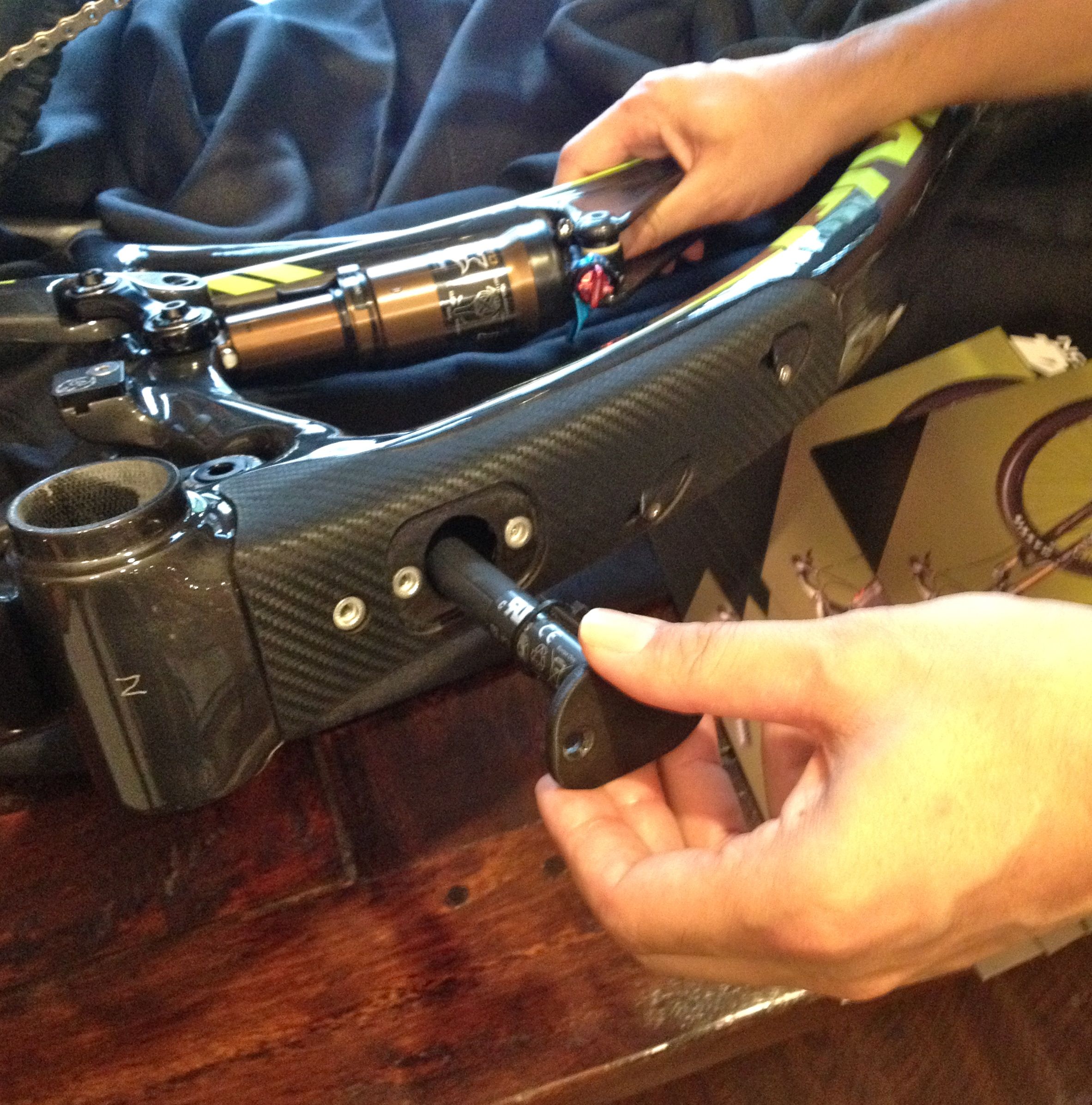 But from new electronic groupset-specific cleaning products from Finish Line to Pivot's Mach 4 27.5-inch frame designed specifically for stowing a Di2 battery cleanly in the downtube, it was hard not to ignore the buzz surrounding electronic shifting. More to come on that as the week progresses.
And finally, Currie Technologies announced this week that the first shipments of the Bosch-equipped Haibike electronic mountain bikes have landed in the U.S. There are more models to come, but the 29-inch hardtail and a 27.5-inch full-suspension will be available in coming weeks at retail. Currie's Larry Pizzi said that a total of seven Haibike models, including two road bikes, should show up by the end of summer. The snow prevented editors from testing the Haibikes, and any bikes for that matter, on Park City single track, but once the trails are clear there will be Haibike demos available.
For a short time, the traditional Tuesday evening Reynolds-sponsored game of Flip Cup was also in jeopardy due to the snowstorm. But much to everyone's relief, the games commenced as usual as the weather broke late in the evening and the clouds lifted to reveal a landscape blanketed in white.
Summer PressCamp will run until midday Friday.