On New York streets usually overrun by the city's iconic yellow taxis, cyclists took over for just one morning. Cyclists on all forms of two wheels imaginable conquered the streets of Manhattan and the surrounding boros (the Bronx, Queens, Brooklyn and Staten Island) during the Five Boro Bike Tour.
With major arteries such as FDR Drive and the Brooklyn Queens Expressway closed to car traffic, cyclists ruled the road. With more than 30,000 participants the pace of the ride was slow but participants were incredibly courteous—especially for impatient New Yorkers.
While car-free highways may not be an everyday reality, the tour makes it possible to imagine bikes becoming a more regular mode of transit in the megatropolis. One New Yorker at the start line, riding a rented hybrid bike, said improvements like the bike path on Manhattan's west side and divided bike lanes make looping around the island by bike a pleasant experience.
Soggy weather aside, seeing New York's five boros on two wheels was a truly memorable and unique experience. Thanks for the treat Monica!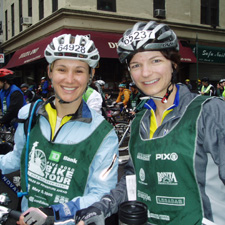 Michelin's Monica Davis (right) and I are ready to roll at the start line.
Monica gets her caffeine fix from Starbucks. Our SOMA coffee cup holders were the envy of many of our fellow riders!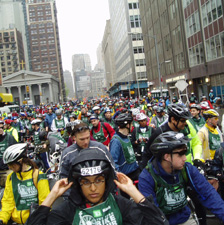 Riders lined up on Church St. in lower Manhattan as far as the eye could see.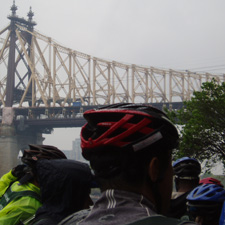 Riders stop to enter the Queensboro Bridge, one of five bridges crossed on the 42-mile tour.
Volunteer marshalls helped direct riders and ensure that all 30,000 participants finished the ride safely.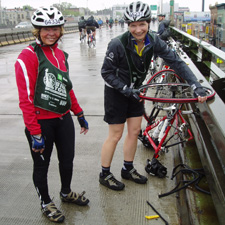 Monica stops to help a rider fix a flat spreading Michelin goodwill along the road!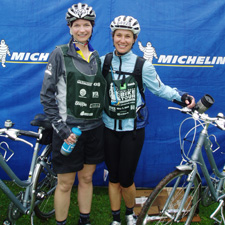 Cold and wet... but still smilling!