The industry kicked off the annual Eurobike tradeshow under a cloudless sky and warm temperatures at the Demo Day in Argenbühl, Germany, about a half hour bus ride from the exhibition hall in Friedrichshafen.
About 100 vendors, including representation from big brands like Giant, Trek, Cannondale, Shimano and SRAM, as well as lesser known companies like Canyon, Traix and Gepida, set up on the grounds of a local elementary school, allowing retailers to test 2010 product on nearby test tracks.
Here are some pictures of product from Demo Day, as well as other shots from Eurobike: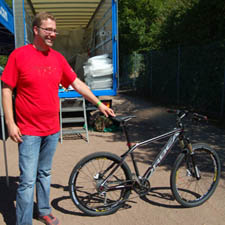 Jens Landwehr, who handles distribution for Orbea in Northern Germany, shows the new Alma hardtail mountain bike. Orbea developed a four-point triangle frame for the new bike, delivering a stiffer, more comfortable ride. The bike also uses direct cable routing which allows for clear performance, as well as lessens the chance for mud to get caught in the cables. The Alma retails from 2,000 to 6,000 euros depending on spec level.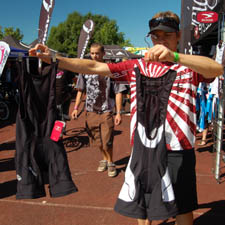 Sugoi's Bryan Anderson shows the men's and women's versions of the new RSE bibs. The chamois use memory foam material, sonic welded seams and has front and rear mesh ports for added breathability. The RSE also comes in shorts. Retails is around $160.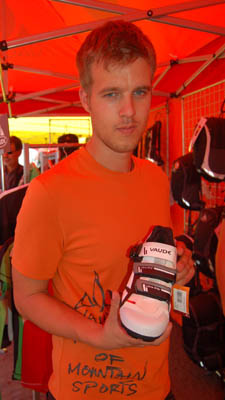 Vaude is expanding its cycling category with a new line of mountain bike shoes. Above, Vaude's Fabio Laub shows the Chain model with a nylon sole and synthetic upper. Vaude is well-known in the outdoor industry for its sleeping bags, hiking shoes and backpacks, and branched into the cycling industry 15 years ago with packs. The shoes will be distributed in the U.S. by Magura Direct.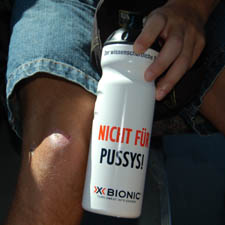 BRAIN's Robert Roman shows XBionic's clever slogan next to his healing wound from a recent mountain bike ride. Unfortunately Roman learned this lesson about mountain biking with a short flight over the handlebars.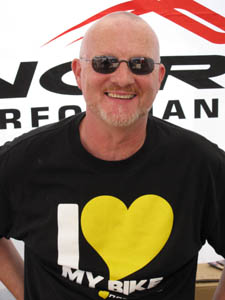 Norco's vp of sales, Skip Swain, kicks back in Norco's new T-shirt, which has turned out to be quite the hot item. Swain had to turn down several people hoping to buy one of the shirts, which aren't for sale.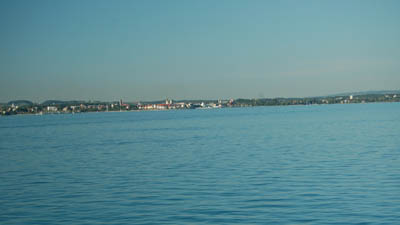 The city of Friedrichshafen sits in the distance as the ferry approaches the home of the Eurobike venue. Many attendees opt to fly into Zurich and take the train to Romanshorn, then board the ferry for a leisurely 45-minute ride across Lake Constance. We ran into a couple groups of industry folks making their way to Eurobike on Monday afternoon.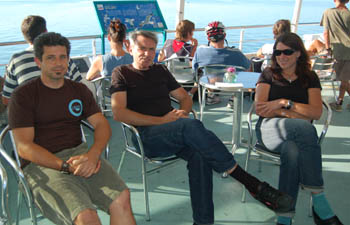 The crew from Fox Racing Shox chills out on the top deck...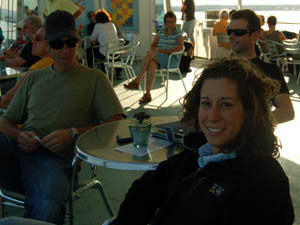 As do the folks from Giant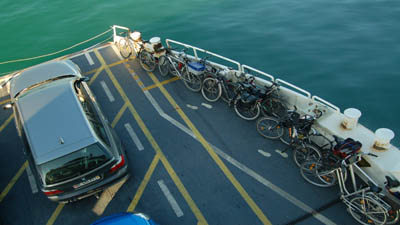 It's refreshing to see so many people using bikes for transportation!