I'm not sure exactly when I got it into my mind that racing 'cross would be a good idea. I guess I've always been a bit intrigued by what looks to be pure agony at times, but also so much fun. Earlier this year, Dorothy Wong, director of the SoCal Cross Series (not to mention a pretty badass 'cross racer in her own right) visited the office with Sheila Moon and we chatted a bit about her series and the 'cross scene in SoCal. Truthfully before that day, I didn't even know there was a 'cross scene here. I had recently moved from Colorado, and had it in my head that you had to be in a really cold, wet, muddy miserable place to be considered'cross-worthy. I was wrong.
Anyway, whatever the reason, this year I decided I would give it a shot. So my first stop was the women's clinic Dorothy held last weekend with the Velo Bella's, a club in San Diego.  As it turns out, I'm not the only lady looking to learn the ropes; about 25 other women showed up. Last year, 18 percent of the participants in the SoCalCross Series were women, and Dorothy hopes to see that number grow.
"I think it's going to hit 20 percent. Every clinic has had a good chunk of ladies coming," she said.
When she started the series five years ago, there were four races in Southern California; now there are 23, 18 of which are included in her series. Her goal is to get more women racing, and last weekend was the first time she held a women's only clinic. Based on the group's giddy smiles and excited chatter after four hours of practice dismounting and remounting, hopping barriers and shouldering the bike, plus a rowdy relay race, I think there will be some new women out on the courses this year. I definitely intend to be one of them. Stay tuned...
Here are a couple pictures from the clinic: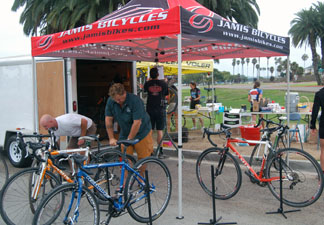 Getting the demo bikes ready. Jamis, Redline, Ellsworth and Focus all had bikes at the ready for the clinic.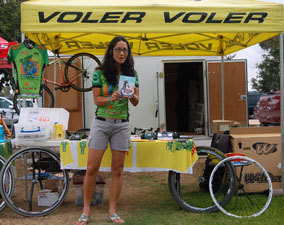 Dorothy Wong has seen amazing growth in the SoCal Cross Prestige Series over the last few years, which she attributes partly to the success of CrossVegas, and also Lance Armstrong's participation in a SoCal Cross race back in 2004. But the reasons behind the series' success are the people. "This sport is very grassroots. This is by the people, for the people and that's why it's grown," she said.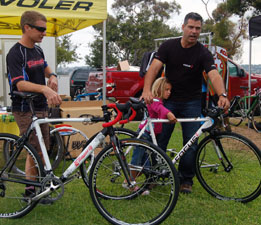 Rick Adams of Ellsworth and Scott Rittschof, president of the new Focus Bicycles USA, (with help from his sidekick and future 'cross racer extraordinaire, daughter Shay) detail the differences between 'cross bikes and road bikes.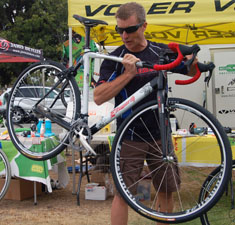 Rick demonstrates how to properly shoulder the bike.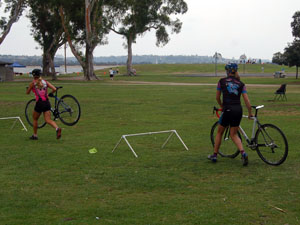 Barrier practice.