Giant Bicycles hosted a two-day fundraiser to benefit Tara Llanes Road to Recovery and the Reeve-Irvine Spinal Research Center last week at Northstar in Lake Tahoe. The event, which raised $15,000, included  a Jump Jam, a DH clinic with Giant pro Jared Rando, a DH set up and maintenance clinic with Frank Trotter and the premier of "New World Disorder 10," followed by a raffle and a beer garden.
The race course featured the summit of Northstar as the starting point. It was no easy task to get racers up to the top of the mountain but it proved to be worth the effort; Everyone loved the course! We dubbed the race a Mega DH and it was kind of a mixture of Super D and a true DH course. This race was a real test of riders DH skills as well as their fitness. The racing was very exciting and highlighted by wins from Giant Pro's Adam Craig, and Lizzie English. Also making an impressive showing was Bicycle Trip employee and Santa Cruz racer Evan Turpan who finished second in the Pro class followed by WTB's Mark Weir.. The biggest thrill of the day was delivered by Tara herself as she came bombing down the spectator lined Livewire trail to a huge ovation, this was an awesome ending to a great day of racing.
We then went right into the podium ceremony hosted by Northstar director and all around great guy Andy Buckley. Tara put medals around each of the top finishers before they took to the podium. When it came time for the pro's to take their place a top the podiums, that is when things got a little wild, each pro was given a bottle of champagne and the mayhem ensued. I have to say that the whole thing came off looking much like a World Cup event. Adam Craig then took the microphone and made a brilliant move by giving all of his race money to Tara, most of the other pros followed suit. All in all it was a very moving moment and really epitomized the spirit of friendship that this event brings out in us all.
Here are some pictures from the event: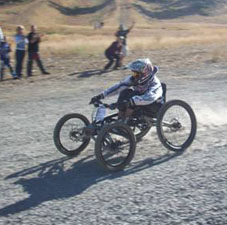 Tara rippin' it up coming down Livewire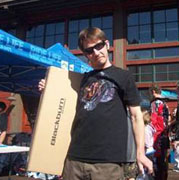 Derick the Fox guy is stoked! He just won a pump!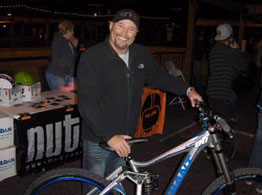 Another winner: Bruce walked away with a new Glory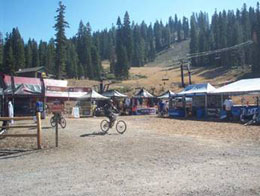 The expo area. Vendors included Giant, Fox Clothing, Leatt Brace, Troy Lee Designs, The Bicycle Trip, Dakine, X-Fusion, Specialized, Marin, Ride SFO, SF Dirt Lab, Kali Protectives, Shimano, Santa Cruz and the Christopher Reeve-Irvine Research Center for Spinal Cord Injury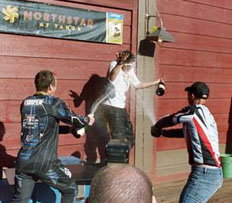 Adam Craig, Evan Turpan and Mark Weir getting nuts with the Champagne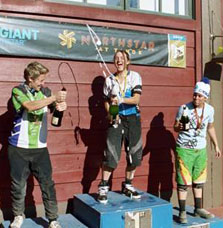 Pro women podium Lizzie English, Joanna Petterson and Anka Martin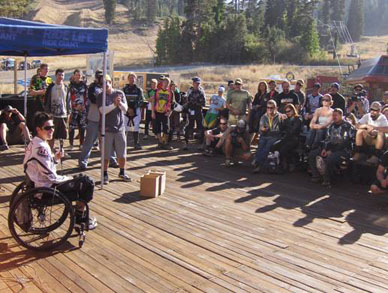 Tara did it all this year from packing the racer registration bags to charming the crowd of racers, to bombing down the hill. She is a true inspiration for all of us!
For more information on the event, visit www.racefortara.com