SEATTLE, WA (BRAIN) — At last Wednesday's cyclocross practice at Marymoor Velodrome, a handful of riders — including some BRAIN staffers and a few industry insider types — got the chance to try a new suspension seatpost on the facility's somewhat bumpy grass surface.
We'll leave the product testing to our friends at the consumer publications, but we did soon gather that some experienced racers and supplier personnel in Seattle and elsewhere are looking at the Body Float post as something more than just another springy post.
While inexpensive, short-travel suspension posts are a staple on comfort bikes, higher performance posts have become less common since viable cross-country full-suspension mountain bikes took hold in the late 1990s.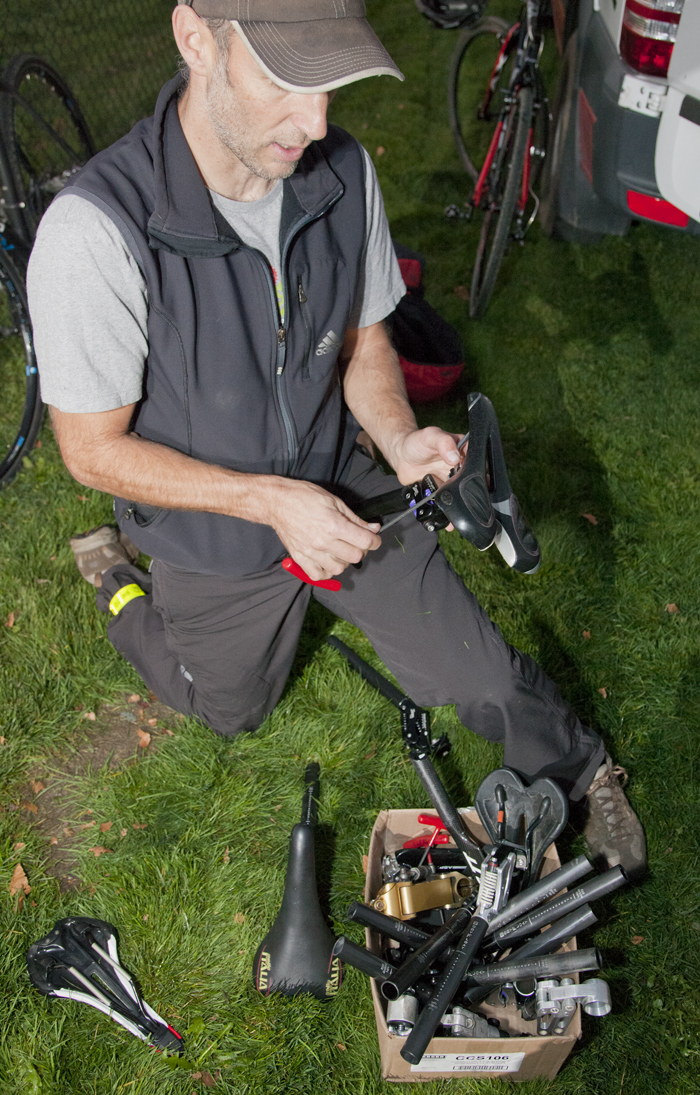 The $395 Body Float 3.1 post is aimed at performance riders and racers, including roadies, cyclocrossers, mountain bikers and others. It has two coil springs and a parallelogram design that allows the saddle to travel vertically. It delivers about 4 centimeters of travel. The lower post is carbon, the upper parts are machined aluminum and it's made in the Bellingham, Washington, area.
The Body Float is different from other suspension posts because of its wide range of adjustment, its travel path and its lack of damping — other than top-out and bottom-out bumpers, the post is designed to minimize friction and damping, allowing it to react to even small impacts, said Charlie Heggem, co-owner of Cirrus Cycles, the post's manufacturer.
The rider's legs provide the damping, Heggem said, and that interaction preserves the bike's ride qualities and allows road bikes to carve like skis. The spring preload is easily adjustable to adapt to different rider weights, terrain and riding style. Springs can be swapped, as well. That allows the post to adapt to riders from 50 to 300 pounds and provide a high-performance or a cushier ride.
"I can make it ride like a Ferrari or a Cadillac," Heggem said. 
Heggem is a bike event promotor and operations contractor. He also is a former pro cross-country mountain bike racer; he raced for Softride, which promoted its suspension beam and stem for performance riders in the 1990s. He said Softride was on the right track, but its moose-tongue beam lacked adjustability, tended to bounce uncontrollably and tilted the saddle angle throughout its movement. The beam also was damped with an elastomer material, counter to Body Float's "no damping" philosophy.
Heggem's partner and the Body Float's inventor is Paul Barkley, a former custom framebuilder who manufactured the early prototype and team frames for the Softride team from 1989 to 1992.
Cirrus is working with bike fitters, physical therapists and coaches to validate its post and develop a market for it from the top down, he said. The post will be available at IBDs next year, starting in the Northwest.
The initial post model will eventually be joined by a lower-priced version with an aluminum lower post and a higher-end model with more carbon parts.
Cirrus is currently out of stock on posts but is taking preorder reservations on its website.