Applications to be accepted February 17 - May 31, 20
Irvine, CA: The National Bicycle Dealers Association (NBDA) will officially open applications for its 2020 America's Best Bike Shops program on February 17. The America's Best Bike Shops (ABBS) program is aimed at recognizing and rewarding independent bicycle retailers for outstanding performance in the industry. The 2020 ABBS application will be available on the NBDA's website beginning February 17 and will remain open until May 31.
"The ABBS program is as much about the application process as it is the award," said NBDA president Brandee Lepak. "The highest-scoring shops earn the America's Best designation, but everyone who applies gains insight and learns ways to improve their business." 
Along with the possibility of earning the title of one of America's Best Bike Shops, the ABBS program also provides all shop owners who apply the unique opportunity to take a step back from working in their stores in order to self-analyze and develop strategies for working on their stores. For winning retailers, who receive physical and digital advertising materials in addition to national recognition as a leading bicycle retailer, the ABBS title can be an opportunity for retailers to showcase all they have to offer in their communities. 
2020 marks the eighth year of ABBS, and this year the NBDA has moved to a new all-in-one software that will make applying to the program even easier. Bicycle retailers can apply to the ABBS program by filling out an online application, which asks shop owners to explain what sets them apart from the competition. The distinction of America's Best is determined on the basis of this application, along with the results of a mystery shopper visit.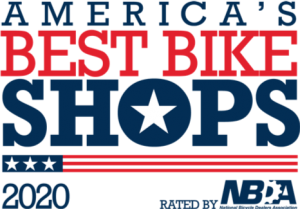 America's Best Bike Shops is one of many programs spearheaded by the NBDA in the pursuit of strengthening the specialty bicycle retailer and leading bicycle retail to excellence. More information on application requirements for ABBS can be found here. More information about the NBDA and its other programs can be found here.
About the National Bicycle Dealers Association (NBDA)
The National Bicycle Dealers Association (NBDA) has represented specialty bicycle dealers in the United States since 1946. The non-profit association offers numerous programs for dealers, with an emphasis on leading retailers to excellence through education, research, communication and advocacy. Some of its programs include: Profitability Project (P2), a Mastermind group for bicycle shop owners and the America's Best Bike Shops credentialing program.
NBDA member benefits include credit card processing and shipping discount programs, access to an online dealers' forum, and the Outspokin' newsletter. The NBDA additionally has forged  partnerships with customer survey, payroll, and website service providers. Annual dues are $195 for retailers; $125 for mobile bike shops; $850 for companies associated with the bicycle industry with over $500,000 per year in sales; and $550 for smaller companies and industry sales representatives.