BOULDER, Colo. (BRAIN) — Bicycle Retailer & Industry News is conducting two surveys right now as we try to learn more about the state of bicycle retailing. One survey you can take right now, and we hope you do. The other is by invitation, and we hope you say, "yes."

BOULDER, Colo. (BRAIN) — While negotiations are continuing and things can change quickly in the Age of Trump, as of Thursday morning the U.S.-China trade war continues and there is no agreement to roll back tariffs on e-bikes, despite some optimistic reports elsewhere in the bicycle media industrial complex.

TAICHUNG, Taiwan (BRAIN) — Giant Group continues to post strong growth in revenue through the first three quarters of the year, driven by a 40% increase in European sales of its e-bikes.
CAPE TOWN, South Africa (BRAIN) — Leatt Corp.'s third quarter was its strongest ever, according to its chief executive officer, with the protective gear brand's global revenue increasing 12% compared to the same time last year.
Providers in the micromobility supply-chain, including bike shops and self-service rental companies need to be proactive in making sure lithium ion battery fires simply don't happen – because they are preventable!

SAN DIEGO, Calif. (BRAIN) — Bag maker Jandd is offering a small bag for retailers to stash assorted accessories, including power cords, keys, and owners' manuals, that come with e-bikes.

SHANGHAI, China (BRAIN) — Bafang Electric has debuted on the Shanghai Stock Exchange, selling 30 million shares on the capital marketing and raising 1.3 billion Yuan ($186 million). The shares account for 25% of the total share capital.

The Professional Bicycle Mechanics Association surveyed retailers this summer about their service department staffing, revenue, training and more.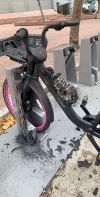 SAN FRANCISCO (BRAIN) — Lyft's bike-sharing service will return to the San Francisco area in December, four months after e-bike battery fires forced the fleet off the streets.
WASHINGTON (BRAIN) — The Trump administration has granted a tariff exclusion to importers of some bike computers from China thanks to a request from CatEye America. However it denied a California nonprofit organization's request for an exclusion for China-made kids bikes. 

MUNICH (BRAIN) — German e-bike motor company Fazua has announced a list of preliminary OEM partners in the U.S. for 2020.
Ned Overend and Gaige Sippy join Kristin Carpenter to talk about retailer Ed Zink's role in shaping the evolution of mountain bike racing and events.

(BRAIN) — On this episode of the Channel Mastery podcast, co-produced by BRAIN, host Kristin Carpenter pays tribute to Ed Zink, the owner of the award-winning specialty bike store, Mountain Bike Specialists in Durango, Colorado.

STOCKHOLM (BRAIN) — Net sales for MIPS continue to increase in 2019, with the helmet technology company reporting 38% growth during the first nine months.