LONGMONT, Colo. (BRAIN) — Bicycle online sales volume on Black Friday through Cyber Monday is projected to be higher than the surge in May, when the COVID-19 pandemic sparked the industry boom.

SANTA CRUZ, Calif. (BRAIN) — Santa Cruz Bicycles is recalling some bikes with aluminum frames and rear triangles because they can bend or buckle, posing a fall hazard.
CHICAGO (BRAIN) — Bike Shop Day 2020 will take place after all.
Justyna Frank of Cosmic Bikes in Chicago took the organizational reins from event creator Joe Nocella of 718 Cyclery and will mark the event Dec. 5.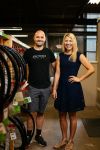 GREENVILLE, S.C. (BRAIN) — Whether it's an improvement on a simple valve stem nut or a commitment to continue producing rim-brake wheelsets, Boyd Cycling is all about innovation without following the latest fad.
PITTSBURGH (BRAIN) — Dick's Sporting Goods reported third-quarter revenue increased 22.9% year-over-year led by a continued rise in e-commerce, which grew 95%, and record store sales.
Annual food drive has half as many events as last year.

SANTA FE, N.M. (BRAIN) — The annual bicycle-inspired food drive known as Cranksgiving will have fewer events this year as a result of the COVID-19 pandemic. Just over 50 events are scheduled in North America, compared to a record 112 last year with more than one million meals provided.

As much of Europe hunkers down as it struggles with a hard-hitting second wave of the coronavirus, in cities like Paris, bike shops are a playing key role in keeping the metropolis alive and moving.

UPDATED to clarify the feature is about Fall/Winter 21/22 collections.
Last year, 119 bike shops participated in 35 states and seven countries.

BROOKLYN, N.Y. (BRAIN) — Like most retailers, Joe Nocella has had his hands full with navigating the COVID-19 pandemic and the sales and service boom that began earlier this year.

VICTOR, Idaho (BRAIN) — New research suggests youth cycling will continue to be a bright spot post-pandemic.

BOULDER, Colo. (BRAIN) — Pocket Outdoor Media is expanding deeper into bicycle media and adding scale to its Active Pass membership by hiring five Bike magazine editors who were furloughed this fall. The crew will lead the effort to launch a new mountain bike title in 2021.
TAIPEI, Taiwan (BRAIN) — Merida, one of the largest bike makers in Taiwan and a significant investor in Specialized, posted third-quarter revenues of NT$7.3 billion ($256 million), down slightly from the NT$7.8 billion the manufacturer generated in the same quarter last year.
The bill now goes to the president's desk.
WASHINGTON (BRAIN) — The Senate has passed a bill that would award the Congressional Gold Medal to three-time Tour de France winner Greg LeMond. The bill, which now goes to the president's desk to be signed, would make LeMond the tenth individual athlete to receive the medal.