PARIS (BRAIN) — Testpass, a French company that provides bike-makers, event-organizers and others with software to manage bike demos, is offering expanded features thanks to an investment from a company that provides similar services to the auto and motorcycle industry.
Antoine Taillefer, a former elite enduro racer, founded Testpass in 2016. Brands including Specialized and Orbea use the system to manage demos through retailers and at events. Events including Sea Otter Europe and Roc d'Azur use Testpass to register riders to register, collect waivers, security deposits and specific bike demo reservations.
Taillefer recently announced a partnership with Egylis, another Paris-based company that offers a variety of business software. He told BRAIN that Egylis took a minority stake in Testpass and is providing technology and resources that improves Testpass's offerings for the bike market. At Roc d'Azur, billed as the world's largest mountain bike event, Testpass registered more than 4,000 riders; at Sea Otter Europe the system was used to manage 1,500 demo rides over three days.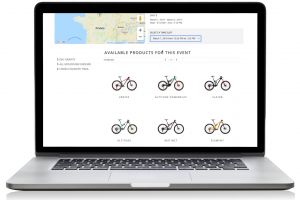 The system allows demo riders to register on the web before the event. At the event they can complete their profile and get a badge with a photo. At each brand's booth, they show the badge and they can pick up a bike in 10 seconds.
There's no need to sign a waiver or fill out a form at each company — the brand's staffcan just check the picture and start the test. And the brand gets all the data showing who rode which bikes and for how long.
Brands can also use Testpass to allow consumers to find and register for demos of specific models in their area at events or at retail locations. 
Taillefer said Testpass is currently the only bike-specific demo management software available, although some bike brands have developed their own software. Testpass has yet to reach a deal with a major U.S. demo event like Sea Otter Classic or Outerbike, but Taillefer said that is a significant goal for the coming years, and the company is looking for a U.S. partner to help sell and manage the system here.
Thanks to the alignment with Egylis, Testpass can now offer demo management software that includes web-based registration and an offline mobile application, allowing demos to be managed at events where internet communication is difficult. The system also manages sending marketing emails and SMS texts to demo riders and gathers customer data for brands and event organizers. More information at testpass.fr/en.
A version of this story appeared in the July 1 issue of BRAIN.