BRAIN tech editor Matt Wiebe roamed the halls of the Taipei Cycle Show to find the latest and greatest product coming down the pipe. From mainstream to downright quirky, here's a sampling of products being shown here.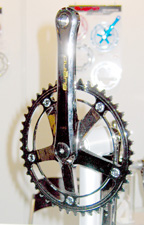 Sugino's popularity with the Fixie crowd means its cranks are of many colors. Now colors are making their way back to road. And check out the finish of these new 144 bolt-circle rings, highly polished gun metal grey.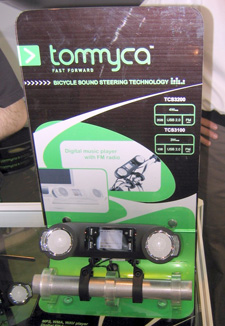 French company Tommyca is showing a small handlebar boom box with two Gigs of memory for music, stereo speakers, a USB port, aux input jack, FM tuner, 1.8-inch LCD screen, headphone jack and external power jack. The sound is surprisingly good for such a small package and the quick release allows the rider to pop the unit off and set it up as their cubicle music system. The top of the line unit sells for 199 euros; less expensive versions have less memory. QBP is distributing Tommyca in the U.S.
Viva is a relatively new Danish company with some cool Euro styled urban bikes. It's hard to see but this road bike has twin pencil top and down tubes and fancy twin lugs.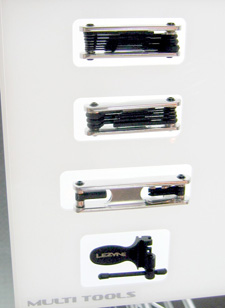 High-style Lezyne tools adds a mechanics line to its pocket tools. Why do mechanics need pocket tools? Having all the tools needed in your hand means no time is wasted walking back and forth to the tool box. Longer handles mean mechanics can easily torque fasteners all day long.
Suncycle is showing these 12- and 16-inch mountain bikes and the small wheels don't mean they are short on technology. Inverted forks, thru-axle forks, jack-axle drive train in-line with the swingarm pivot and under downtube shock mount show no shortage of detail refinements. The frame is designed to work with both wheel sizes.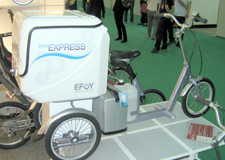 What does the environmentally sensitive rider who already has a garage full of electric scooters need? A fuel-cell hybrid scooter. Pacific Cycles Taiwan is showing an electric scooter that uses a fuel cell powered by methanol to output up to 1.6 kilowatts of power a day. That's enough to keep the battery powering the electric motor topped up through a full day of use.