Company blames revenue dip in North America on severe winter and decline in overall market.
HEERENVEEN, Netherlands (BRAIN) — Accell Group N.V. reported overall revenue gains for the first six months of the year. Revenue was up 4 percent to 506.2 million euros ($679.8 million), up from 503.8 million euros ($676.6 million) in the first half of 2014.
Net profit was up 13 percent to 27.5 million euros ($36.9 million) from last year's 24.5 million euros ($32.9 million) while operating profit rose by 7 percent to 38.2 million euros ($51.3 million) from 35.6 million ($47.8 million).
Accell Group owns several European bike brands including Ghost, Batavus, Winora, Koga, Haibike and Lapierre, as well as Raleigh, Diamondback, Torker, Currie, Redline and SBS in the U.S., which are part of Accell North America.
"We enjoyed a good first half in terms of turnover and sales, partly due to favorable weather conditions in Western Europe," said René Takens, chairman and CEO of the board of directors of Accell Group, in a press release announcing financial results.
"The growth in demand for electric bikes and high-end sports bikes was particularly strong. We improved our profitability as a result of a better product mix and cost reduction."
While revenue in the Netherlands, Germany and other European countries was up 11, 3 and 9 percent, respectively, in North America the company saw revenue decline 14 percent. "The main reason was the termination of deliveries to the mass market in Canada and the U.S.," the company said, adding that sales of Diamondback bikes were up in the multi-sport sales channel.
"Turnover in the Raleigh brand to specialist stores fell partly due to the long severe winter on the East Coast and turnover in parts and accessories dropped as a result of the decline in the market and the termination of a part of the distribution of Shimano products," Accell reported.
Company changes to impact second half 
Accell said it expects the recently announced sale of Tunturi Fitness B.V., manufacturer of treadmills, exercise bikes, rowing machines, and strength units for both commercial and home use, will have a positive impact on its results in the second half. The sale of Hercules, one of its German brands, earlier this year impacted its first-half results, particularly in Germany.
The Dutch conglomerate also said plans to open a Bicycle Experience Center in Ede, Netherlands, are well underway. The center will have the country's longest test track for bikes.
Bike revenue up slightly
Revenue from bikes, bike parts and accessories rose slightly in the first half to 497.4 million euros ($668 million) from 494.6 million ($664.3 million) last year. Accell sold 1.018 million bikes in the first half, down from 1.115 million bikes last year. But average price was up 10 percent. Accell attributed this to sales of higher priced e- bikes and higher-end sport bikes. Profits rose to 45.4 million euros ($60.9 million) from 43.2 million ($58 million).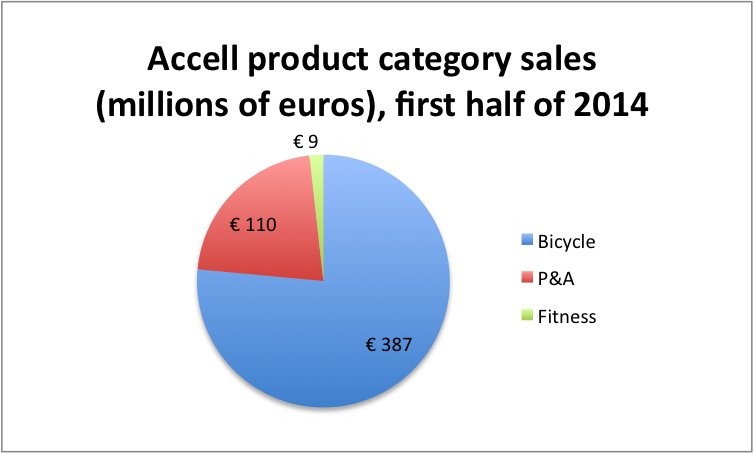 Electric bike sales were up 14 percent, largely due to growth in the Netherlands and Germany. But e-bike revenue was also impacted from the launch of e-bikes in the U.S., U.K., Italy and France. Accell said sales of e-bikes partly offset the drop in sales of traditional and sports bikes, down 1 percent and 14 percent respectively.