BRAIN talks with Leonor Lin, the president of TAITRA, the trade group that organizes the shows.
TAIPEI, Taiwan (BRAIN) — As the industry struggles to overcome supply chain challenges that are likely to increase due to the war in Ukraine, the Asian industry gathers this week at the TAIPEI Cycle trade show and its DigitalGo virtual show.
The in-person event features more than 630 exhibitors, including big brands like Merida, Giant, KMC, SRAM and Shimano. About 200 brands are participating in the online show. 
BRAIN spoke with Leonor Lin, the president of TAITRA, the trade group that organizes the shows. 
BRAIN: How does the size of this year's show compare to recent shows?
Lin: There are 638 exhibitors, using over 2,100 booths at TAIPEI CYCLE 2022, and 207 exhibitors at TAIPEI CYCLE DigitalGo 2022, the virtual platform. 
In 2021, there were 255 exhibitors signed up for TAIPEI CYCLE's online show, including 58 from overseas and 197 local exhibitors. The percentage of international exhibitors was therefore 23%.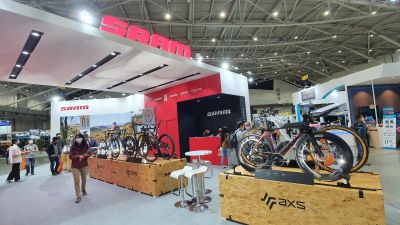 As for the pre-pandemic numbers, there were 1,100 exhibitors, using 3,300 booths at the physical show in 2019. We look forward to the gradual recovery of the physical show and a return to the pre-COVID scale in 2023 as the pandemic is winds down and international travel restrictions are gradually lifted. 
BRAIN: How many people visited the online show last year? What kind of analytics can you share about how long visitors remained at the show?
Lin: Last year, the online show attracted 100,000 visits from 81 countries. When we looked into the data behind the online show visitors, it was interesting to discover that 70% of these people were new visitors who have not been to the physical TAIPEI CYCLE show before. In other words, they are a different group of people from our normal trade visitors. It also suggests that the online show is helpful in terms of reaching out to new potential customers. We will pay close attention to this year's show in this regard. 
BRAIN: With COVID-19 concerns seemingly lessening in the West, do you expect more in-person visitors this year?
Lin: Taiwan is just gradually easing its anti-COVID measures lately, and partially opening its border from March onward. So for TAIPEI CYCLE this year, we will still try our best to help our exhibitors to reach out to international businesses with TAIPEI CYCLE DigitalGo, the virtual platform. Many of the virtual platform's features have been optimized and improved, and we look forward to more visits to TAIPEI CYCLE DigitalGo this year.
BRAIN:  Do you plan to continue to hold hybrid shows in 2023 or after the pandemic is over?
Lin: We do feel that the pandemic has brought a lot of changes. As the physical show is still our core business, the digital platform or events will be complementary to it. It is still too early to say what kind of hybrid shows we will have in 2023, but enhancing the physical show, while also advancing our digital services is something we always keep in mind and intend to do.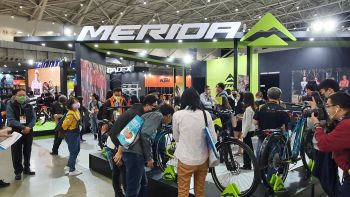 BRAIN: How would you describe the mood in the Taiwan industry now? 
Lin: The cycling industry's prospects still look promising. Orders of bikes and components are scheduled through to 2023 already. Brands like Giant, Merida, KMC, and other makers are still slowly processing the orders from before, and continue to enhance brand awareness. According to the Bureau of Foreign Trade, among the top 10 markets for Taiwan's e-bikes, the Netherlands, USA, Germany, UK, Canada, China, France and Australia all had increased demand for e-bikes. Exports to the UK and to Germany grew by more than 100% too. Taiwan's e-bikes exports have been the biggest driving force for industry growth.
BRAIN: More bike production is moving to Cambodia, Vietnam, Indonesia and even Europe. How is the Taiwan industry and TAIPEI CYCLE adjusting to remain relevant in this changed environment?
Lin: The fact that Taiwan's cycling industry is robust and flexible is the key to staying ahead in the global market. However, its bike production is facing challenges around shortages in materials and shipping containers, thus it is inevitable to diversify production sites to shorten the supply chain with more flexible production management. Taiwan is still a critical R&D center for high-end bike production. TAIPEI CYCLE is quite unique in presenting both supply chain and brands, while showcasing innovative cycling products of all kinds. It will continue to empower our exhibitors by offering better services on all levels and dimensions, and by helping our suppliers and brands even outside of the show ground, and after the show ends.