OSAKA, Japan (BRAIN) — Shimano says interest in bicycles globally continues as a long-term trend, but that macro-economic conditions and industry inventory levels contributed to a 17.7% decline in sales in its bike business in the second quarter this year, compared to the same period last year.
Net sales in Shimano's bike-related business were 204,986 million yen ($1.45 billion) in its first half, which ended June 30. Operating income in the segment decreased 39.5% to 42,093 million yen. On a quarterly basis, second-quarter sales were down 18.6% from the same period last year in the bike division, while operating income in the segment was down 7.5% in the quarter.
"Although the strong interest in bicycles cooled down as progress was made toward recovery to pre-COVID-19 day-to-day routines, interest in bicycles continued as a long-term trend," Shimano said.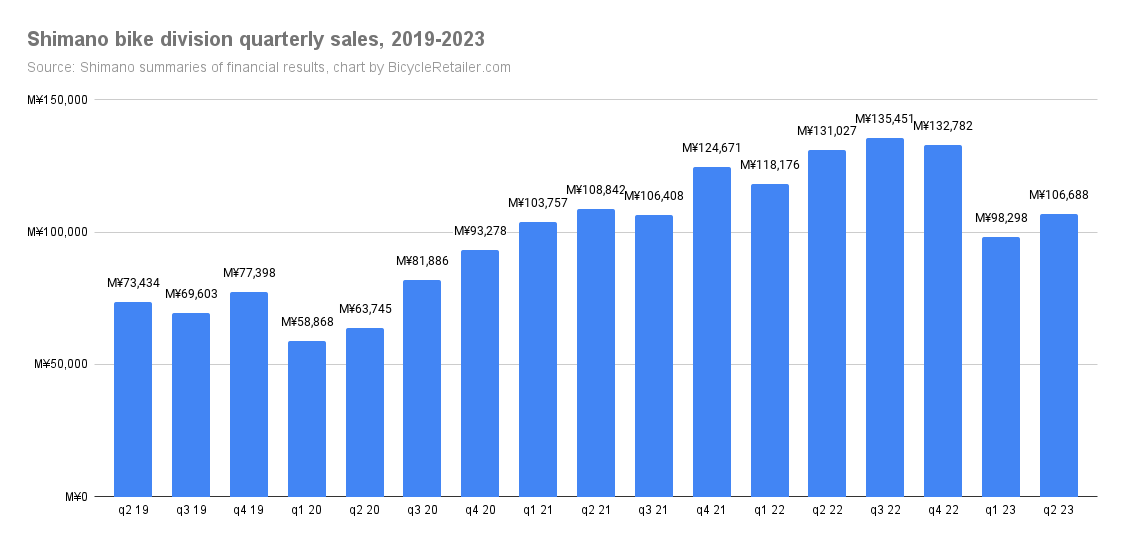 "On the other hand, concerns about economic recession, including rapidly rising inflation, led to a slowdown in sales of completed bicycles, and market inventories generally remained high, despite ongoing supply and demand adjustments. ... In the North American market, sales remained weak and market inventories were at a consistently high level," the company said. 
It said sales in most of Asia and South and Central America were "somewhat sluggish," but sales in China were strong, especially for road bikes. It said yen depreciation slowed the pace of bikes sales in Japan. High inventory levels in Japan also contributed to poor sales there. 
Sales in Shimano's fishing division also were weak in the first half, contributing to a company-wide 13.3% decline in net sales for the half, and a 33.4% decline in operating income. 
Shimano revised its full-year sales forecast down 2.2%, to 450,000 million yen, down from the previous forecast of 460,000 million yen. That would be a 40% decrease from 2022's full-year sales figure of 628,909 million yen.