Hincapie Sportswear adds to sales team • ENVE Composites increases warranty to five years • Fred Perry adds cycling-inspired fashions
GREENVILLE, SC (BRAIN) Thursday April 5 2012 10:29 AM MT— Hincapie Sportswear has expanded its sales team to extend its reach into the Eastern U.S. and the Midwest.
 
"Hincapie Sportswear is bolstering the sales team to further strengthen our presence in key markets," said Lynn Joslin, the company's national sales manager  "Our new reps are all avid—and in some cases competitive—cyclists who have competed in everything from the local road race scene to the Leadville 100."
 
The new independent sales reps are:
• Ryan Hall covers Minnesota, Wisconsin, Iowa, North Dakota, and South Dakota and also represents Ritchey Logic, Syncros, Vittoria Shoes, and Mercury Wheels.
• Dani Tunnicliffe, Hincapie Sportswear's representative in Florida, also reps for Cervelo, Catlike, and Motorex.
• Brad Baum extends Hincapie's presence into Illinois, Missouri, Kansas, and Nebraska. He also reps SRAM and Zipp.
• Eric Neely, who works for Southeast Sports Marketing, will represent Hincapie Sportswear in Georgia. He also represents SRAM, Zipp, Scott Sports, CatEye, Vittoria, Bonk Breaker, and Swaggman.
 
In addition, Hincapie has retained Adrenaline Sports Group, which will provide representation in the following areas:
• Bart Passanante, who covers New York and New Jersey.
• Jesse Stevens, who covers Maryland, Washington, DC, Virginia, West Virginia and Pennsylvania.
• Scott Wilson, who covers Pennsylvania and Delaware.

---
ENVE Composites warranties products for five years
OGDEN, UT (BRAIN) Thursday April 5 2012 10:32 AM MT—ENVE is adopting a five-year warranty program for its rims and components. The warranty complements the company's crash replacement policy.
The company said it is trying to send consumers the message that its rims do not need to be reserved for special occasions.
"After researching our return rate with testing and production, it only made sense for us to show consumers how much we believe in and can stand behind our products," said Ronnie Points, ENVE's national sales manager.
ENVE's new program protects the original purchaser of any ENVE rim or component from defect in materials or workmanship for the period of five years from the date of purchase with proof of purchase. ENVE requires that customers register their ENVE product at the time of purchase using ENVE's online registration form.

---
Tennis icon Fred Perry launches second stylish cycling line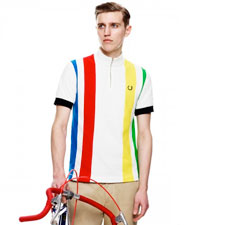 The British brand Fred Perry, best known for its tennis-inspired fashions styles, is launching its second line of cycling-inspired fashions.
The Fred Perry X Cycling Blank Canvas line consists of five cycling shirts in 100 percent cotton Fred Perry pique material, a jacket and shoes. The jerseys include rear button-down pockets, rear zip pockets, zip funnel necks, color-blocked sleeves and color-blocked body panels.
Other new additions to the range include a nylon cire cycling jacket with reverse nylon coil zips, front and rear zip pockets and championship striped tape on the back yoke.
The line is available consumer-direct on the Fred Perry website.