The builders' show wrapped up its 13th edition Sunday in Salt Lake. Next year's event is in Hartford, Connecticut.
SALT LAKE CITY, Utah (BRAIN) — Tracking down Don Walker for an interview was no easy task. As the show has grown, he's got more to keep on top of. Walker of Don Walker Cycles launched the first North American Handmade Bicycle Show back in 2005 in Houston to bring together builders and provide a way for them to market themselves and drum up customer orders. 
But in its 13-year history it has become a must-attend show not just for well-heeled cycling buffs looking for a unique, custom-built bike, but for the industry at large as product managers for some of the industry's largest bike brands are seen walking the aisles to get ideas they can bring to larger-scale production. More dealers are also attending, scoping out brands they may want to bring into their stores. And the number of component and parts exhibitors also continues to grow as they look to gain more spec with this community of innovators and the exposure from media attending the show, which grows every year.  
As the show wrapped up Sunday afternoon, Walker announced that NAHBS would be held in Hartford, Connecticut, next year. It's the first time the show, which has traveled to different cities every year, will be held in the Northeast region, a framebuilding hotbed that will draw builders from Boston, New York, Philadelphia and the surrounding communities. The show will be Feb. 16-18.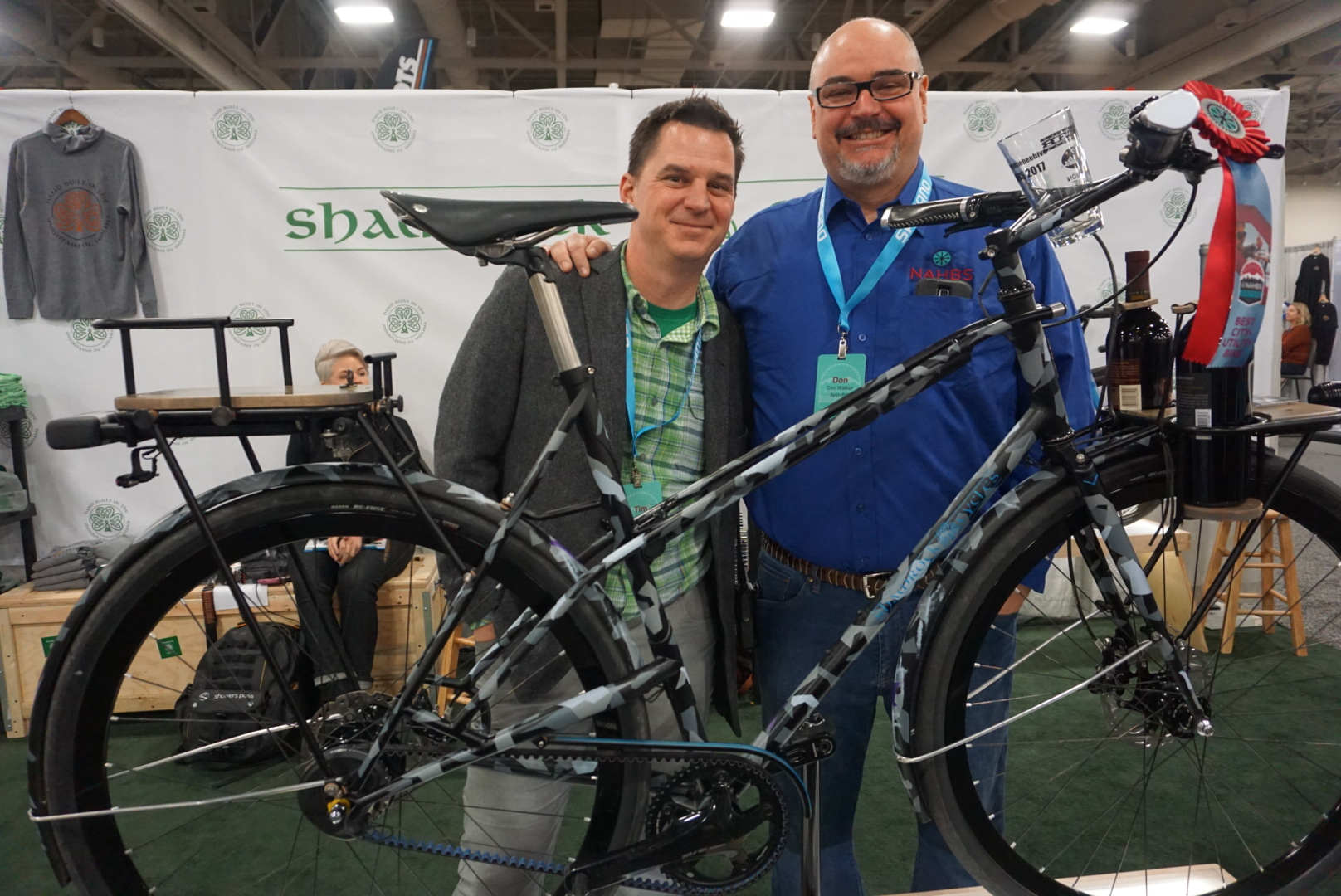 Earlier in the day, BRAIN was able to track down Walker in between the show aisles for a quick sit-down. Below is an edited excerpt of that interview. For more coverage from NAHBS, make sure to check the April 15 issue of the magazine. 
How does the Salt Lake City show compare to others in terms of location and size, the mix of builders?
We got really good mix for everything — builders, vendors, components, tires, clothing. Everything just kind of came together really well with really good synergy between all the different components of the show.
Are you up in the number of exhibitors or about the same? 
Actually, we're kind of right on even keel. But I think we might have actually surpassed our record, which was Denver. I think we got it by plus one or plus two this year. We got a couple of last-minute vendors, so I think we got it. 
How about attendance? How many pre-sold tickets leading to the event? 
I haven't been in contact with Kirsten upfront, but offhand it's been pretty steady. I think we'll do somewhere around 4,500 to 5,000 at the end of the show. We're right around 700 pre-sold tickets. 
What do you see trending with builders at this show? 
What I've been watching is fat bikes are kind of plateaued so to speak, gravel is really on the uptick, and then there's this new thing that may or may not be considered gravel, but they call it all-road. That seems to be a trend going on right now. Other than that, plus-tired mountain bikes, not necessarily fat but plus, seems to be getting a larger share of the market. 
How much bigger can NAHBS get? Has it gotten too big as a builder show? Has it gotten away from its roots? 
That really happened early on as I think the second year or third year more component companies were interested in coming to the show because we were dealing with a high-end clientele. And when you cast the net out a little bit farther, it's like rising tide floats all boats. You get the massive marketing power of Campagnolo or Shimano when they come, and they do a little bit of social media feed or buzz, and it helps feed the show and encourage the builders. Campagnolo has the Best Campagnolo Build contest, and that contest creates a big buzz so it gives more notoriety to builders that are in it. So it's a win-win all the way across the board. Columbus is doing the same thing. They sponsored the show this year. So they're doing Best Columbus Build. We do the NAHBS awards. Sponsors are starting to get awards going. The rising tide floats all boats. 
There are a few notable absences this year. Do you know why? Builders like Vanilla, Seven, Parlee, Independent Fabrication, Waterford …
Indy Fab had been with us several years, and the feeling I got from them was they had grown weary of the travel. They told me, 'Hey, if you ever bring it to our neighborhood we're in.' Waterford supported the show early on. They felt it wasn't part of their marketing budget. Seven had only been to two shows, maybe three. They were sporadic at best. Parlee has been to one or two shows. They've always been invited. If they don't want to make it part of their marketing dollars or budget, not much we can do about that. 
Will it continue to be a traveling show? And as the show gets bigger, is that a problem? 
Yes. NAHBS will never have a permanent home. We'll be on the road forever. There are some growing pains that go along with that. It's not like we're trying to occupy 500,000-square-foot halls or anything like that. We're still only about 100,000 square feet with 185 exhibitors or so. It's going to stay in that realm. Unless every framebuilder on earth says, 'I am coming to that show,' then I might need 125,000 square feet. It's really not that much. 
How many framebuilders came this year?
I think it's over 90. It's a pretty good ratio of framebuilders to component and other manufacturers.
How many framebuilders are there nationally?
There's a lot of hobbyist builders — guys that might be here if they can afford to come that still have a full-time job. And that's probably the largest segment of what you would consider a frame builder is a hobbyist. It's hard to know. In the U.S. there are probably 175 to 200 hobbyists. 
Industry trade shows are going through some major changes right now in dates and location and reinventing themselves to remain relevant. Are you seeing that at NAHBS? Or because you're different, you're regional, you're consumer, are you bucking that downward trend? 
We still have struggles. There are certain locations that haven't worked out for us for whatever reason. But we just keep on plugging on. The thing about this show is we are pushing for notoriety for a small niche in the overall bicycle industry. When you're dealing with starving artists you can't help perpetuate them being a starving artist. You're trying to get them to a certain level. I can't raise the prices too dramatically because that affects their overall bottom line and that doesn't work for them. And if they can't afford to come, it's kind of like putting the cart before the horse. You got to have enough builders to make people want to come and you got to have enough people through the door to make exhibitors want to come. It's almost like a chess match of trying to make sure we have the synergies between any and all portions of the show. 
You're ultimately a builder show, though, so their interest is first and foremost to reach the customer …
Yeah, and this really is their best advertising dollar, to come to the show. Billy (Sinkford) of Echos Communications has done a phenomenal job getting the media here this year. We've gotten huge names to come and cover the show. For the first time ever we have Sports Illustrated. I believe National Geographic said they're going to run a story about the show. Playboy as well. I know that's kind of an odd thing, but Playboy does a lot on chic culture. 
Do you think the handmade community and custom builders are doing better than the overall bike industry in sales where it's a really tough market right now?
I'm well aware of the industry and its challenges. I'm tracking the retail industry really intently right now because I think it's very unstable and it is, I think, prime for a collapse. I think when you have the ability to order a pair of (cycling) shoes from Amazon.com and have it delivered the next day at such a cheaper price it's going to put a real pinch on bike shops. I think bike shops are going to have to assimilate and understand where their earning potential is. It's going to be in customer service with repairs. I think a lot of bike shops, unless they're old established shops with more than one location, they're really going to have to pay attention to the forthcoming retail landscape. I think it's going to change dramatically. I think there will be a lot of shops that end up going out of business. I hate to be a doom-and-gloom guy, because that's not what I'm about. I see the clouds on the horizon. And they look pretty ominous. 
For builders, too?
I don't know that it will be for builders because builders have always been customer direct. So I think that's benefitting us. But I think the bike industry overall will be experiencing deep, deep changes. 
And you guys are somewhat removed from that?
Some of us are. Others of us that are here are big enough to have retail accounts — Mosaic, Moots, Calfee, just to name three right there. I know the guys doing 100 or more frames a year probably have retail accounts that they service. And that to me is scary for them. But when you hear about Trek going consumer direct and I've heard Canyon is soon launching here in the U.S. consumer direct, in my opinion it won't be long before the rest of them go that business model. I think the only guys that will benefit off of that are guys with sprinter vans going around fixing things. Remote mechanics. I've been wrong before and I will be wrong again, but that's my gut feeling — that this industry is in for some tough times. 
I saw a Korean builder and a few other international builders. Are you growing that side of the show?
It seems to be growing itself. It's not that I'm intentionally growing it. Last year we had one builder from Russia. This year we've got three. I think that's the coolest thing ever. Despite the fact that our governments are at odds these guys see the value in coming over here because this is the show about handmade bikes and that's what they do. We both know our governments are kind of clownish at best, but we all have bicycles in common and we're all brothers. We have the Russian contingent. We have a decent Japanese contingent — I want to say four from Japan. We have the first one from Ireland this year, FiftyOne Bikes, great carbon bikes, beautiful aesthetic. We have England again, Germany, Singapore. We have a builder from Singapore, in the new builder row. It's amazing the fact that no matter where we come from the world over, our common language is the bicycle and our love for it. 
So maybe the future name of the show is the International Handmade Bicycle Show?
IHBS. I like it. It's got a ring to it. We're having a good time with that. I love the fact that we're growing internationally. They're coming to us. I knew Dmitry (Nechaev) from Russia on Facebook. We've been friends for a couple years and last year he surprised me, said, 'Hey, I want to come to the show.' He had such a good time here. Other builders said if you're going we want to come to. So we got Jam and we got Toresvelo. It's great. I love the fact that these guys can come over here and speak in our international language, which is bikes. They're as passionate about bikes as we are and you can't go wrong with that. 
Has social media and the internet really helped spread the word on NAHBS, getting these builders global visibility to customers from all over the world as well as global framebuilders knowing about NAHBS and saying they want to be part of this community?
Social media has been very good to us as well as the internet. I will say this. Our first real show, there was one in Houston in 2005 but our next show was in San Jose in 2006. That was the real show, and we took off basically because of one man. That man is walking around today and you probably know that man. James Huang, the "Angry Asian." James worked for Cyclingnews.com back then and he came as a reporter and took pictures. And for several years, for five or six years running. He said overall their hits for that show was the highest traffic they'd ever gotten with exception of Tour de France coverage. Hundreds of thousands of hits with daily coverage from the show. I mean it was worldwide. He's the guy that made us the star. Now everybody is here. 
Do you still want to be show organizer? Are you considering selling the show or having someone else take over? 
That's a loaded question. I love the show. I love helping builders get more notoriety, get more press, interface with customers. The overall day-to-day running of the show? I'd really rather just be in the shop making bikes, to be honest. I have had a couple of offers, people who want to buy the show from me, but I think they don't have the same vision for the show that I do. I think they would maybe charge a lot more, thereby squeezing more from these guys and they don't have a whole lot to squeeze from. Back to that whole starving artist issue. It would have to be a phenomenal offer for me to walk away from the show — a life-changing, you-just-hit-the-Lotto kind of offer, because I love doing what I do. 
Would you do multiple shows a year? 
Once a year is still the formula. These guys can't afford to get away from the shop. There's a huge time commitment they have to deal with in coming to the show. They got to have bikes for the show. They have to arrange somebody to feed their cat, take care of their house, they have to pay for airfare or drive, hotel expenses, dinners, breakfast, lunch, and if you know this crowd at all, beer. So it's difficult and it's a huge time commitment to get all these bikes together. A lot of these guys, it's a two-week investment in time to come to show. A lot of guys who don't come, they probably say it's too much of a time commitment to be away from the bench. That's where you make money — it's at the bench. Ultimately, what makes you money is delivering bikes. 
Last question: Salt Lake City, Utah. Did the public land uproar heading into the show affect you at all? 
Yeah, it did. Some people saw it as a positive impact. Despite the fact that I do want access to public lands for recreation, there are a lot of people in Utah who don't feel that way. When we put out the call to volunteers three weeks or a month ago, people kind of got rude with us saying you don't want to be here and yet you want us to come help you at your show. It was a bitter pill to swallow. And we depend on local volunteers to make the show flow smoothly. But it wasn't a factor until two to three months before the show. It's blown up and we got caught in the crossfire. 
Do you think it's hurt attendance?
It seems quieter than in years past. Here's what I do know: Consumers that are in here have all been well-educated, top-notch consumers that any business would love to talk to. They are engaging, they are intelligent, they are inquisitive and want to know more about the product than in many other shows. A lot of shows judge the success by the numbers through the door. And they think it's a quantity. We have to take into consideration that it's a quality consumer. If you have 10,000 people through door and only five bikes get sold, you have five worthwhile customers. If you have 2,000 people through the door and 200 bikes get sold, which ratio would you rather have? This is all about the builders. This is all about getting them the notoriety.