Big shout out to Ben Serotta and Jeff Rowe, owner of of B and L Bikes in Solana Beach, for a hosting a terrific ride on Monday from the shop to Serotta's Composite factory in Poway.
BRAIN editor Megan Tompkins and I joined a group of about a dozen Serotta fans on the 40 mile roundtrip ride to check out the facility and hobnob with the man himself, Mr. Serotta. Even though the factory opened a little over two years ago, this was its "coming out" as Serotta put it. The six-person crew there, headed up by design engineer extraordinaire Mike Lopez, welcomed us with carne asada—grilled expertly by the employees—and cold beers.
Mike Lopez was one of the founders of Reynolds Composites and did contract work for Serotta for many years. He jumped ship to work exclusively for Serotta after the two shook hands on the partnership at the Tour de France three years ago. Serotta's agreement to allow Lopez and his crew to stay in SoCal rather than relocate to the company's headquarters in Saratoga Springs, New York sealed the deal.
Lopez led us on a truly fascinating tour of the 5,500-square-foot warehouse, where all Serotta's carbon work is done, showing us the manufacturing process starting with raw carbon material and ending with the rigorous fatigue tests each fork and bottom bracket undergoes (I would've never guessed how many cutouts it takes to make a bottom bracket). In addition to all Serotta's carbon forks and stays, recently the Poway team started making the first complete bike, the MeiVici AE aero bike. In fact, the first model for a customer was being built while we were there.
Serotta plans to open the Poway facility for general public tours by mid-year.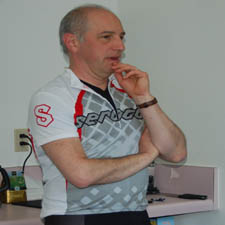 Ben Serotta talks to the group about his decision to open a West Coast facility in Poway, California.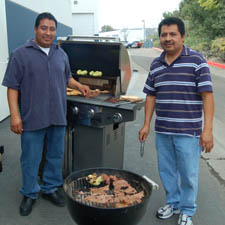 Thanks for the grub boys!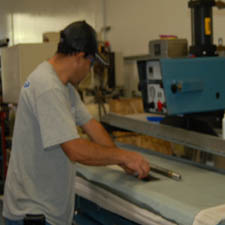 Lupe rolls out a top tube
Mike Lopez shows the riders the raw carbon fiber