If you're ever in Minneapolis, make sure to stop by One on One, especially if you're into vintage bikes, bicycle art and coffee. This quirky bike shop in the Warehouse District is owned by Gene Oberpriller and wife Jen, who put in time at QBP. I had the opportunity to check it out during my trip this past weekend to Frostbike along with our sales rep Barry Kingwill.
We headed down there Friday night after dinner at the Milwaukee Road Depot and the place was packed around 11 p.m.! Mind you, this was in the midst of a blizzard. Some people rode and walked there after the dinner. It was elbow to elbow at one point. Unfortunately we couldn't locate the owners in the crowd.  
We heard about the shop while visiting suppliers in the area in a whirlwind tour that included Time Sport USA, Kurt Kinetic, Park Tool and Hed Wheels. (I'll post photos and thoughts from these visits later this week.)
With a small, non-descript storefront, we almost missed it. Except we were told that it was next to Sex World, and sure enough, it's hard to miss thanks to its neighbors' neon. On the same block are also Sinners and Déjà Vu Show Girls Club.
The shop looks like something you would find in Portland or San Francisco—it's got that grunge/fixie/art house feel to it. Bike-inspired art and pop art decorate the walls along the entrance. (Artist Rolf Hagberg's collection of Bike Art Photography entitled Motivity will be featured until March 7). Instead of lines of bikes and racks full of accessories, a full-blown coffee bar, tables and chairs fill the front. As you go in further toward the back is the repair area. Deer and bison heads hang on the wall and retro bikes hang from the ceiling. A bike historian's heaven.
But perhaps one of its most distinguishing features lies in its basement, which is the length of the entire shop and houses literally hundreds of junkyard bikes, bins full of rusty cranksets, forks and just about any part you can imagine. There are also a few nicely kept retro bikes, most of which have "sold" tags on them. There are some good finds if you're willing to go on a scavenger hunt.
From what I've heard, it's not uncommon for customers to ravage through the stuff to throw together a fixed-gear or some other type of Frankenstein bike for commuting around town.
One on One doesn't just sell used bikes. It also carries new stuff from brands such as Swobo, Bianchi, Maverick, Surly and Spot Brand. And according to its Web site, can "fix, tune, customize, make rideable just about anything with two wheels and pedals."
It's got a cult following from what I can tell. Who knew? I sure was surprised to find such a gritty, urban and eclectic shop in one of the most climate-dependent-riding states in the country.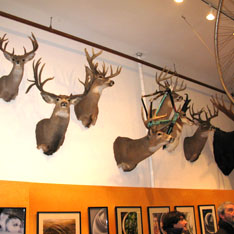 Some of the wall decor at One on One Bicycle Studio.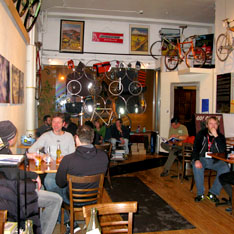 Coffee tables, chairs and art give the shop a gallery feel.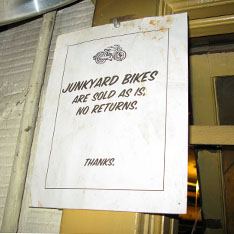 This along with a separate sheet offer disclaimers on buying used equipment from the basement.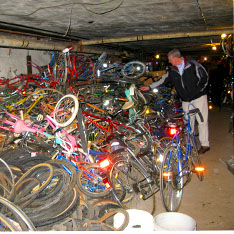 Barry sorts through the pile for what could be his next bike.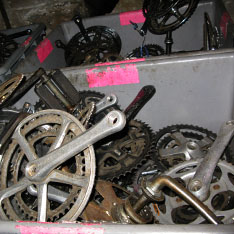 Bins full of old cranksets, forks and other parts.