Below are a few pictures from this year's Handmade Show. I will post more when time allows...and once again photos are by my old journalism partner in crime Chris Ertel...
I had actually written a ton on this year's show (for this entry) before a Web site glitch put me down for the count, so excuse me right now for my brevity...there will be a Handmade web story this Monday and a print story to follow for April 1...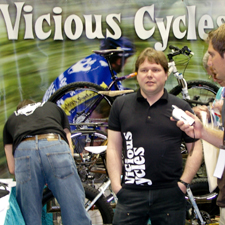 Vicious Cycles' Karl Schlemowitz always has some new toys for the Handmade crowd. This year was no exception. Check out the next picture.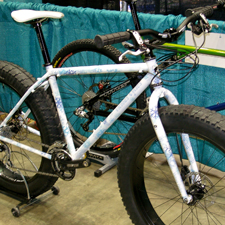 Let it snow, let it snow, let it snow. Vicious' Graceful Fat Sheba wheelset will eat the white stuff up being that its 80mm across. Its the widest 26" hoop currently available and retails for $99.95.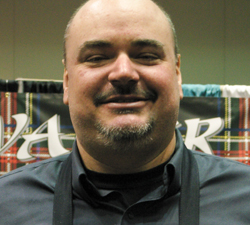 That's the "Big Cheese" or at least that's what his badge said. Show founder Don Walker has to be elated at this year's turnout thus far. Huge numbers showed up Friday and Saturday, making Portland's show a distant memory. You go, Midwest!!!
Some west coast builders didn't show up. Portland did big time, running seven deep at the show. Signal Cycles was one of them. Check out this custom made wine rack.
Bilenky Cycle Works was flying high as a kite with this tandem.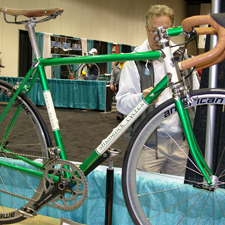 Shamrock Cycles brought some local Irish flavor to the proceedings.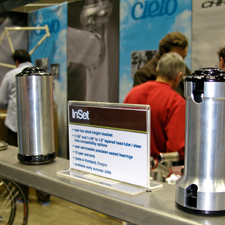 What's a cyclist to do with an oversized headtube? Buy a Chris King InSet headset, of course. Available in June, it will retail for $129.99.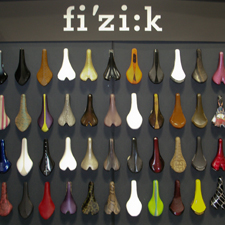 Fizik had some cool new saddle designs. According to some lady by the name of Suzette that does marketing for the company, check back on Fizik's Web site in the future for more information. You can ask more questions, but I wouldn't.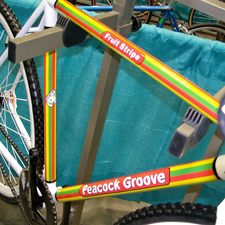 Can you chew gum and ride this bike at the same time? The Juicy Fruit by Peacock Groove.