After a full day of lobbying on the Hill yesterday, summiteers logged a total of 350-360 meetings with their state reps and senators, according to the League's Andy Clarke. Some of the success stories he shared at the Congressional Reception last night included two North Carolina congressmen who joined the Congressional Bike Caucus. Two congress members from New Jersey also joined, as did three congress members from Idaho.
Attendees toasted to a fine day's work before heading back home. Next year the Summit will be turning 10 and plans are already underway to celebrate the milestone in a big way. "We're going to blow the roof off this place," says Clarke.
Here are some snapshots:
Hanging Ten: Eight advocates from Hawaii met with their four state lawmakers. It was the first time the state had a delegation, and every county and island was represented. "All four were supportive and happy to see us here," said Justin Fanslau, president of the Collective Influence, who organized the group.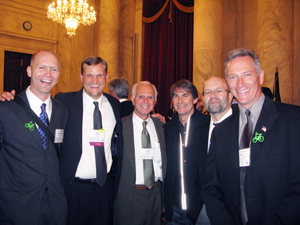 Fantastic Six: Pedro's Chris Zigmont, Interbike's Andy Tompkins, Sea Otter's Frank Yohannan, SRAM's Michael Mercuri, QBP's Gary Sjoquist and Lifeboat Solutions' Lance Camisasca are all smiles.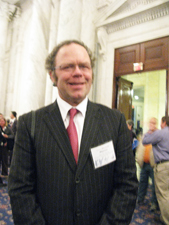 Stop the Press: "This is where it's at. The who's who in the bike world is here," said Maurice Tierney of Dirt Rag and Bicycle Times magazines.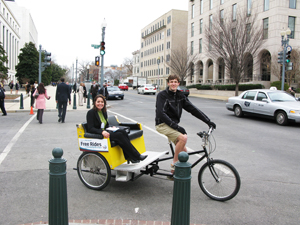 Pedal Powered: Ben of DC Pedicabs spotted me as I headed to the Senate Russell Office Building and offered to take me the rest of the way (to the great relief of my feet.) The League hired them to provide free lifts between Capitol office buildings throughout the day. Three cabs made the rounds starting at 9 a.m.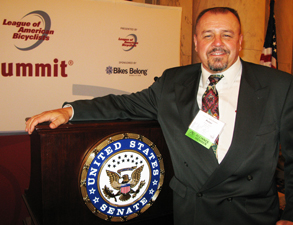 Not About the Bike: Among the Alabama delegation was Peter Wolf of ALA Bike, who came out for the second time because bicycling remains a marginal activity in his state. "It's not about the bike, it's about the fun," Wolf said. His hometown, Auburn, is leading the charge as a Bronze-level bike-friendly city. And it's aiming for Gold.