Sheila Moon and her trusty sidekick Luna popped into the BRAIN offices earlier this week as they made their way from L.A. to San Diego on business.
Sheila was fresh from the Handmade Show where she showed her latest lifestyle wares to the hip crowd in Indy. Sheila started Sheila Moon Athletic Apparel five years ago and makes those bright, funky, flower-patterned women's jerseys. She branched into lifestyle about three-and-a-half years ago and designs some pretty cool riding britches, jackets and even dresses and skirts. She's even does a cool tweed line.
The best part? It's all hand sewn in San Francisco. Not too common these days. Last year, she and her team produced about 25,000 garments in the City by the Bay.
Sheila's seen some pretty spectacular growth since she launched her company and recently expanded into the Canadian market with about 15 shops. Her apparel is in about 400 U.S. shops.
"It's gone amazingly well," she said. "People are getting it and really understanding it, and that makes me feel really good."
She'd like to expand internationally to cycling hotspots in Europe and Asia, but first she needs to hire someone who can head up business operations so she can continue to focus on design and development. If you know anyone, let her know!
Thanks for stopping in ladies.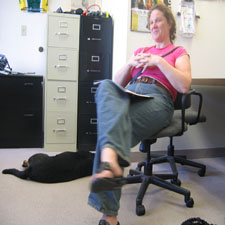 Sheila Moon and Luna Kick Back in the BRAIN "Dorm" Room