Richard Bryne and wife Sharon Worman know what it's like to be the underdog. The founders and owners of Speedplay say their dual-sided clipless pedals have finally crossed into the mainstream, but the road to success has been long and arduous.
"When the market first saw our pedal, they freaked out," Bryne said. "People were saying 'you can't be serious—that can't work.'"
Bryne said his pedal's unique lollipop shape and engaging mechanism—though distinctive—proved to be too strange and met with a lot of skepticism and overall rejection from the market. He showed the pedal to 22 companies with hopes of licensing the design for another brand to manufacture. But none were convinced of its potential.
So after seeing door after door close in their faces, Sharon suggested they start a company, and they did in July, 1991. Their first production run consisted of 100 pairs, which they sold directly to consumers at events to help promote the brand.
They knew that to gain validity in the marketplace, they needed to become established in the competition circuit in Europe. But they had no idea how difficult this could be as a small startup. With major brands signing racers on multi-year exclusionary sponsorship deals, Speedplay was squeezed out of the pro circuit for years, Bryne said.
It finally got a break when U.S. team Colorado Cyclist signed a sponsorship deal in 1997. Tyler Hamilton and Team CSC followed in 2003, hoisting the company into the limelight. "We were stoked when Team CSC picked up Speedplay for a six-year sponsorship," Bryne said.
Now Speedplay can be found on several European pro circuit teams including Team Liquigas, the Cervelo Test Team and Team Milram, among others.
After numerous wins in men's and women's pro races on both sides of the pond, the company gained momentum. Bryne said about a fifth of the racers in the Tour de France ride its pedals today, which are sold dealer-direct through approximately 2,000 bike shops in the U.S. They're also sold internationally through distributors in 25 countries.
With established brand recognition, Bryne is now looking to put a renewed focus on dealer outreach and education—he and sales manager David Alvarez are hitting the road to visit shops in different markets. They're sharing the history of the brand and its founder, who began racing bikes in the early '70s and whose design and engineering experience extends well beyond bicycle pedals.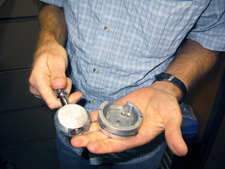 Bryne holding Speedplay's first prototype. It's a lot heavier than the production model in the photo below. What made it stand out at the time, aside from its unusual shape, was its unrestricted lateral float--something Bryne, who had sustained knee injuries during his racing days, needed, as well as dual-sided entry and engagement that's independent from spring tension.

Speedplay's first production model of its original pedal, the X Series. Though rejected at first by the industry, it received a designer's choice award from ID Magazine, an industrial design publication.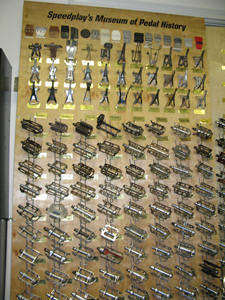 Look familiar? You may have seen this Museum of Pedal History at Interbike. Bryne has documented the history and evolution of pedal design on pegboards that feature pedals from the 1890s to the 1980s.
Bryne, who collects vintage bike parts as a hobby, shows us his stem collection.
Speedplay founders and owners Richard Bryne and Sharon Worman gave us a tour of the San Diego headquarters, where all pedals are shipped from.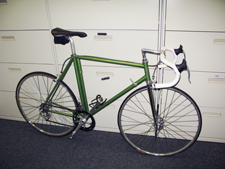 Among Bryne's previous design and manufacturing ventures was this time trial bike he built in 1984. Note the steep headtube and seattube angles. Bryne calls it the "granddaddy of time trial bikes," claiming it was the first aero bike ever built. Bryne also built a stationary bike trainer, called the TurboTrainer, organized and put on a couple bike races and dabbled in coaching before returning to product development.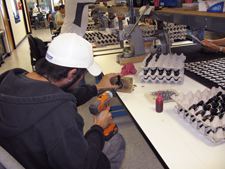 Speedplay employs 30 people in its San Diego headquarters. Most pedals are assembled here—except for two, which are assembled in Taiwan—and a lot of components are sourced locally, Bryne said. "The best way to achieve perfection is doing it locally," he said. "It's been 18 years and no recalls due to fastidious QC—we check and recheck."