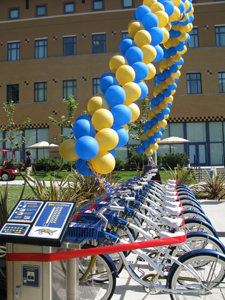 A lot can change in 10 years. On Friday I was able to witness some major changes taking place at my alma mater, the University of California Irvine, which I hadn't returned to since graduating nearly a decade ago.
School officials held a ribbon-cutting ceremony for UC Irvine's bike-sharing program called ZotWheels. (Zot is the noise anteaters make and anteaters are the school's mascot). Officials claim it's the first automated bike-sharing program on U.C. campuses—numbering 10 across the state—and only the second installed at a university campus in the nation. Go Anteaters!
Unlike low-tech first and second-generation bike sharing schemes at many schools, the ZotWheels program relies on RFID technology to track each bike, similar to the system employed by SmartBike DC. UCI faculty, staff and students go online to sign up to become a member and receive a membership card. This card allows them to unlock a bike from four stations located throughout the campus. For forty bucks, they have access all year to the bikes, which can be checked out for three hours at a time.
For now, the school is making 30 bikes available. But program manager Lynn Harris said more stations and bikes will likely be added once they figure out the demand and usage needs. ZotWheels was developed and funded by UCI's Parking and Transportation Services' sustainable transportation department, which has garnered several awards for its alternative transportation solutions.
Mike Davis, Parking's sustainable transportation coordinator, told those attending that he estimates ZotWheels will save anywhere from 20 to 40 metric tons of greenhouse gas emissions in its first year. "ZotWheels will play a part in cleaning the air we all breathe," he said. It's part of a multi-pronged approach by Parking and Transportation Services to provide sustainable commuting options. Others include carpool matching services, vanpools, subsidized OCTA bus passes and train subsidies, free campus shuttles and even a fleet of Zipcars. "Our programs keep 5,200 cars from coming on campus," Davis said.
ZotWheels was the brainchild Parking and Transportation director Ron Fleming who had checked out a stroller for his young daughter from an automated stroller rental system while shopping at a mall last year. That got him thinking about how the same system could be adopted for bicycles. Fleming contacted the manufacturer of the stroller system, Central Specialties, Ltd., to see about modifying the system for bicycles. And the rest, as they say, is history.
The Collegiate Bicycle Company provided the custom three-speed internally geared cruisers, which feature the school's colors, mascot and insignia. Jonathan Sobin, who handles business development for the CBC, said the San Diego, California, company has fielded a ton of interest from universities and colleges nationwide to help them start bike-sharing schemes of their own. "We'd like to bring the program to campuses all over the country," Sobin said.
The CBC recently helped launch Mississippi State University's scheme with 200 custom bikes. It also provided a bike fleet for the New York Institute of Technology. The company also partners with retail shops across the country that are in close proximity to universities and schools to sell its licensed college bikes to students, faculty, staff and alumni.
As for maintenance of the bike fleet, the CBC will handle it initially, but the school's on-campus bike shop, operated by Bike Religion, will assume upkeep of the bikes for the long-term. The shop, which opened in December 2007, is conveniently located next to the bike path leading to campus.
Seeing bike racks filled to capacity, students walking, riding and skateboarding across campus and now this ZotWheels program made me proud of being a former Anteater. Hats off to the folks who worked to make this happen.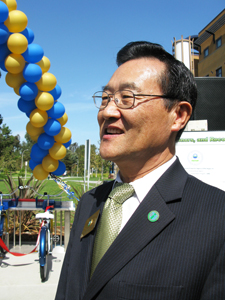 Among the distinguished guests attending the launch was Irvine city council member Dr. Steven Choi.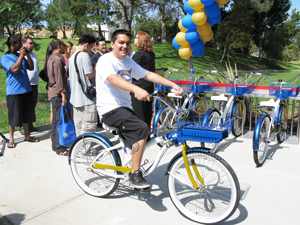 Andy Anguiano, a third-year undergraduate student, on one of the custom three-speed cruisers.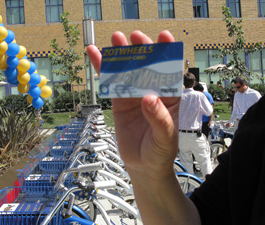 ZotWheels program manager Lynn Harris holds the RFID card that gives UCI students, staff and faculty access to the four stations and bikes. Users can elect to have a text message or e-mail sent to their phones when they check out or return a bike.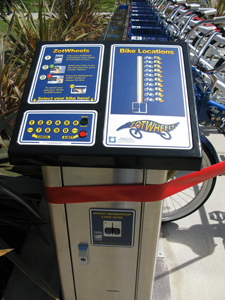 Though high tech, the ZotWheels kiosk remains pretty self explanatory and simple to use.
A news reporter from local TV network ABC asked a student what he thought about bike sharing and the new ZotWheels program.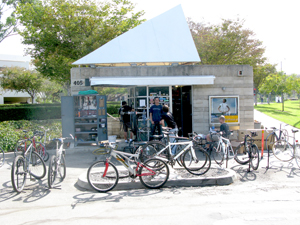 The campus bike shop is just a few steps away from the Student Center, one of the ZotWheels stations, and next to the bike path that leads into the campus. The 100-square-foot shop is a converted parking kiosk, and though small is stocked with commuting essentials such as tubes, lube, tires, lights, helmets, saddles and even handlebars and bells. "We pride ourselves in having the largest shop on campus," quipped Chris, who manages the shop, open every week day from 10-6. Chris said the shop does a lot of repair and maintenance service, and even sells bikes, which are housed in a separate shed nearby.