While in Taiwan last week, TAITRA arranged a two-day schedule of factory visits in and around Taichung, as well as Tainan City. We made stops at JD Components, Ideal, Kind Shock, CST/Maxxis, SR Suntour and Rikulau—a new domestic supplier for titanium and steel complete bikes. Love that high-speed bullet train. Why can't we get one of those in California?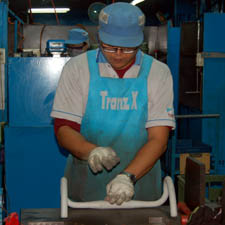 A worker at JD Components in the Chang Hua Hsien factory checks the alignment of a set of handlebars. JD's Taiwan factory counts many of the industry's largest OEMs among its clients such as Trek, Merida and Giant, and can churn out 10,000 units of bars, stems, seatposts a day. This year, the components side of the business is down 15 to 18 percent as OEMs pulled back on production in response to slowing consumer demand. JD's big push is for its TransX e-bike drive system, which it sells to major European e-bike manufacturers like Derby Cycle, Winora, Blomson and Kalkhoff.
A health work takes the temperature of Bicycling Australia editor Simon Hayes to check for possible swine flu. The check was mandatory before going into the Maxxis/CST offices and factory (everyone passed!).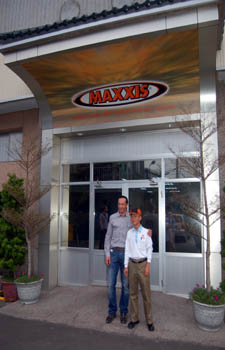 Dutch pro and Maxxis sponsored rider Bart Bretjens poses with Mr. Lai, chief of Maxxis' tire factory, outside the offices in Chang-Hwa. Bretjens was in town to offer input on the development of a new tire.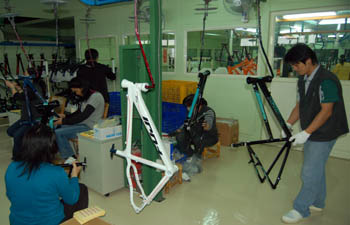 Factory workers at Ideal's Taichung facility place decals on newly painted bike frames before the frames continue on a conveyor system down to the first floor for assembly. This summer the factory underwent a NTD 10 million ($310,000)  remodel to improve the efficiency of the painting area, which has resulted in 20 to 25 percent fewer frames that need to be reworked.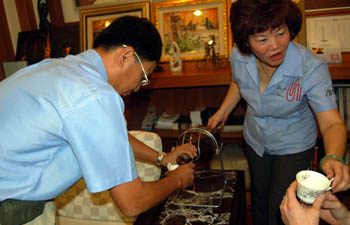 Kind Shock's general manager Martin Hsu and director of sales and marketing Grace Chen shared a glass of whisky with the group before sending us on our way. Rumor has it that many a deal with product managers have been negotiated in a similar fashion.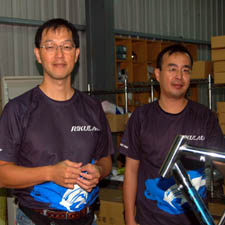 Chengnon Hsu, left, and Vincent Chen are two of five partners in Rikulau which sells high-end titanium, stainless steel and chromoly steel bikes in Asia. Rikulau's largest markets are China, Israel, Philippines, Singapore and Taiwan, but the company is working to form an import company to bring the bikes into the U.S. and currently has two dealers in the San Francisco area. Japan, Korea and Malaysia are the next target markets. Rikulau differs from the norm in the Taiwanese bicycle industry, which is mostly OEM-focused. That made it difficult to find vendors willing to sell components (Shimano apparently wouldn't let Hsu in the building when he came for his first meeting), but now they have partnerships with FSA, SRAM, Mavic, Reynolds and Shimano. The ORA factory in Taiwan makes all the frames. "Little by little we created something," Hsu said. And they gave me a special gift just because my last name is Formosa!