The BRAIN Dealer Tour kicked off on Tuesday morning amid sunny skies, but temps were--shockingly--in the mid 40s. The group of about a dozen clad in arm and knee warmers and shells rolled out of old town Scottsdale. Joined by sponsors Giant, Michelin, Ergon, FRS and Interbike, the crew made its way to DNA Cycles, Bicycle Ranch, Landis Cyclery and Bicycle Showcase, all located in this upscale suburb of Phoenix.
In total, we racked up 34.4 miles on pretty flat terrain, mostly evenly paved and with lots of bike lanes.
Here's a selection of shots from our first day: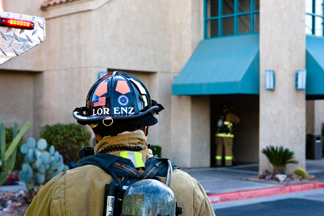 Hot Start: Breakfast was cut a bit short as smoke began coming through vents in the hotel dining area where we had a quick bite before heading out. The Scottsdale Fire Deparment had it under control, though, and no major damage done.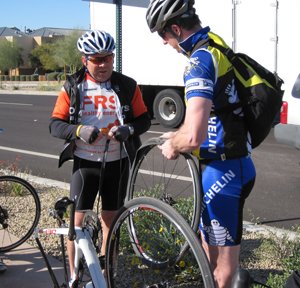 First Flat: Ralph Cronin of Michelin lends FRS's Jim Murphy a hand during a quick flat flix. Despite Scottsdale's newly paved and pothole-less roads, we had two flats on the first day.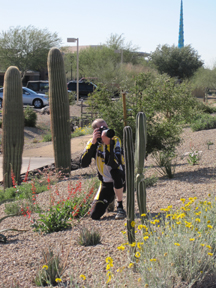 Sharp Shooter: Jake Orness of Giant, who's photographed all four BRAIN Dealer Tours, braves Saguaro cacti to shoot Tour riders in action.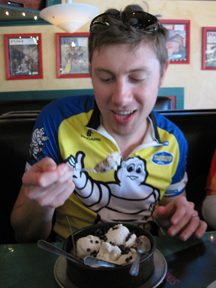 Cookie Monster: Michelin's Nick Margadonna enjoys a scoop of the original pizza cookie at Oregano's Pizza Bistro, an Italian eatery where we made a midday pit stop. Their half-pound chocolate chip bliss topped with vanilla ice cream is a must-have treat. We passed this one around.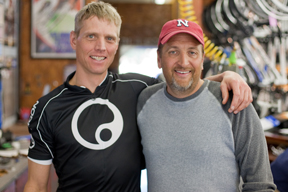 Star Struck: None of the shop owners were as stoked to meet seven-time Leadville 100 winner Dave Wiens (left) as Tim Gillis of Bicycle Showcase. "It's like meeting David Lee Roth," Gillis said. Mountain Bike Hall of Famer Wiens took a day off his busy race schedule to make the rounds with us on behalf of Ergon along with Sonya Looney.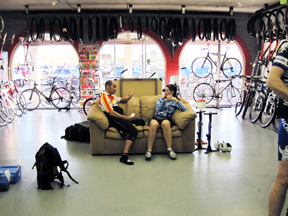 Downtime: Southwest rep for Giant Cindy McFarland, who graciously led our ride, and BRAIN's Robert Roman, take a load off during our last shop visit at Bicycle Showcase.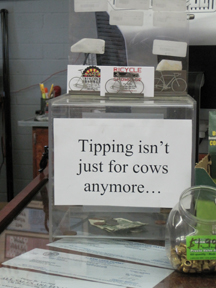 Tipping Point: This is the first time we've seen a tipping jar at a bike shop.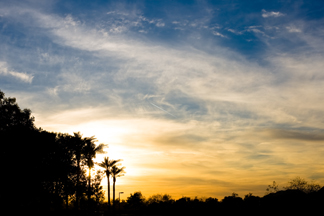 Sunbelt Sunset: There's nothing quite like an Arizona sunset. Jake captured this shot on a short flat fix stop on our last leg back to the hotel.
Photos by Jake Orness and Lynette Carpiet