On the last day, our group hit four shops that serve four distinct clienteles. Rage Cycles serves up big-hit mountain bikes alongside stylish cruisers; Slippery Pig Bicycles caters to the big-wheel rider with a broad selection of 29ers; Bike Barn welcomes families; and Bicycle Haus takes the high-end route with road bikes that are fit and built for each customer.
We rode through some of the oldest neighborhoods, going from south Scottsdale to central Phoenix where cycling infrastructure is non-existent.
Sunny skies, mild breezes and palm tree-lined streets made it feel more like a beach side town than a desert community. It was a perfect day to ride.
Here are some parting shots:
Tinkerer: Interbike's Rick Kelly tweaks his handlebar setup before heading out for the final day of riding.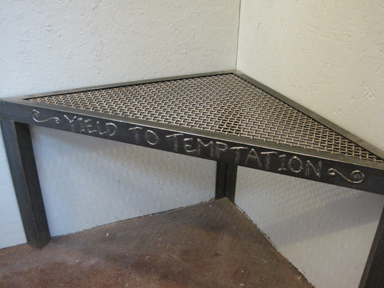 Original Flavor: One way Rage Cycles adds a personal touch is with custom welded fixtures, displays and counters. Owner Peter Perreault built this dressing room bench, but three out of the four shop employees including him are good with the torch and have created unique pieces for the converted residential house.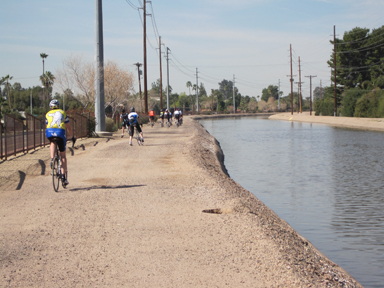 Hitting the Trails: A break from busy streets, we rode several miles on a multi-use dirt and gravel path along a water canal that extends from east to west and crosses central Phoenix. The trail, we're told, has some paved sections and is a quick and easy way to get across the valley.
This Little Piggy: When customers come in asking for unreasonable deals, Slippery Pig Bicycles flips this piggy on and lets it flap its wings, said owner Erik Angermeier.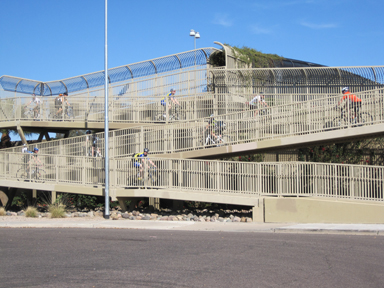 Switchbacks: This is as technical as it gets riding around Phoenix: the State Route 51 overpass. A nice change of pace from otherwise flat and wide lanes.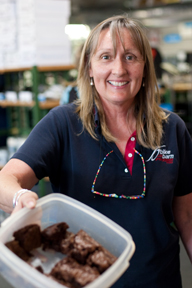 Sugar Rush: Bike Barn's Mary Halfmann greeted us with homemade chocolate brownies. "The way to man's heart is through his stomach," she said. We couldn't agree more. We hear her Christmas cookies top the chart.
Happy Feet: We weren't the only ones to notice these bright yellow sneakers bearing the Bicycle Haus name--customers often ask about them, said co-owner Kale Keltz, who custom ordered the shoes from Nike to give as holiday gifts to his employees.
Photos by Lynette Carpiet and Jake Orness.