The final day of BRAIN's D.C. Dealer Tour took us through a grittier part of the city as we cycled outside the Beltway on our way to Arrow Bicycles in Hyattsville, Maryland, a cool neighborhood Giant shop. On the way we rode on the new Met Branch trail, a recently opened Rails to Trails project in Northeast D.C. that the Washington Area Bicyclist Association has been working on securing funding and easements for since the early 1990s.
We finished the three-day tour with more time in the city stopping by commuter-centric shops in the Adams Morgan (City Bikes), Logan Hill (Bike Rack) and Capitol Hill (Capitol Hill Bikes neighborhoods. Apparently a ride through D.C. in June would not have been complete without contending with an afternoon thunderstorm, so we checked that off the list as well, pedaling through a steady downpour with lightning flashes overhead for 13 miles back to the hotel at the end of the day. We arrived a bit damp but in good spirits after a successful dealer tour through D.C.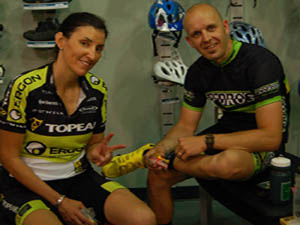 Todson's Dorothy Nichols and Pedro's Matt Simpson, both sponsors of the D.C. dealer tour, chat at Arrow Bicycle.
Giant mid-Atlantic rep Michael Delano sports a kit Giant made to in memory of Louis Ledesma, aka the Silver Fox, the company's longtime Southern California/Nevada sales rep who passed away last year from cancer.
The group rides on newly striped bike lanes down the center of Pennsylvania Avenue toward the Capitol. The city set aside the space for the dedicated lanes, but hasn't technically opened them due to controversy surrounding the restriping.  Groups like AAA Mid-Atlantic say the lanes will gum up traffic on the busy thoroughfare even more as it takes away from space cars could use while cycling advocates say traffic is reduced when lanes are taken away because drivers adapt and find alternative means of transportation.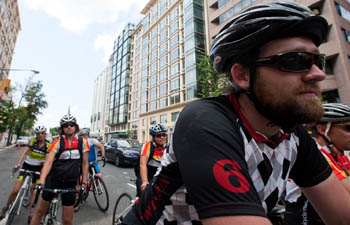 Greg Billing, events assistant for Washington Area Bicyclst Association, leads the crew through the congested D.C. city streets. Big shout out to the folks at WABA for guiding our three-day tour. The one leg we didn't have a WABA rider with us we ended up six miles off course and rode home in the dark so we greatly appreciated their assistance navigating the city!
BRAIN editor Megan Tompkins pauses for a grin during a post-lunch espresso break.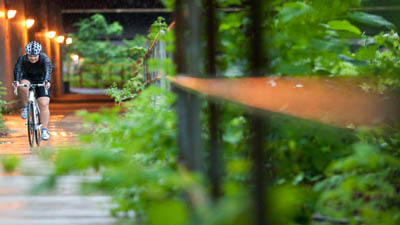 Lynette Carpiet, managing editor at BRAIN, tackles the slick Mt. Vernon trail during Thursday's downpour.
Photos by Jake Orness and Nicole Formosa