By Dan Sotelo
Editor's note: Dan Sotelo was the founder of Onza, the parts and accessories brand from the 1990s. He is the inventor of the mountain bike bar-end and worked with several bike brands including Shimano, Specialized, Maxxis and Panaracer. For 10 years, he's operated a bike shop on Mercer Island, near Seattle, called Bike Lair. 
Back in 1968, my career started as a proud Factory Trained Schwinn mechanic in Southern California. I can safely say this was the golden era for IBDs. Ever since, I've witnessed every great, surprising, and sometimes agonizing twist that IBDs had to endure to stay in business. And now I can honestly say, "This is the end of the road for IBD" ... Welcome, IBS: Independent Bicycle Service,
What the current IBDs need to do is bite the bullet, stop resisting and alienating online consumers and just face the fact that the internet is here to stay. Like it or not big bicycle brands sooner or later are going to cave into internet sales in order to survive, thus leaving stubborn IBDs high and dry.
So sit back, have a few strong smoothies (daiquiris optional), and start thinking, "How can I turn this new thing called internet sales into a new and very profitable golden opportunity?"
You don't have to die; all you have to do is change the "D" to an "S" for service, and you'll once again thrive and be very profitable.
Just look at Tesla doing away with traditional dealerships and going consumer direct. Diamondback has also gone consumer direct with its so-called Ready to Ride assembly (which is OK, but still needs the professional IBS touch). And down the road, all online-bought bikes will need IBS service. My point is, IBDs are doomed and they need to change in a hurry.
Think back to the '80s when market experts were predicting that internet sales were going to doom UPS and FedEx ... Huh?! Crazy as that sounds, that's what experts said, which made absolutely no sense to me. If you order something online, how is it going to get to your home? By magic? It's the same thing with owners of IBDs: Stop being so proud and stubborn. You don't have to die — all you have to do is change the "D" to an "S" for service, and you'll once again thrive and be very profitable.
So let me suggest some ideas on how to transform from IBD to IBS:
ONE:
Think: Where did you make the most profits? Answers:
Service and labor
Quick bolt-on accessories (ie: bike racks, car racks, lights, helmets, etc.)
Fast consumables (ie: tires, tubes, grips, chains, cassettes, oils, brake pads, etc.)
TWO:
Think: What is expensive, sits around too long and makes little or no profit?
Clothing: too many sizes, colors, styles and gets dated quick. Always on clearance to make room for more new slow-selling inventory.
Complete bikes: huge risky investment, too many sizes, models, always on clearance, just to compete with online name-brand bikes.
By year's end IBDs basically break even with little or no profits to show for all that clothing and showroom bicycle investment.
THREE:
Think: Remember the countless awkward moments when once-loyal retail customers kept coming to your shop to install a component or assemble a bicycle they bought online.
Face it, these are the three basic things you as an IBD have to deal with every day. If it looks unfair and you feel it's getting worse, then stop being a victim, take charge and find a way to meet with success!
Start by taking the first steps to move away from being an old, stressed-out IBD and onto being a happy and profitable IBS.
STEP ONE:
Put yourself in your customer's shoes and try to think what would they like from your local bike shop.
*I wish they had real professional mechanics, because I've taken my bike back with the same problem six times and it just gets worse."
*I wish I could just go to my shop without guilt or being made to feel guilty for them to install my new components or build the new bike I bought online."
*I wish my shop would help guide me in choosing the best bike and/or components online, without any guilt."
*I wish I didn't have to drive dozens of miles from my local shop to a shop that is more online-friendly and welcoming."
*I wish I wasn't banned from my local shop when I asked to have my online bike assembled there." (FYI: It happens a lot.)
STEP TWO:
Grant these new online bike shoppers their wish: become a service-only, unbiased, true professional bike shop. Get rid of all your complete bike lines, because sooner or later they're going to get rid of you anyway, as they will have to go online to survive. Downsize and get rid of all slow-selling inventory, clothing, etc., and go crazy and stock up on the latest and greatest consumables, tires, tubes, racks etc.
Now that you don't need all that room you can shut down half or more of your rental building. Or if you own the building rent out that other space. Take the overhead savings and invest in great mechanics. Just like good cooks make a hole-in-the-wall restaurant super successful, good mechanics do the same thing.
Never guilt your online customers, ever! Even if they buy many things online using your guidance but never come to your IBS for service, don't worry. Sooner or later they're going to mess things up and need your services.
No more low-wage inexperienced mechanics and charging pro prices to keep up with your overhead. Nothing scares customers away like poor mechanics.
Set up a small, cozy but gorgeous, well-lit modern shop with lots of computer screens so customers can scroll through and shop on the internet in your IBS. To keep away loitering customers shopping on your screens, make it a clear policy on big signs saying, "Online customers welcome. Limit 1 hour per day!"
The key to success with your new IBS is: fast, fast, fast turnaround service. No more "Sorry, we're backed up two to three weeks." Those days are gone. Offer absolutely guaranteed professional work, backed by a free, 30-day, no-hassle follow-up.
Since IBS is about all service, get creative and make a day-and-night drop-off and pickup system whenever you're closed. Hell, start your own small-parts drone delivery service.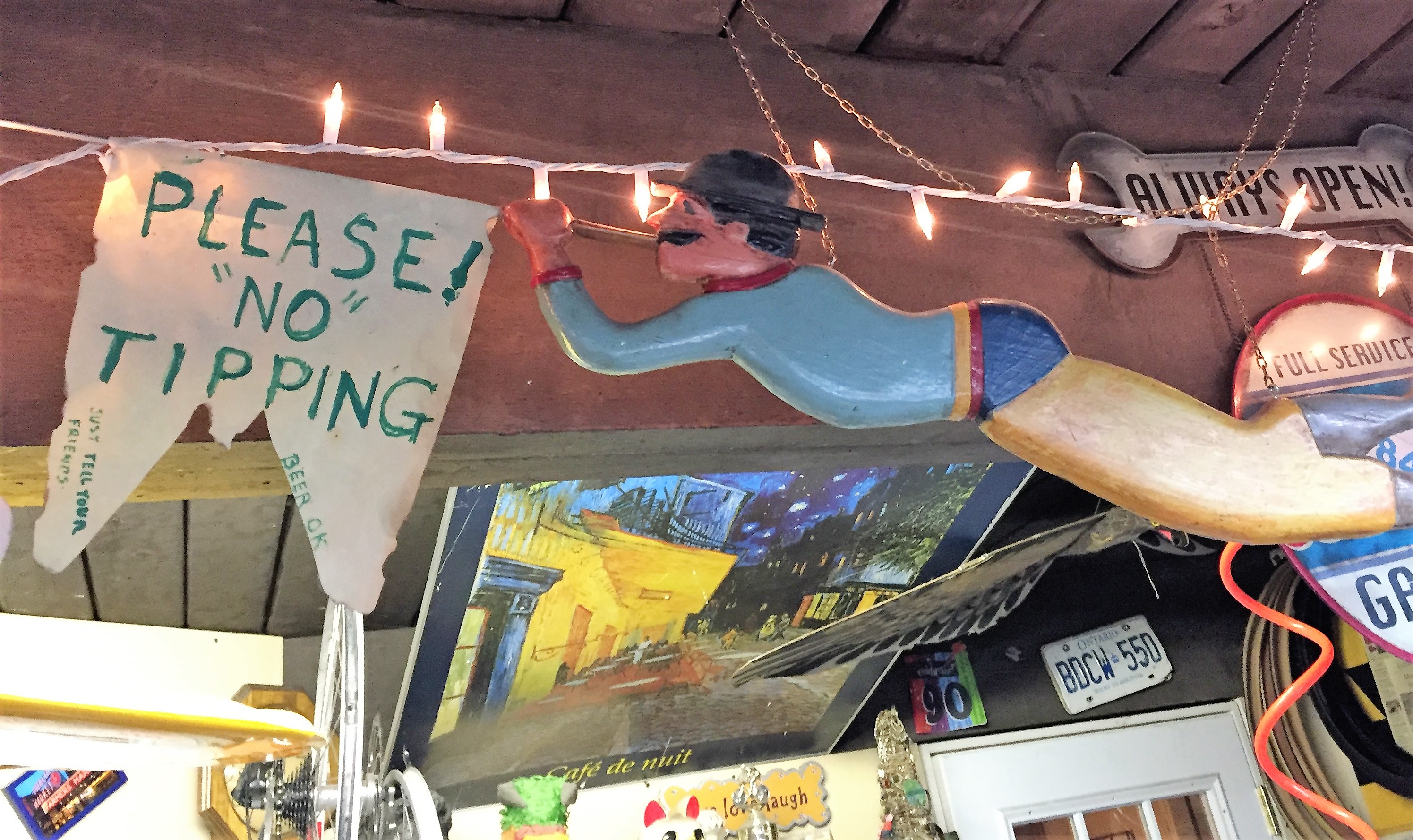 Offer pickup and delivery service for a small fee, and use it as an incentive: Waive the fee if the customer accumulates a good amount of service fees.
I know this sounds strange, but make it a rule: "NO TIPPING" (beer OK; see picture). I can assure you, an all-pro, fast-turnaround service shop will have customers so happy, most will want to tip their favorite mechanic. From experience, tipping can get ugly and out of control, eventually stressing out the customers. But the occasional beer and goodies tip is a great way to develop a serious customer relationship. Everyone will be talking about your funky no-tipping sign and policy. It also makes your shop look very honest. Great PR!
STEP THREE:
I think you get the picture. I'm sure these basic Ideas will get your juices flowing so you can come up with thousands of more new creative ideas to make your IBS even more exciting. 
As for the threat of your distributor cutting you off, some might say you're no longer a true brick-and-mortar bike shop. (In other words, they like to see you always struggling to keep your head above water. I don't know why, but they do.) Just throw it back in their face and say you pay rent, taxes and their required insurance. Then ask them, how is it that all their goods end up online, on Amazon and eBay? (Ask them how come they supply those rolling bike shops, then step back and watch them choke.)
Let your suppliers know that IBSs are coming like a tsunami and will be their new bread and butter as IBSs will be doubling or tripling their annual orders versus old IBDs.
STEP FOUR:
How to deal with mobile bike shops: Unlike your new IBS, these new rolling bike shops have only one mechanic. Meanwhile, your IBS has two or more mechanics who are very, very good at what they do. If you deliver great-quality work with a quick turnaround time, you'll develop a truly loyal customer base for life. End of story.
I feel that after being in the industry over 50 years, I have the right to say it like it is. I can only hope this story will inspire and not anger IBDs. I know all this because I've been running a very successful IBS for 10 years. And I, like my loyal customers, love it.
So like it or not, welcome to the new online era.