By James Stanfill
Editor's note: Stanfill is the president of the Professional Bicycle Mechanics Association.
Just this last week at Interbike we (the PBMA) had a great discussion, and at the end of the day it was all about compensation (a video of the discussion is on Facebook).
My challenge to you, the storeowner or manager, is to begin paying your best mechanic one-third of your store's hourly labor rate. That rate is going to vary by market but should align very well to the cost of living and equal a fair living wage for someone with the skill set of a professional bicycle mechanic. During a panel discussion at Interbike, UBI's Ron Sutphin observed that the one-third rule of thumb would put bike technician compensation on par with similar industries with service departments.
If you stop reading right there your friends won't blame you, but your mechanics will. We get the emails from stores all the time: "I can't find a good mechanic." "What should we pay a really good mechanic?" "Where do we find a good mechanic?" "We can't afford a good mechanic." ... We as an industry cannot accept that bicycles are toys.
The simple answer is that the skilled labor — mechanics who are professional, passionate and technically savvy, and have customers that are loyal — is hard to find. Harder by the day. They might have found a smart owner or manager and discussed what fair wages are, they might have branched out on their own, or they might have started their own mobile business. ... Better yet, they might have just left this industry for one that rewards them for the value they bring to the table.
The one-third rule
We all have different models in how we calculate our service charges; it should generally start with an hourly book rate and be broken down from there. We each have different models (hopefully) for how we compensate our employees. Start working backward to see how to achieve the numbers we are talking about. Again, it is going to vary by market: What a big bustling city costs to live in and can support for service fees isn't going to be the same as a sleepy small town on the back roads of America.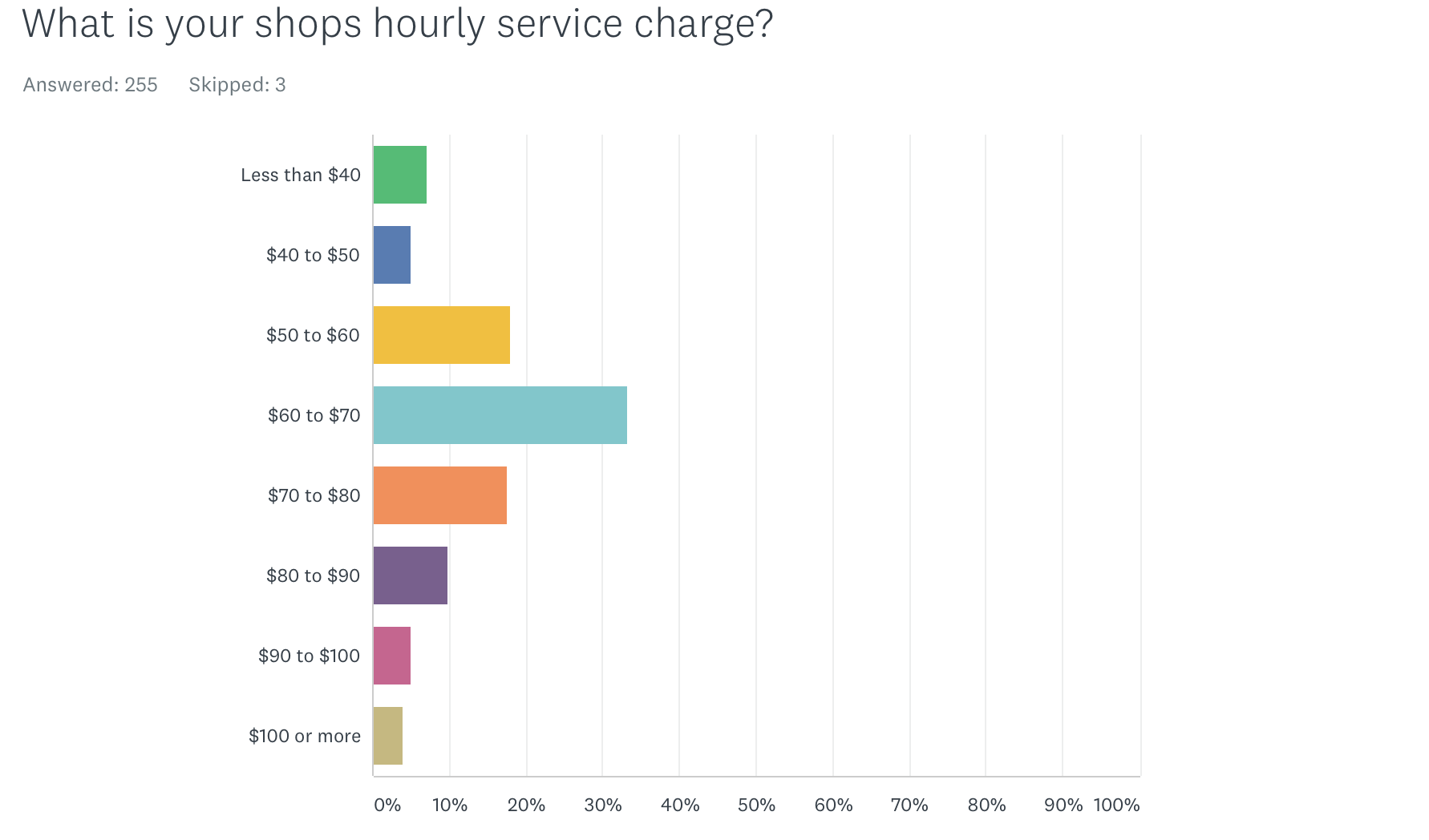 Our data indicates that the industry is far from the one-third rule. A PBMA survey last year found that more than 30 percent of retailers charged between $60 and $70 per hour for service; results are shown in the chart at left, (A quick BRAIN web poll on Tuesday shows similar results.) By our one-third rule, a $65 labor charge would equate to a $45,600 annual salary for the shop's top wrench (or a $21.45 hourly wage). A $75 charge would equate to a $51,480 salary, or $24.74 per hour.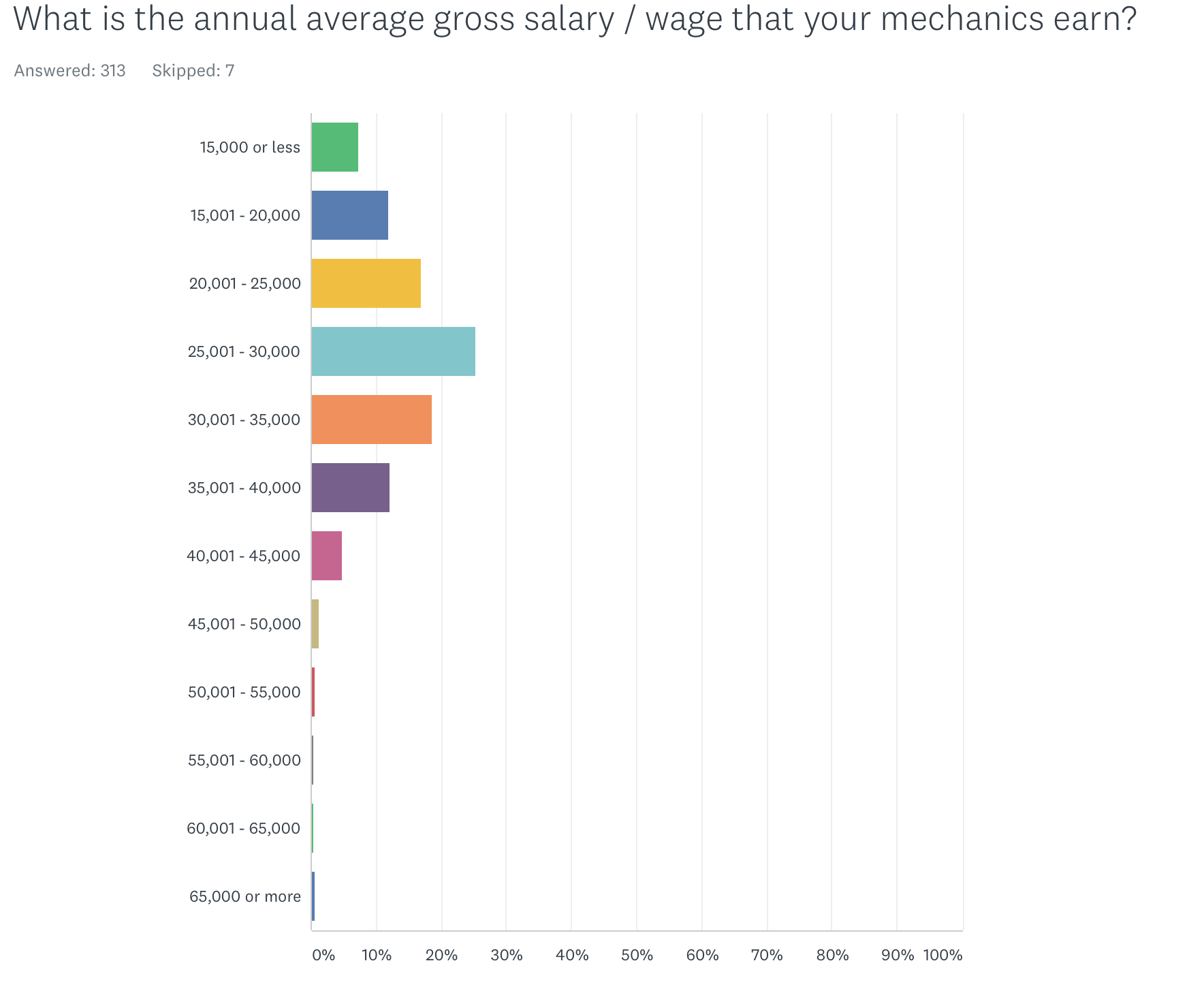 The second chart shows results from the PBMA's compensation survey conducted this year. You can see most shops are paying in the $25,000-$40,000 range. Our survey and one done recently by a trade magazine in the U.K. suggest that on average a bicycle mechanic earns $30,000 a year, right on par with a full-time shared-ride driver, or about $26,000 less than the "average" plumber. That's why we are losing skilled labor to other trades. 
Chicken and egg
Bicycle mechanics have a skill set that needs to be valued by consumers. Consumers can't and won't value this until we do within our industry. Low shop rates are an insult to our knowledge and the technical nature of what bicycles are.
Let's agree that the more we as an industry recognize this, the better off we can all potentially be. Margins are down at the retail level. Meanwhile, manufacturers can still make their margin online. Some are working on solutions to keep shops as the focal point; others are willing, able, ready and already selling directly to the consumer. Regardless of the channel, the bicycle still needs a professional touch if it's to be well represented at the consumer level.
They say you have to spend money to make money. It's a fact that a bicycle serviced by a professional bicycle mechanic will outperform a bicycle serviced by your average bicycle mechanic. With some simple adjustments as to how we as an industry value service, we can afford to have professionals representing our brands and our businesses.
Again, I challenge you to pay your No. 1 mechanic one-third of your hourly shop rate as his or her hourly wage. It can be done if you do it smartly.
At risk
We (the PBMA) worked to put together a certification program that can help our industry educate consumers and give us something to rally around. Certification isn't scary; it is standards, quality control and proof of skill. We launched an online assessment earlier this year with a focus on safety, and last week at Interbike we launched an in-person evaluation.
I don't want to scare you, but the initial results from the in-person evaluations were pretty eye-opening. They revealed that the industry is at liability risk if it continues to rely on unskilled, uncertified cheap labor. In January, once we've run a few more folks through the hands-on portion of certification, we will share the results so those that still have doubt will see firsthand and hopefully get on board.
We do not want to do this alone, and honestly, we cannot. When you're ready to get on board and participate, our door is always open.