OLNEY, Il (BRAIN) Jan. 18, 3:09 pm MT—The appearance of Magura's logo on the Garmin-Barracuda cycling team kit set tongues wagging: Was the German brake and suspension company going to be the first to offer a hydraulic road disc brake?
Turns out Magura developed a hydraulic road brake in partnership with Cervélo, but it's a rim brake, not disc. Magura's RT8TT hydraulic rim brake comes stock on Cervélo's slippery new P5 time trial bike, and starting in June, any dealer can order it from Magura.
"Since we've developed the brake with Cervélo we haven't been trying to fit it on other bikes yet, but I expect it will work on 85 percent of the time trial bikes on the market," said Jeff Enlow, Magura USA's general manager.
"We may have problems fitting bikes like Trek that mount the brake within the fork. And I can imagine fitting some of the bottom bracket mounts could be difficult, but it's small enough it may not be an issue," Enlow said.
Hydraulic brakes on TT bikes make sense because convoluted cable routing severely compromises cable-actuated brake performance. The performance and modulation of Magura's system should be independent of routing, a big improvement.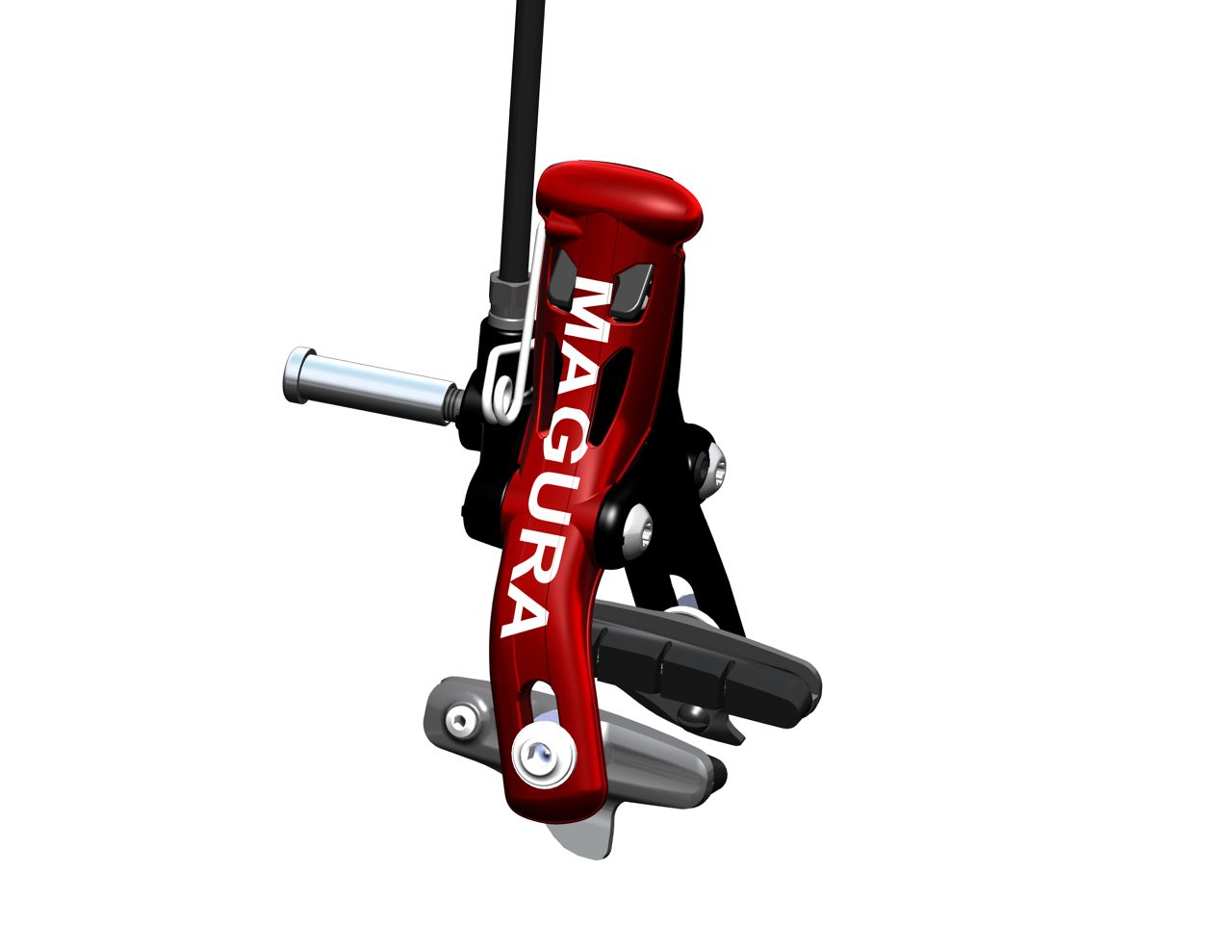 And by putting the brake's slave cylinder vertical, Magura developed a very small frontal area design with good aerodynamics.
Magura offers two brake versions: The RT8TT comes with a carbon lever, while the RT6TT has an alloy lever. The master and slave cylinder bodies are alloy. Both levers are aero bar mounting only, though Magura says it's hard at work on a road lever. And the brakes use traditional brake shoes.
The RT8TT will sell for $375 each, and the RT6TT for $299. The high-end brakeset—front and rear—weighs 495 grams complete with all mounting hardware. The weight for the RT6TT is to be determined.
The RT8TT's vertical slave cylinder pushes a cone shape up that spreads the upper arms apart. This action squeezes the arms and shoes together at the rim.
Wheel changes are facilitated by only having to pull the lever away from the bar, this immediately spreads the brake shoes wide enough to get a tire through.
—Matt Wiebe
mwiebe@bicycleretailer.com