Eight-bike range features fully integrated system claimed to provide feel, handling of traditional bike.
LEOGANG, Austria (BRAIN) — Three years after introducing the Turbo, a pavement pedal-assist bike that fully integrated the battery into the frame, Specialized is expanding into off road with the Turbo Levo line of trail bikes that will become available in spring 2016.  
The new eight-bike range includes an FSR full-suspension 650B/27.5-plus model (which Specialized calls 6Fattie) in S-Works, Expert and Comp builds; hardtail 29-inch and 650B/27.5-plus models in men's and women's options; and a hardtail fat bike. All feature aluminum frames with fully integrated lithium-ion batteries and custom-tuned motors. Rather than spec'ing an off-the-shelf motor and battery, Specialized engineers worked with a battery maker and motor supplier Brose to develop a system from the ground up that met its specs, is lightweight and quiet.  
"We tested every motor out there," said Marco Sonderegger, e-bike product manager. But, he said, many suppliers wouldn't allow the company to customize the acceleration and how quickly the motor engaged and disengaged. So Specialized partnered with Brose on a custom-tuned 250-watt motor that's fully integrated into the bottom bracket. Top speed is 25 kph (15.5 mph), at which time the motor stops providing assistance.  
Also fully integrated into the frame is the battery, which can be removed for charging or charged while on the downtube. It offers three pedal-assist modes (turbo, trail and eco). The Levo line offers three battery types (420wh, 460wh, 504wh) to match the riding requirements of each bike.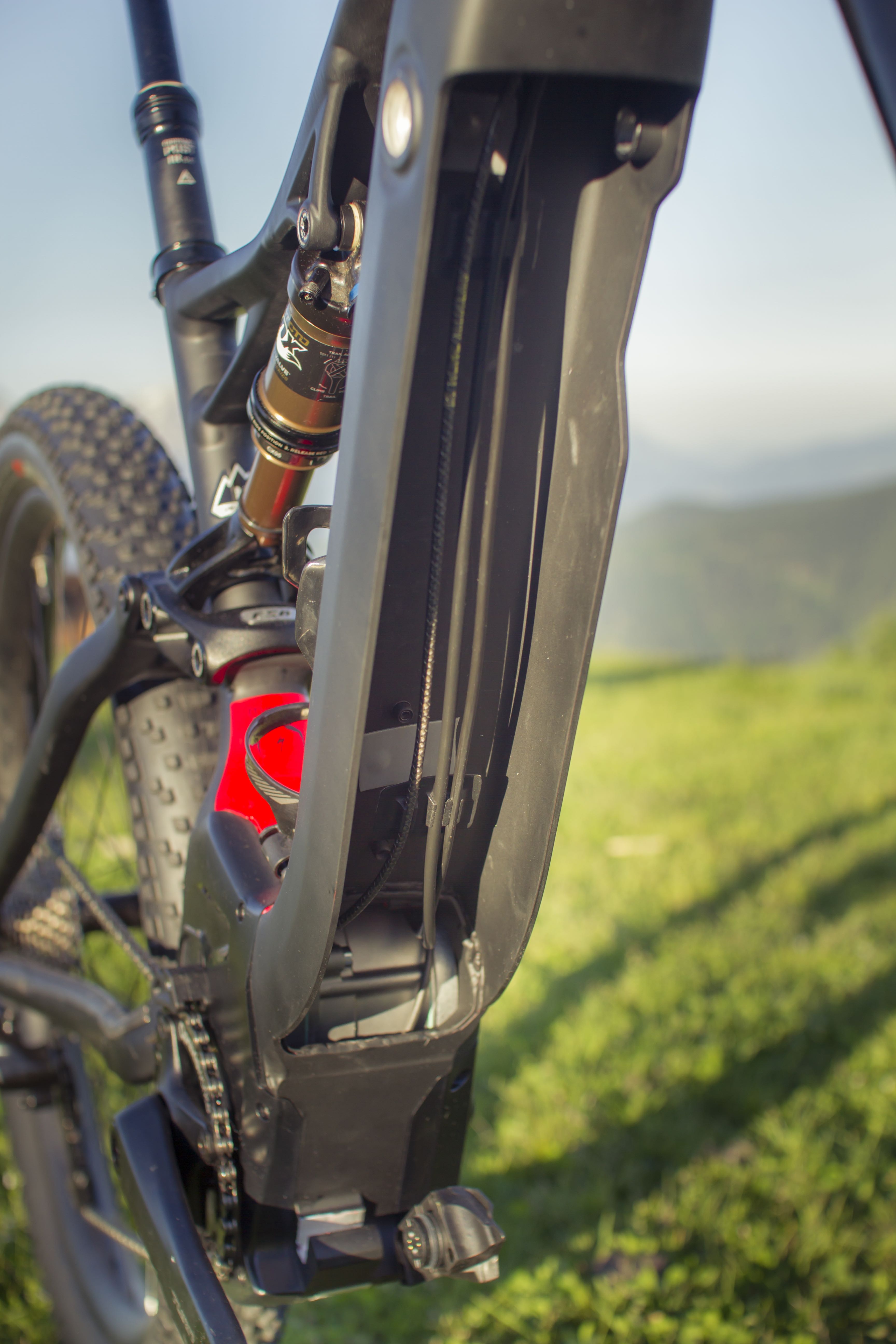 Specialized also integrated an LED display on the frame that shows battery life and communicates with any ANT+ or Bluetooth device to display speed, cadence, power and other measurements. When paired with a device, a rider can also control the power assist with an external display of their choice. Engineers noted that they aimed to build a modular system that lets riders choose their display.  
Engineers also integrated the speed sensor into the dropout and bolted the sensor magnet onto the disc rotor — both to ensure the readings are accurate. "The No. 1 failure on all the bikes we tested was the speed sensor," said Sonderegger. 
To relieve range anxiety — one of the chief concerns with pedal-assist bikes — Specialized built an app that lets riders manage their battery life. Riders can input a predetermined distance, time or location and an algorithm adjusts battery and motor output to ensure they have enough power to complete the ride. The Mission Control app also lets riders custom-tune their motors; provides turn-by-turn navigation; allows riders to diagnose their system; and integrates with Strava. The app will be available on both Android and IOS devices.  
Though seamless integration of technology was a main hallmark with the Levo line, Jan Talavasek, engineering manager, said special attention also went into the bike's handling with slack geometry, short chainstays, low bottom brackets and RX-tuned suspension. "The biggest goal was that this bike needs to ride like a mountain bike," Talavasek said. 
The Turbo Levo line will become available globally in spring 2016, and U.S. dealers can expect to see and test ride them at the Specialized dealer event in late July. Pricing hasn't been set.  
For more on Specialized's rollout of the Turbo Levo line, turn to the Aug. 1 issue of BRAIN.