SCOTTS VALLEY, Calif. (BRAIN) — Archer Components is launching a new wireless shifting system for dropbar bikes, to join Archer's existing flatbar mountain bike system.
Both systems combine a two-button wireless shifter remote with a chainstay-mounted unit that pulls a short cable attached to the rear derailleur.
Archer's new Drop Bar Remote works with the same chainstay-mounted shifting unit, the D1x Trail Shifter, as Archer's mountain bike shift system. The remote attaches to TRP's Hylex RS brake lever, to allow shifting from the brake hoods. TRP's Hylex RS is a hydraulic road brake system originally designed for singlespeed bikes. (TRP also offers a mount to attach Shimano Di2 shift buttons to its levers).
Riders who already have Archer's D1x flat bar system can buy the new road remote separately if they want to switch to a dropbar bike. Since the system can be adjusted to work with nearly any rear derailleur and number of gears, it allows riders to, for example, use mountain bike rear derailleurs and cassettes to add very low gears to dropbar bikes.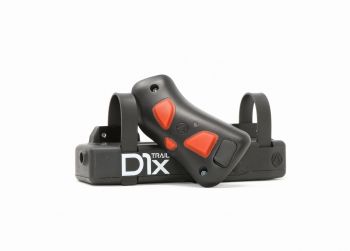 "The custom-designed DBR works ergonomically within the TRP hood to give the look and feel of a totally integrated system, with unparalleled ease and convenience when shifting," the company said. 
"In addition to expanding the drivetrain options for gravel bike riders and builders alike, we knew we wanted full integration with the brake hood for a clean look and killer ergonomics, so the choice of TRP was obvious," said Devin Carlson, Archer's founder. "Electronic shifting has always come at a high price before this, and we wanted to make it affordable for everyone. We've seen great success with our D1x, and we're confident the new DBR will be equally well received."
Shift indexing can be adjusted from the lever with use of a small, third button below the shift buttons.
A mobile app also allows users to adjust indexing and customize shifting to allow multiple shifts, for example. Using the app riders also can set a "Get Me Home Gear" that the shifter will go to when if the battery is about to die. The remote's battery can be charged on the bike with a standard USB cable. The system's batteries are said to provide 80 hours of runtime in normal mode and up to 150 hours in low power mode before recharging is necessary.
The full ARCHER D1x Trail Shifter with DBR Remote System is available for pre-sale, retailing for $399. Availability is expected in February. The system includes a special rubber brake hood for the TRP levers and is available with black, gray or red buttons. The DBR Remote will be available separately for $119. 
More information at: archercomponents.com.