PORTLAND, OR (BRAIN) Monday April 9 2012 6:14 AM MT—It's been a whirlwind three months for Sky Boyer.
On Jan. 1, he closed the doors of his five-year-old bike shop, Velo Cult in San Diego, California. Then Boyer packed up his staff and headed north to bike-crazed Portland, a more fitting location for his eclectic, culture-intensive business focused on commuting, cyclocross, touring and randonneuring.
"We were never able to grow in San Diego. It's a very triathlon town," he said.
After a yearlong location search, Boyer finally settled early this year on a massive space that dwarfs his old 1,200-square-foot spot in Tri-Land. He's built it out with a full-size café and bar setup; a performance stage made from an old castle drawbridge that flips down from a wall like a Murphy bed; a 100-inch projection screen TV for showing cycling races and movies; a downstairs photo studio for maintaining Boyer's online bicycle museum; and benches and tables in front of the service area so customers can talk with their mechanics.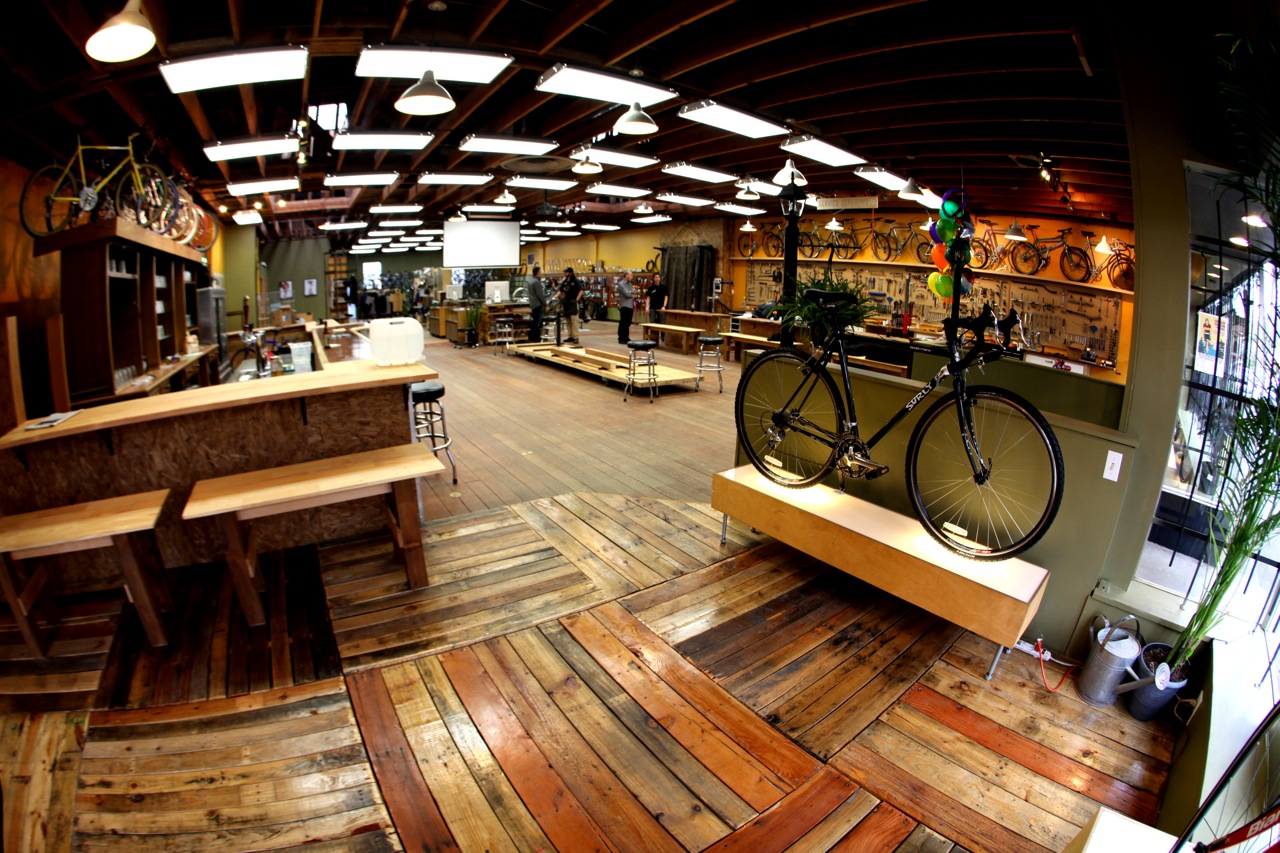 Velo Cult flung opens its doors March 24 for a grand-opening party that brought in 400 people to check out the 5,000-square foot showroom (Boyer also has 5,000 square feet of storage); sample coffee and local beer and root beer on tap; and take pictures in the shop's photo booth, which uploads snapshots directly to Velo Cult's website.
The shop is still a work in progress. Boyer is about to acquire a bowling lane that he'll turn into a long table, and he plans to create an intimate 40-seat theater downstairs that will have vintage seating from a defunct local theater. Upstairs, he said he has enough space to host 200 to 300 people for races and movies on the big screen.
Velo Cult's bike lineup has expanded from the steel commuter bikes that dominated the San Diego store, adding carbon and aluminum road and mountain bikes from such brands as Bianchi and Raleigh. The shop also carries Surly.
Boyer continues his emphasis on cycling culture and making his shop a community space. In the end, however, he lets his own preferences be his guide.
"It's bikes I would want to ride," Boyer said. "And my shop is always about, 'Where do I and my employees want be all day?' If we want to be there all day, then customers will want to be there too."