BRAIN Dealer Tour Report: Day 3
MIAMI BEACH, Fla. (BRAIN) — On the final day of the BRAIN Dealer Tour, our group rode through downtown Miami — past skyscrapers, the Miami Heat's American Airlines Arena and across the yacht-strewn Venetian Causeway — on our way to South Beach. The area has seen commercial rent prices skyrocket. But owners of shops here have built a following that's worth the premium.
"We've been here and we have a following, but if I was going into business today, I wouldn't open here," said Mitch Wentworth, co-owner of Fritz's Skate Bike & Surf, which has served South Beach residents since 1989. "Rent has gone through the roof and that's a challenge."
Escalating rent prices, which Wentworth estimates at $300 per square foot on Lincoln Road, drove the shop off of South Beach's version of high-scale pedestrian malls like those found on Rodeo Drive or Fifth Avenue and onto Washington Avenue, a block or so away. Still, when it comes to bikes, Wentworth sells mostly colorful cruisers and comfort bikes, and his shop's priciest bike tops out at $2,000. Miami Beach is high zoot, but theft is rampant and a deters customers from buying higher-priced bikes.
"We're constantly looking at dollars per square foot, and looking at brands that work well within our space," said Wentworth. The nearly 6,000-square-foot store is packed with everything from rash guards and board shorts to T-shirts, bike bells, action cameras and flip-flops. Skateboards, in just about every color, line the walls. The bike category (he carries Giant, Electra and Dahon) is about a third of his overall business.
Aside from high rent, Miami Beach's community is in constant flux with people coming and going, so Wentworth's customer base also changes, prompting change in product selection and offerings.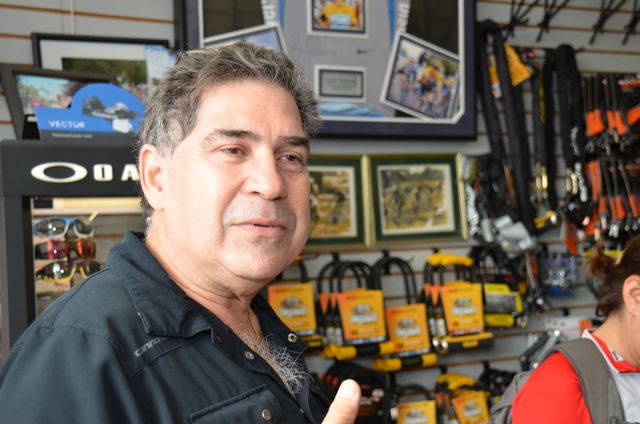 Not far from Fritz's is another family-oriented retailer. It's perhaps South Beach's longest-standing bike shop. Jack Ruiz, a Cuban-American and former road racer, sells kids' bikes, cruisers, hybrids and midrange bikes to families. He opened Miami Beach Bicycle Center in 1977 when he was 19.
Like many Miami shops, his 1,500-square-foot store is bursting at the seams with bikes and accessories, leaving a narrow walkway through the center. He points proudly to a mezzanine he built to use as storage. The business has outgrown the space, where he moved into in 1995. "But space is expensive and hard to find," he said.
Like other Miami retailers, Ruiz noted that his store's success hinges greatly on the flow of tourists who shop while vacationing. Some are willing to drop $4,000 to $5,000 on a bike on their way to the airport. And keeping the store stocked is key to making the sale — stores get one chance to sell what these often-brand-crazy visitors are looking for.
When tourism dropped following the Sept. 11 terrorist attacks and business slowed, Ruiz reached out to his local community. He organized a slow-paced, police-escorted ride that draws anywhere from 80 to 100 riders every second Saturday of the month.
"It took a lot of hard work (to get the ride off the ground). But I've seen riders abandon our ride to become true road riders," Ruiz said. "However, they started with me."
His grass-roots efforts have paid off. Despite cramped quarters and a nondescript storefront, customers streamed through his doors Thursday afternoon as BRAIN toured the shop.