MORRISTOWN, N.J. (BRAIN) — Marty Epstein, founder of Marty's Reliable Cycle, a three-store New Jersey retail chain, died Thursday after a multiyear battle with cancer. He was 69.
Epstein was one of the best known figures in the New Jersey cycling scene. Besides running a successful retail business for over 40 years, he helped bring high school mountain bike racing to the state, launched a gran fondo that now attracts thousands of participants and has raised millions for charity, and was a founder of JORBA, the Jersey Off Road Bicycle Association.
"He was really the biggest advocate for cycling in the state," Eric Noonan told BRAIN on Thursday. Noonan is manager of the chain's Morristown location and worked for Epstein for 15 years.
Epstein was an outgoing personality and enjoyed talking to customers and participants at the gran fondo.
"He would be there at the finish, being Marty," Noonan said. "Interacting with people was his favorite thing."
In the 1990s a store employee drew a cartoon of Epstein that the store still uses in its marketing.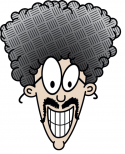 "People come in all the time and ask if there really is a Marty," Noonan said. "We say 'yeah, there sure is, and he looks kind of like the cartoon.'"
Reliable Cycle first opened in the 1960s and went through three owners before Epstein bought its Morristown store in 1978 from John Christopolis. He renamed it Marty's Reliable Cycle to show the new ownership but maintain some continuity.
Epstein later moved that store to a larger space, then opened a second location in Succusunna (which later moved to Randolph) and a third location, in Hackettstown. The stores carry Trek, Scott, Electra, Seven, and Moots, among other brands.
Epstein's son Jesse now runs the business.
"One of the things he always impressed on me was, it's important just to be nice, and to do the right thing," Jesse Epstein told Morristowngreen.com, a local news source. "Just to be a friendly person and nice to other people ... It's very simple, but they are words to try to live by. Especially as a retailer. If you can't be a nice retailer, you're in a lot of trouble."
Epstein is survived by three children: Jesse and his wife Johanna of Chester; Molly Lyristis of Seattle, Washington; and Jonathon of Queens, New York; grandchildren Jodie, Jonah, Julianna, Jasper, Renée and Leah; his companion, Diane Doherty of Bloomfield; his former wife, Francine Epstein of Chester; and a sister, Susan Salsberg of Boonton Township.
A funeral service is planned for 10 a.m. on Monday, May 6, at Temple B'Nai Or, at 60 Overlook Road in Morristown. After the ceremony a bike procession will ride from the temple to the Beth Israel Cemetery in Cedar Knolls, about 4 miles.