By Rena Behar 
A version of this article ran in the March issue of BRAIN.
STATEN ISLAND, N.Y.  (BRAIN) — Tom Riccio walked into Bennett's Bike Shop in 1993 to buy his five-year-old son's first bike. He left with four bicycles and a connection that's been going on for 27 years. "We decided in the store to become a family of bike riders," he said. 
Now he rides 7,000 miles a year, often with store co-owner George Bennett himself. "Even if I'm not looking to buy something at that moment, I'm in the store all the time. We talk on the phone. They became like family to me," Riccio said.
Riccio wasn't the first person to find that kind of bond at Bennett's and is unlikely to be the last. The shop has built a devoted customer base and niche in the community as it celebrates its 125th anniversary this year. Customers who got their first childhood bike at Bennett's are now in the store shopping for their grandchildren.
Brothers George and Thomas Bennett run the store today — the fifth generation of Bennetts to do so.
George Bennett — the current co-owner's namesake and great-great-grandfather to the brothers — opened shop in 1896 in Stapleton, Staten Island, selling everything from bikes to plumbing supplies, and "doing whatever they needed to do to survive," said Thomas.
The store's focus moved to bicycles in the 1920s, but during the Depression any bike in the store was likely to get broken down and sold as parts because it was more profitable. Thomas remembers stories of his mother and aunt picking up rental bicycles in the '40s when tired customers would simply leave them somewhere, calling the store to retrieve them. 
In 1957, the shop's Stapleton building was taken by eminent domain for a housing project and the business had to relocate. George and Thomas's grandfather found a spot in the Westerleigh neighborhood, about 4 miles from the original store. He couldn't afford a contractor so he went to work on the new building with some friends. They built the basis for the store as it exists today, on Jewett Avenue.
Retailing and bike repair might run in the Bennett family blood, but it's not clear that construction does. "Now when we get contractors in here, they just start by shaking their heads," Thomas said. 
Bennett's doesn't look quite the same as it did in the '50s. The owners expanded the showroom in the '70s, and last year, during the pandemic, they started another renovation when they could barely close for a day without customers banging on their doors. They've removed the sheetrock from the ceiling and left the newly painted beams exposed, a look that Thomas doesn't quite know how to describe. On a video call with BRAIN, a staff member called out from another room, suggesting "retro" or "hipster" for the new look. 
As part of the remodel, the store's old cash register, retro or not, has been replaced by a sleek tablet. 
"Now they tell me I have to use this," Thomas commented good-naturedly of the device. "I guess I'll get used to it. Either that or I'll just fade into the dust."
"I'm a dinosaur," he said. "Nothing wrong with being a dinosaur; dinosaurs ruled for a couple hundred years." 
Fading into dust seems unlikely both for Thomas, now 62, George, who is 64, and the family store. The business was deemed essential at the beginning of the pandemic a year ago and the crew has hardly sat down since.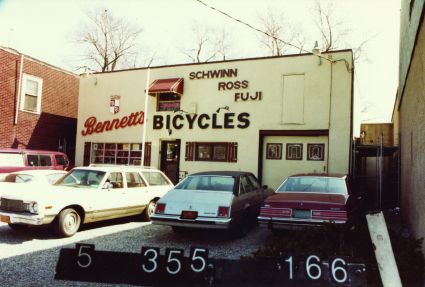 "Last March, two Sundays in a row it was really cold and rainy and dreary, and we were really busy," he said. "Right then and there I said, 'something's up.'"
Using data from the Department of Transportation, New York's Daily News reported in December that more than 25,000 cyclists crossed the city's bridges over the East River on an average weekday from July through October 2020. That's a daily increase of roughly 21% over 2019 numbers — about 4,300 more cyclists each day in a city with a dubious reputation for bike friendliness. 
"We were lucky enough to have the product and we had a very successful year. Stressful, but successful," said Thomas. 
Five generations in, the Bennett brothers are more than shopkeeps — they are both avid cyclists to this day. In non-pandemic times, Thomas likes to jump into weekend road races in Prospect Park. George, who lives in New Jersey, likes to get in a two-ride before coming to work. Around the shop they call George "the Ice Man" because he'll ride in all conditions.
But during this bike boom, there's been little time for that. "I didn't even touch my bike because we were so busy," Thomas said.
"It's been insanity," said Vincent Crispino, the store's "official/unofficial manager. "I've been doing this since I was a little kid and I've never seen this. If you're looking for a specific part, good luck." 
Crispino has been working at Bennett's since middle school, when he fixed flat tires to earn some extra cash. One long-time customer predicted that Crispino would be the guy to bring Bennett's into the 21st century, though Crispino shrugs that off.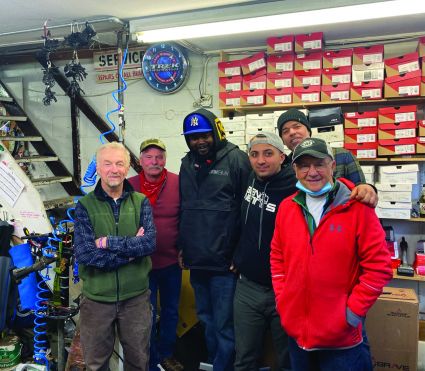 Crispino's digital savvy has been useful in the COVID era as stores jockey for limited inventory. Bennett's is sitting on nearly three times more inventory than at this time last year, thanks to the team's vigilance. Luckily Crispino enjoys the scavenger hunt. "I might get an email at 1 a.m. that something might be in stock but there's only three of them, so if I don't grab it then, it might be gone in two hours," he said. "It's been fun trying to keep up."
While Crispino may do his ordering online, the store keeps most of its business local and doesn't maintain a significant online presence beyond a website and Facebook or Instagram posts. "George used to not even write receipts six weeks ago," he said.
Online obscurity isn't cramping their style much and even digitally native younger cyclists have started coming back to Bennett's. "Prior to this year, we've rarely seen a group of kids outside in our parking lot. This year it's been the total opposite," Crispino said. "Every day we have at least 10 or 15 kids in the lot out on bikes. It's very refreshing. I was one of those kids, seeing what Bennett's had on the wall — it's like the candy store."
It's unlikely that a sixth generation of Bennetts will take over, as both Thomas's and George's daughters have pursued other careers. But if the casual ribbing in the workshop and glowing praise of customers who have been coming in for 40 years are anything to go by, the store will still feel like family even when some non-Bennetts take over. 
"We've always made a living, but small retail is a challenging business in this day and age," Thomas said. "It's hard but we have a great following, and we'll see how much longer we can go. Nothing lasts forever but I definitely see us going for the next 20 or 30, that's for sure. Not me," he added, laughing. "But I think the future looks pretty bright, which is pretty cool."