GARDEN CITY, N.Y. (BRAIN) — A UK-based professional photographer has filed a lawsuit against California-based Summit Bicycles, claiming photo of an e-bike on Summit's website is his copyrighted intellectual property and is being used improperly.
The lawsuit includes a screenshot that allegedly shows the photographer's photo of a Brompton folding bike on Summit's e-commerce site. The suit also includes a link to the page. On Monday, the same page included a photo of a different model Brompton (see photo at bottom of this article).
When reached by BRAIN on Tuesday, Summit Bicycles CEO Ian Christie said he was unaware of the suit before BRAIN told him about it and said he never received a cease-and-desist notice from Thorn or the law firm. Afterward, he forwarded an email to BRAIN that he had sent to the plaintiff's attorney.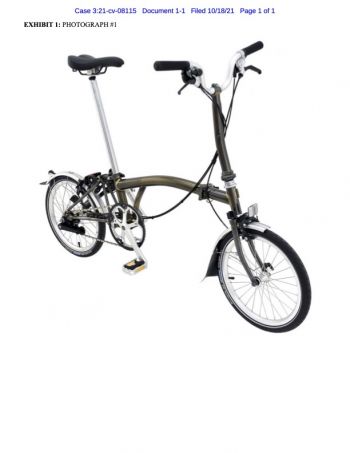 "As I would imagine you know, a cease-and-desist would be standard practice in this case as a first step," Christie wrote to the law firm. "It would also have informed you that these photos were actually taken by us. Summit Bicycles. At our Palo Alto store specifically. Against one of the building's exterior walls. You can street view our store via Google for reference.
"I have cc'd my general manager and my general council. I trust given the information above you will remove your complaint. I am sure your client would like to avoid any countersuit, money, time, and other resources fighting frivolous lawsuits."
The photographer, Robin Thorn — the director of Thorn Cycles Ltd. in Bridgwater, England — told BRAIN he uses a web-based service, Copytrack, to monitor the use of his company's images. He told BRAIN he signed up with the service because his company employs two full-time photographers and has discovered "thousands" of cases of their photos being used without permission. 
"We have used (Copytrack) very successfully and leave all the legal stuff to them," Thorn said. "I can't comment on this particular case as I imagine it is still ongoing, but generally, I expect Copytrack will only be pursuing claims (i.e. not sending such cease-and-desist notices) after sending an out-of-court post-licensing offer as they only get money if an offer or claim is successful."
The Sanders Law Group of Garden City, California, filed the suit this week on behalf of Thorn in the U.S. District Court Northern District of California. The complaint asks for a jury trial to recover profits attributable to the publication of the photo, court costs, and any other relief the court recommends. 
The lawsuit claims Thorn took the photo in question on Nov. 1, 2017, of a Brompton H6R folding bike. Thorn applied to the U.S. Copyright Office to register the photo in 2019, and it was officially registered on July 11, 2019. On Dec. 18, 2018, Thorn said he saw the photo published on the Summit Bicycles website without his permission. The lawsuit charges that the photo was copied, stored and displayed without license or permission and harmed Thorn's potential market for the photo.
Summit Bicycles has five locations, in Burlingame, Palo Alto, Los Gatos, Santa Clara, and San Jose.