PARK CITY, Utah (BRAIN) — It wasn't until late morning on day two of Summer PressCamp that the snow started melting at Deer Valley Resort, but by midafternoon Wednesday, the ski runs were green again and the sun had brought temperatures out of the high 30s. The energy was high as editors wrapped up their meetings with suppliers and set out to ride the valley's abundant single track and scenic road routes, eager to finally get to test the bikes they'd talked and written about for two days.
And one such hot item was the XC bike — which was perhaps a bit unexpected. While enduro-specific bikes, gear, components and other products have rapidly become the darling of the off-road category the past couple seasons, a new and improved breed of XC bike has quietly been in the works.
At least three manufacturers have unveiled "aggressive XC" models at PressCamp. While each brand has taken a unique approach, what they share is an emphasis on the fun trail riding experience rather than serious race performance.
But that's not to say that these bikes aren't perfectly capable race bikes. Each model would be suitable for XC racing, but with short chainstays, slacker head angles and a touch more travel, there seems to be more of an emphasis on how they descend and perform on an everyday trail ride — without sacrificing climbing ability.
GT's new Helion 27.5 (see photo gallery) was designed with a goal of being capable on a wide variety of trails. The Helion has several features to help boost confidence on technical descents, including a longer toptube, shorter stem and wider bars, and a 69.5-degree head angle. Built on GT's AOS suspension platform, it's designed to be an efficient ascender as well.
"We wanted it to be raceable but for everyday riding," said Chris Hopwood, GT's global marketing manager. "We wanted it to put a smile on the XC rider's face on every part of the ride."
Part of that equation is having just enough travel for a cush and controlled ride, without overdoing it. The two models we've seen so far each have a bit more travel than the typical XC bike. The Helion has 110mm of travel front and rear, and Pivot's new Mach 4 27.5 has 115mm in the rear but is spec'd with a 120mm fork. "It feels like a longer-travel bike, but it's also the lightest full-suspension bike we've ever made," said Pivot's Chris Cocalis. The Mach 4 weighs in at 22 pounds.
Because both the Helion and the Mach 4 are aimed at the XC rider, they don't come stock with a dropper post (although both have dropper cable routing options), which also saves weight. And to shave dollars, GT opted to spec mid- and upper-level Helions with a 1x10 drivetrain rather than 1x11, but the bike ships with E-13's 42-tooth booster cog in its accessory bag for the climber who wants more gears.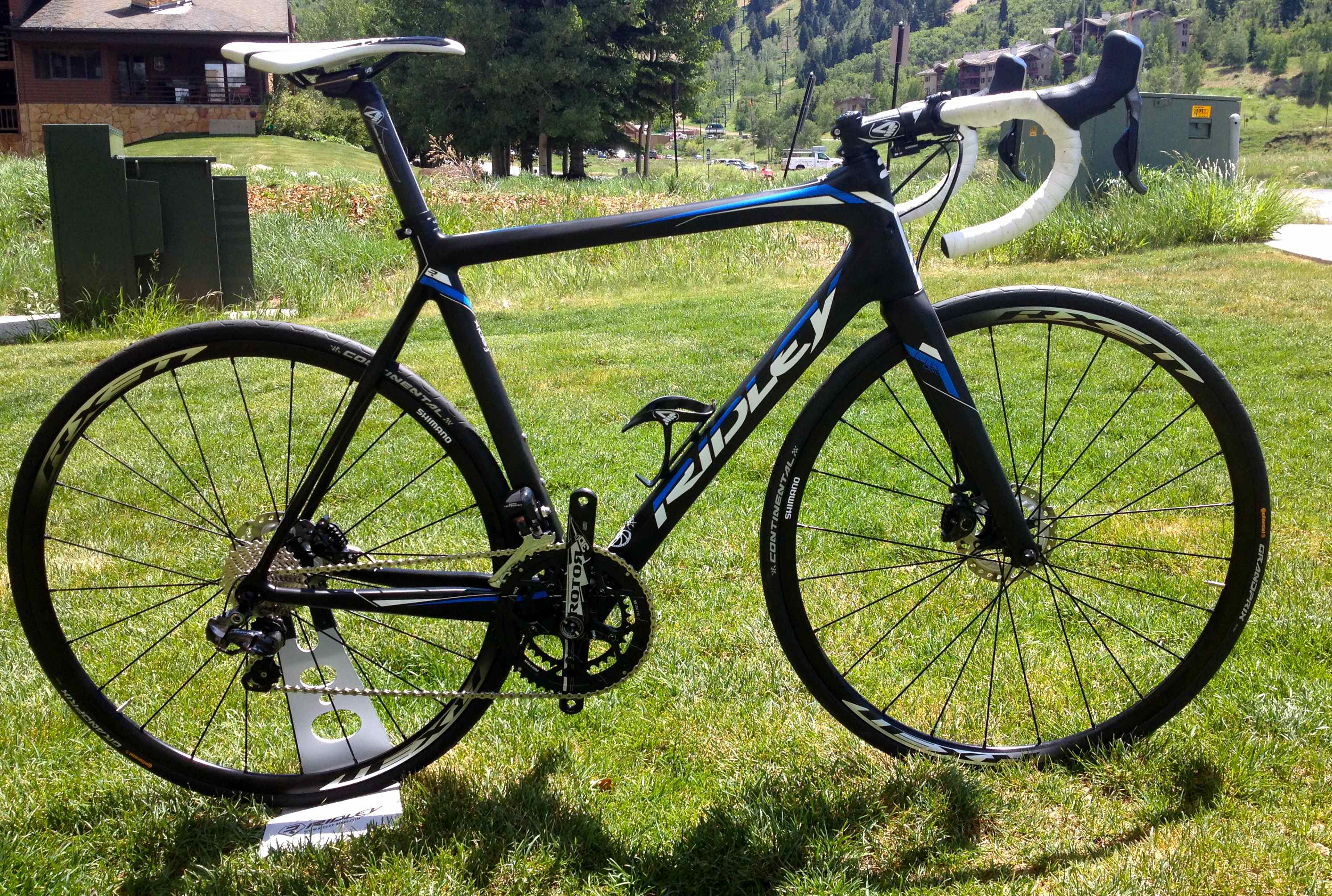 Cocalis said he's still actively developing Pivot's 29er models, and has no plans to move away from two wheel sizes. The 26-inch wheel, too, survives in Pivot's dirt jump and dual slalom models; but at GT, it's all 27.5.
While the 27.5-inch XC bike is becoming more common, the 29er is still alive and well at Cannondale. Bill Rudell, CSG's North American public relations manager, said its new full-carbon hardtail F-Si 29er was designed to handle increasingly technical World Cup XC race courses, but that it will satisfy hardtail purists and maybe even convert hardtail skeptics. "I hadn't ridden a hardtail in years, and I don't ride 29ers either," he said. "And I was nervous to ride technical single track the first time I took the F-Si out, but I can tell you, there will be one of these in my garage. It is so much fun to ride."
The F-Si's short 429mm chainstays and slack head angle (see photo gallery captions for details) make the F-Si capable on technical climbs and descents, but also add to the fun factor. "The XC bike doesn't have to be all about shaved-leg roadies riding laps on dirt," said Murray Washburn, director of product marketing at Cannondale. "This bike is just fun to ride on all kinds of trails."
"I think bikes like this are going to generate a lot of enthusiasm and play a big part in the resurgence of XC," added Washburn. "And that is exciting."