Voting to pick winning bike for production begins.
PORTLAND, Ore. (BRAIN) — The Oregon Manifest's Bike Design Project concluded on Friday with each team from participating cities — Chicago, New York, Portland, San Francisco and Seattle — unveiling its idea of the ultimate utility bike during reveal parties and events in each city. From now until Aug. 3, the public will have the opportunity to vote online. The winning design will be produced by Fuji Bikes and be sold at retail next year. 
The Bike Design Project paired design firms from each city with local framebuilders. Shannon Holt, co-founder of the Oregon Manifest, a nonprofit, and project leader for the contest, said the competition is in its third year. Holt selected the design firms, which were responsible for all of the costs associated with their prototypes.
"They're not connected to the industry at all, therefore they're not beholden to traditional thinking," she said. "That can be an advantage or disadvantage. But in this context I think it's an advantage; they bring new ideas. The framebuilders really ground them. The builder has an infinite experience around bikes. Together they are a really powerful combination.
"I think the bike industry should weigh in on this, particularly the retailer. They're used to getting what they get," Holt added. "Any of these bikes would look and fit perfectly on their retail floor but offer different amenities and approaches to functionality."
Retailers will have the opportunity to see the bikes firsthand at Interbike in September where they will be on display at the Chrome booth. "I'm very excited to show these to the cycling industry because they're what I would call concept bikes, but not in a typical way. They're ready to go on the showroom floor with a little bit of tweaking," Holt added.
Here are the five bikes (and here's the link to the voting page again):
Brooklyn, New York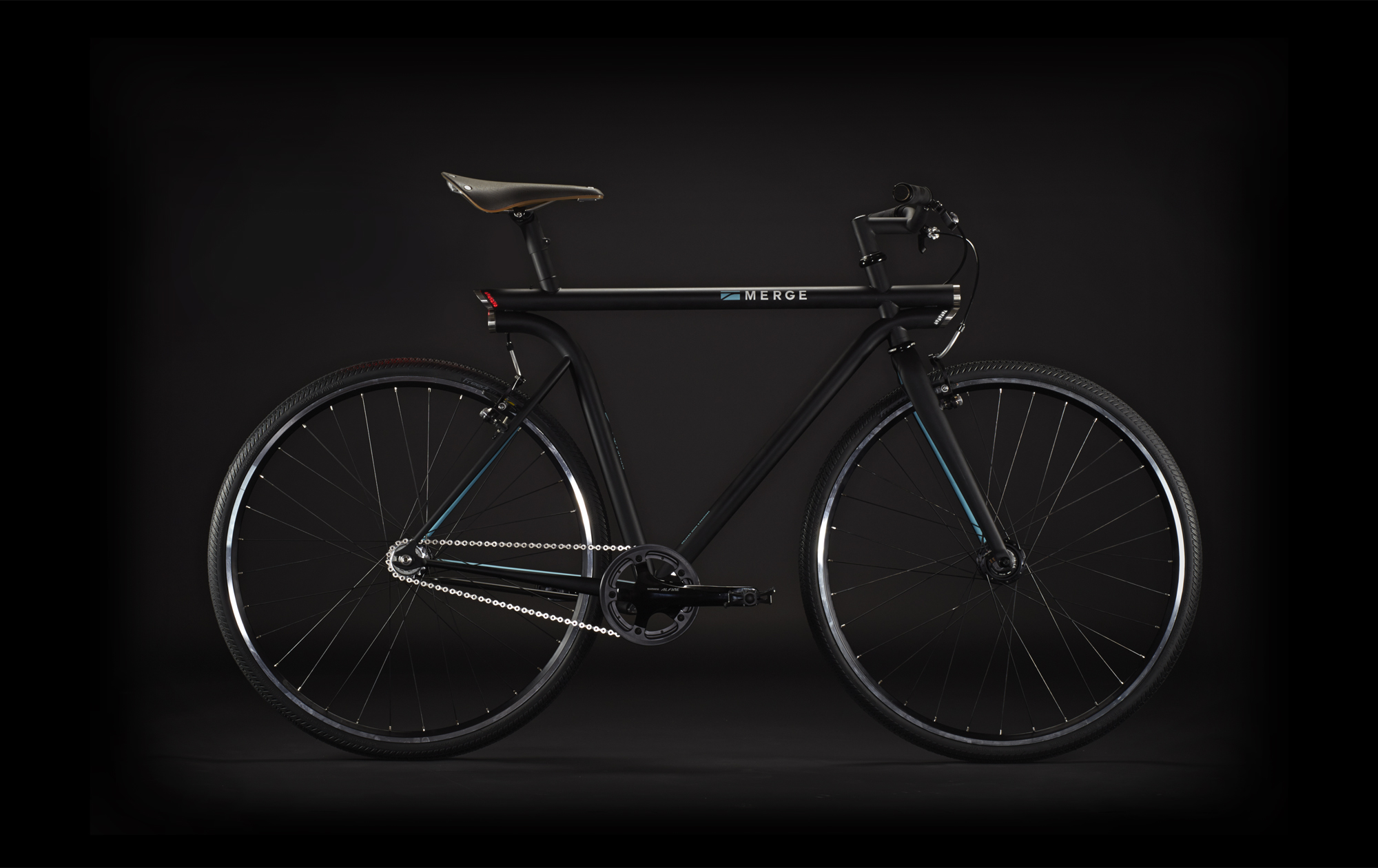 Design firm: Pensa, first time designing a bike
Framebuilder: Horse Cycles
Bike: The "Merge," single-speed, steel-framed bike
Spec: Enve carbon fork; Freedom Ryder 700c tires; Shimano Alfine dynamo hub, Alfine crank; Paul Mini Moto brakes and levers
Unique features: USB charging port for phone or other electronics integrated into frame; integrated front and tail lights and USB port run off of dynamo hub in the front wheel; rear retractable, spring-loaded rack and bungee that is hidden inside the toptube when not in use; hidden retractable fender inside of seat tube; integrated wheel lock cable stored in seat tube
Concept: "Summarizing what we really tried to do, it was to try to offer as much utility and functionality as possible while still being able to, on the fly, strip the bike down and ride it in a more simple form factor — being able to switch between necessary functionalities in an instant. We toyed with modularity and detachable parts, but we felt like if you need to plan when you need lighting, cargo space or fenders, it takes away from the idea that it's a daily commuter bike that has everything you need and you don't have to think about it. The concept of these access points or ports within the frame resulted from our initial thinking of what a utility bike should be in a dense city. We feel a lot of cargo and utility bikes pitched as urban bikes are seemingly unrealistic to what people want or need in a densely populated city like New York where streets are packed with pedestrians, trucks and cars and people use stripped-down, clean bikes they can squeeze in between delivery trucks." —Mark Prommel, partner & design director, project lead on bike, Pensa
Portland, Oregon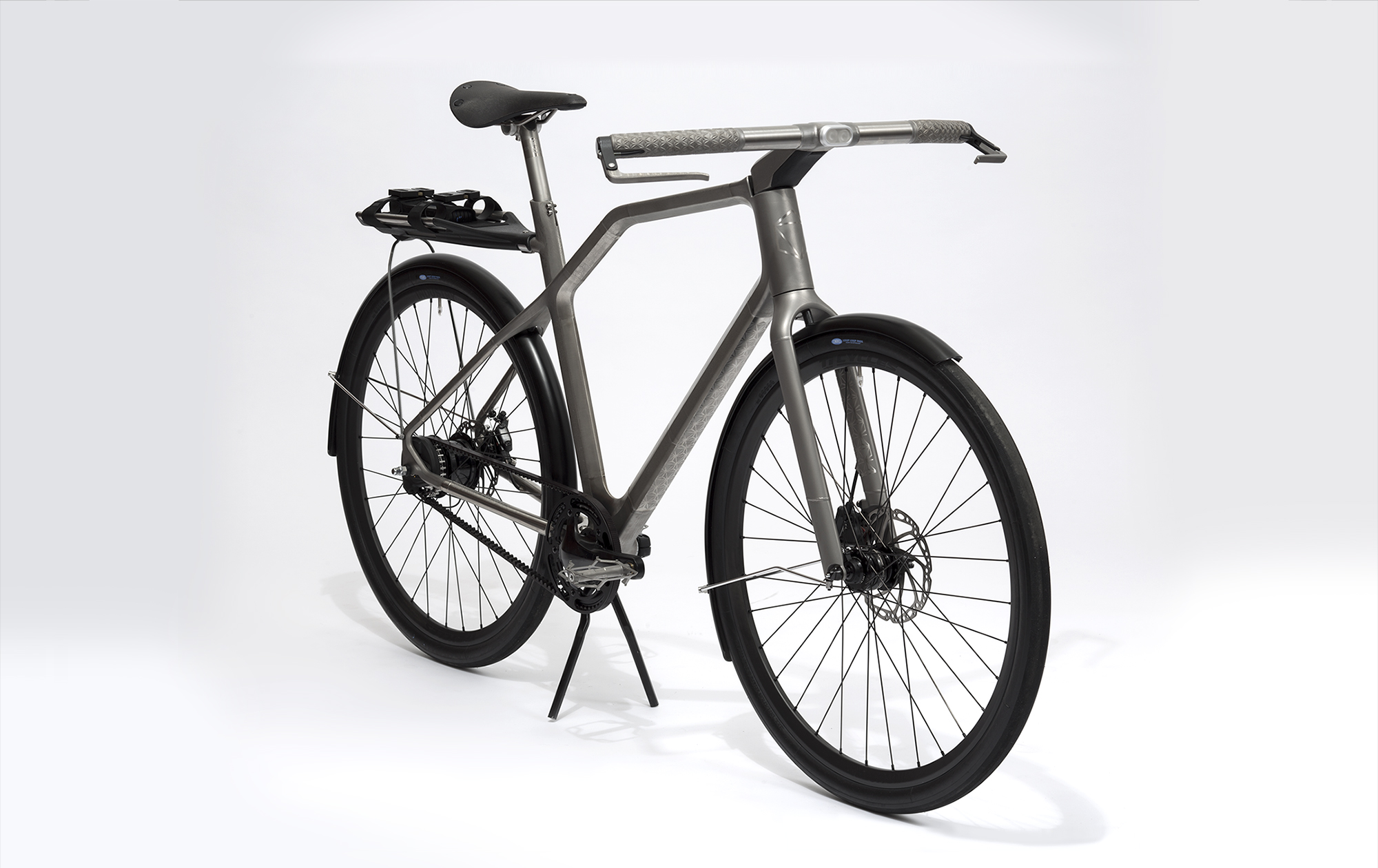 Design firm: Industry, first time designing a bike 
Framebuilder: Ti Cycles
Bike: The "SolidPDX," a belt-drive, titanium-framed bike
Spec: Panaracer Pacenti Pari-Moto 650b road tires; carbon fiber 650b rims; TRP hydraulic disc brakes; Shimano Alfine Di2 11-speed internally geared rear hub; Gates Carbon Belt Drive; Brooks Cambium saddle; Biologic Dynamo front hub
Unique features: Embedded GPS for security; smartphone app for navigation; detachable rack with integrated Abus lock and strapping system; 3D-printed titanium frame and sub-assemblies; handmade Ti Cycles titanium seatpost and bead-blasted, branded texture details; headlight integrated into handlebar with custom bezel; electronic shifters integrated into handlebar
Concept: "We set out to inspire everyday cycling. We thought, a lot of tendencies are to focus on hard-core cycling. What are the barriers to somebody hopping on a bike for the first time? We settled around the concept of discovering your city. We wanted to design a bike that was simple, approachable and beautifully designed. We wanted to integrate technology but not for tech's sake. From a 10-foot distance, the bike looks like a beautiful, seamless titanium bike, but electronics — lighting, communication of Bluetooth with app — all are embedded within the bike. Partnering with Dave Levy, an expert in titanium bike building, we brought his old/traditional methods and paired that with advances we see in 3D printing. The frame is made of hand-built parts and 3D-printed parts in collaboration with I3DFMG that Dave welded together." —Garett Stenson, strategic marketing director, Industry
Seattle, Washington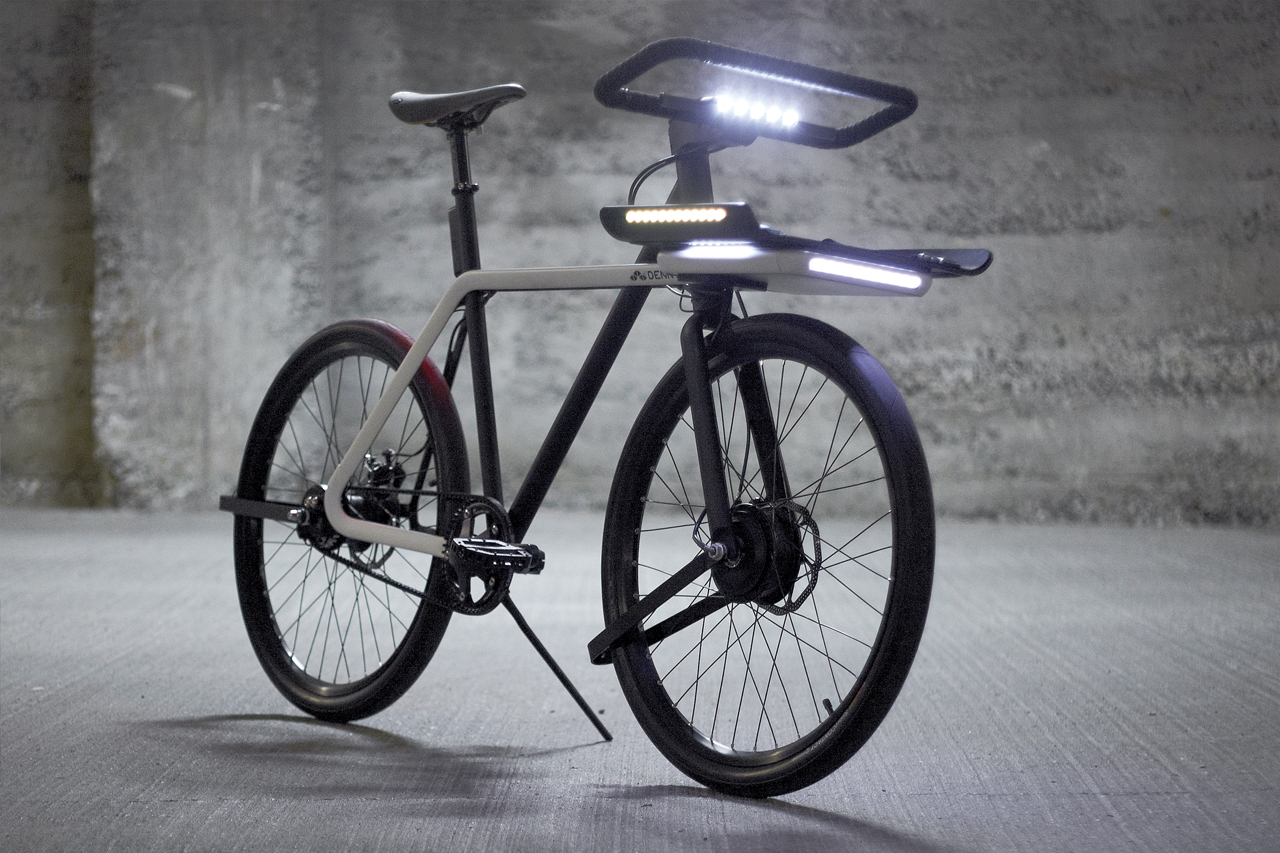 Design firm: Teague, previously designed a bike concept called Pulse in 2009
Framebuilder: Sizemore Bicycle
Bike: The "Denny," a steel-framed bike with aluminum stem, battery box and parts on the custom U-Lock handlebar
Spec: Shimano Alfine Di2 11-speed internal hub paired with Gates Carbon Belt Drive; TRP Spyre mechanical disc brakes; removable, custom-designed CNC'd aluminum-shelled 36v LiPoly battery pack; 26-inch Alex rims with Continental Sport Contact tires; Brooks Cambium saddle on a Thomson post; 250-watt MXUS front-wheel hub motor system; custom-programmed Spark IO "Core" micro controller with light, speed and crank sensors, and switches; six Neo Pixel RGB LED array strips for brake light halo lights, turn signals and front flood stripe; five-LED front headlight array made with 1-watt LEDs
Unique features: Onboard computer automatically shifts gears based on ride conditions; electric power assist motor in front wheel; fender design that removes water from the tire; fully integrated lights and safety lights that flood light on the road around bike; removable handlebar lock system; 3D-printed couplings
Concept: "Seattle is a very diverse and unpredictable city. Denny was purposefully designed to flex to its demands. We wanted to create a bike that could just as easily support an impromptu visit to the farmer's market or a quick escape down a local trail as it could ease the lung-busting grind of getting around Seattle's neighborhoods. Denny is focused on three core tenets: safety, security and convenience. For safety the bike uses integrated daylight running lights, brake lights and turn signals; for security its handlebar doubles as a U-lock system; and finally, for convenience, all key components — gears, lights, storage and securing the bike — have been fully integrated so that the rider never has to think about accessories, or the more complex functions of riding a bike." —Teague design team
San Francisco, California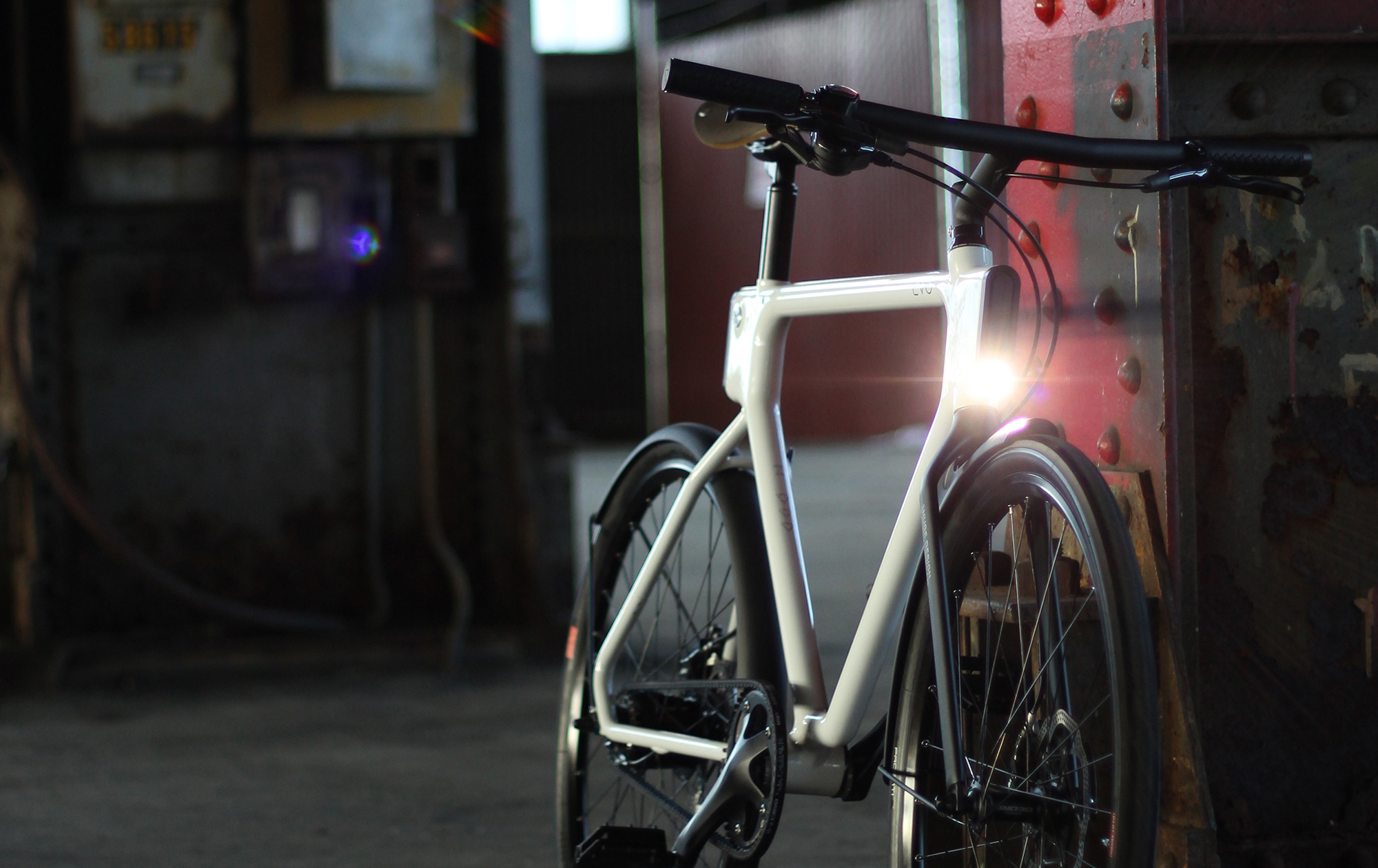 Design firm: Huge Design           
Framebuilder: 4130 Cycle Works
Bike: The "Evo," a hybrid commuter/mountain bike frame design
Spec: Not available
Unique features: Quick-connect modular rack accessory system to attach small and large cargo basket, child seat, pannier bag and flatbed rack; integrated front and rear lights; integrated and removable cable lock in frame; built-in fenders
Concept: "The Evo is a hybrid bicycle that leverages a modular accessory platform. It presents a one-bike solution that can take on many different environments and activities. Quick-connect mounts on the front and rear allow users to attach or detach cargo accessories normally mounted permanently on a bike. Inspired by San Francisco's towers and bridges, the symmetrical frame was developed to support cargo loads both on the front and rear. The "truss" frame geometry is functional and iconic. 3D-printed steel lugs allow for lug plus tube construction, reducing complex welding and man hours in production. A front fork lockout allows users to securely lean the handlebars against a wall for loading and unloading." —Chris Harsacky, partner, Huge Design
Chicago, Illinois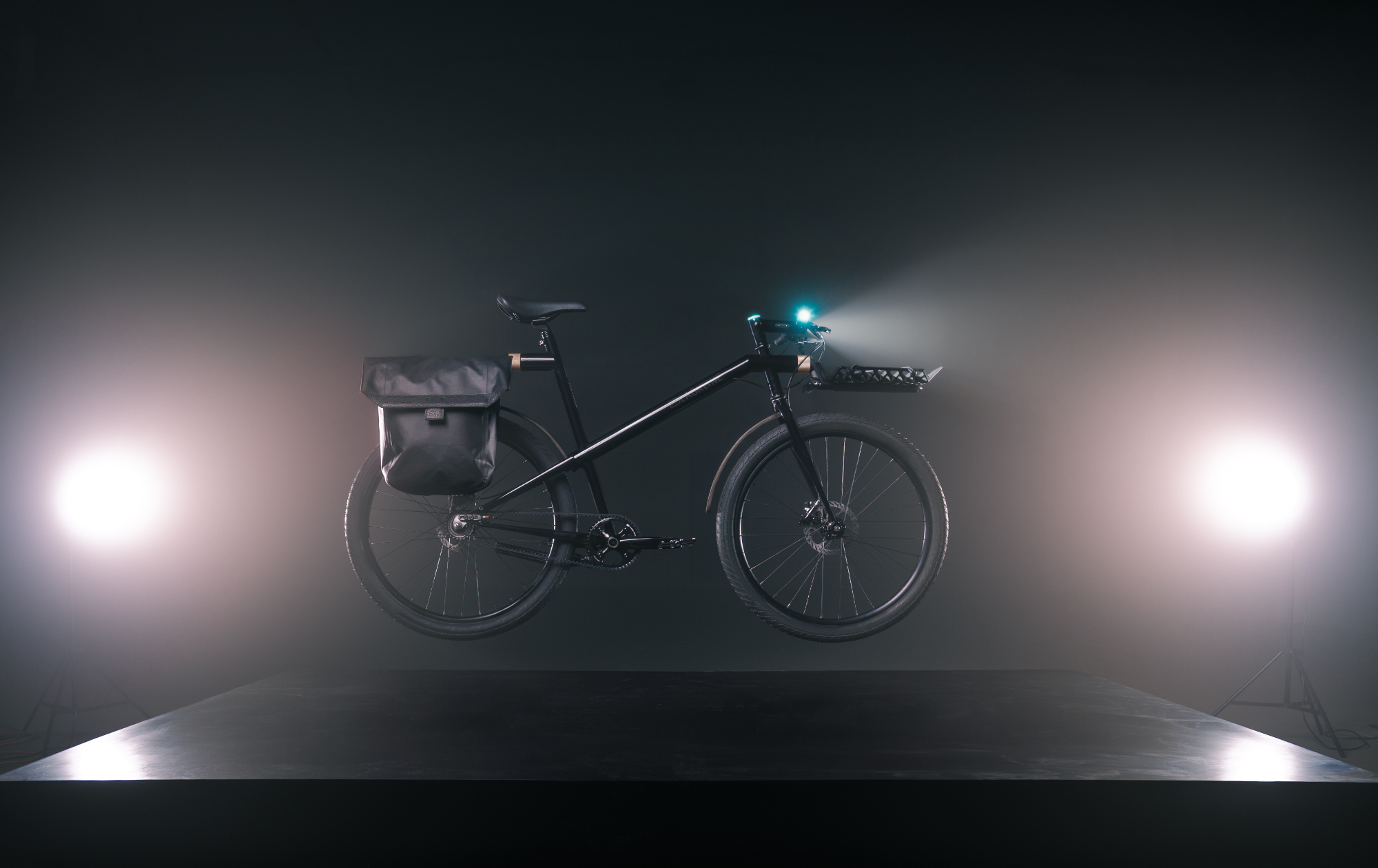 Design firm: Minimal, first time working on a bike design
Framebuilder: Method Bicycle
Bike: The "Blackline," a steel-framed, three-speed internally geared bike  
Spec: SRAM internal 3-speed kickback hub developed for World Bicycle Relief; Gates Carbon Belt Drive with SRAM Stylo crank; 26-inch Schwalbe Super Moto tires mounted to Velocity Blunt rims; SRAM Via hydraulic brakes; 12-inch rear rack with pannier mounts; 14-inch front rack with bungee tie-downs; Schmidt front dynamo hub
Unique features: Custom Helios smart handlebar with integrated LED headlight and side blinkers; GPS-enabled turn-by-turn navigation blinkers; custom smartphone app, Bluetooth connectivity and USB charging port; brazed, integrated mounting system for cargo racks; integrated U-lock storage; internal GPS sensor with location tracking
Concept: "The Blackline is ready for just about anything. It takes its name from Chicago's iconic elevated train lines that run throughout the city. Tough yet refined, this bike has just the right amount of street savvy. Thanks to lessons from Ferris Bueller, it features a ready-for-anything cargo system that can be configured to help get you to lunch, a museum, the ballpark, a street festival or anywhere the wind blows in the Windy City. The virtually maintenance-free drivetrain uses a 3-speed hub originally designed to endure the extreme conditions of rural Africa. It's driven by a nearly indestructible belt drive able to withstand everything from the daily commute to the harshest winters. Balloon tires smooth out your ride, won't slow you down and lessen the worry of roadside repairs during pothole season." —Chris Watson, lead program strategist, Minimal