DEER VALLEY, UT (BRAIN) Tuesday July 24 2012 4:50 PM MT—DealerCamp kicked off Tuesday morning as Raleigh's dealer event ended with an afternoon lunch at the Silver Baron Lodge near the expo area.
After lunch many Raleigh dealers took time to visit DealerCamp to check out bikes and accessories from 75 companies exhibiting in the heart of this Utah ski resort.
Some 40 dealers from around the country came to see Raleigh's 2013 line and most were impressed with what they saw as well as the marketing efforts the Kent, Washington, company plans to introduce. Several dealers said they were pleased Raleigh picked Deer Valley, noting that they most likely would not have come just for DealerCamp.
Still, many of the dealers BRAIN talked with were pleased with the location, the seminars and the products. For example comments from Kimo Toguchi, a partner at American Cyclery in San Francisco, California, reflect what many had to say.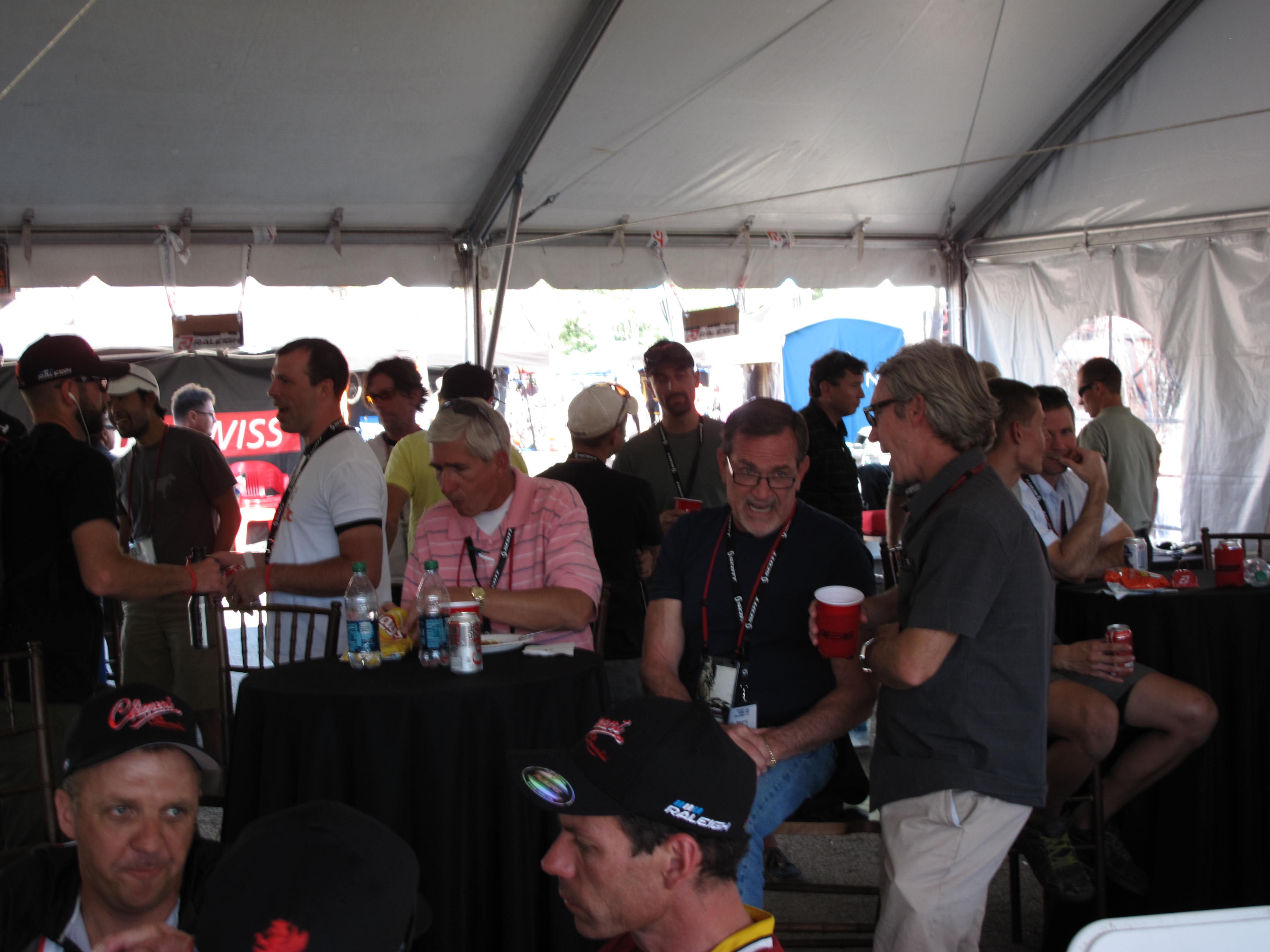 Raleigh dealers enjoyed the early evening mountain air at the Raleigh tent, where beer, burgers, buns and waffles kept them happy.
"Raleigh is such a nice company to deal with and in how they treat us, and the product is awesome," he said. "The technology with some of the Raleigh products is as good as some of the biggest brands out there," said Toguchi, whose Stanyan Street store also carries Specialized, Santa Cruz, Surly and Bianchi. Toguchi placed orders with Raleigh for next year.
Harlan Krueger, owner of Harlan's Bike and Tour in Sioux Falls, South Dakota, said he has struggled to bring back the Raleigh road bike in his area but is slowly succeeding. He said the 2013 line will help. "I think Chris [Chris Speyer, Raleigh's executive vice president of product development] really nailed it terms of understanding the dealers," he said.
Krueger also had high praise for Raleigh's marketing plans. Starting Oct. 31, the company plans to spend almost $500,000 supporting dealers who promote and help sponsor event rides in their areas. The company is also sponsoring Ride2Recovery, a group that puts wounded veterans on bicycles. Raleigh will supply them with 700 units as part of its sponsorship.
Krueger, like others, pointed out that event riders come into his store and spend money. They want advice and they want excellent customer service.
As for DealerCamp, founder Lance Camisasca said they reworked their strategy for this year to create more energy on site at the expo, including a cyclocross race Tuesday night that drew more than 120 entries. Raleigh's participation with DealerCamp—along with support from Scott, Cannondale and others—also has helped, he added. The show runs through Thursday.